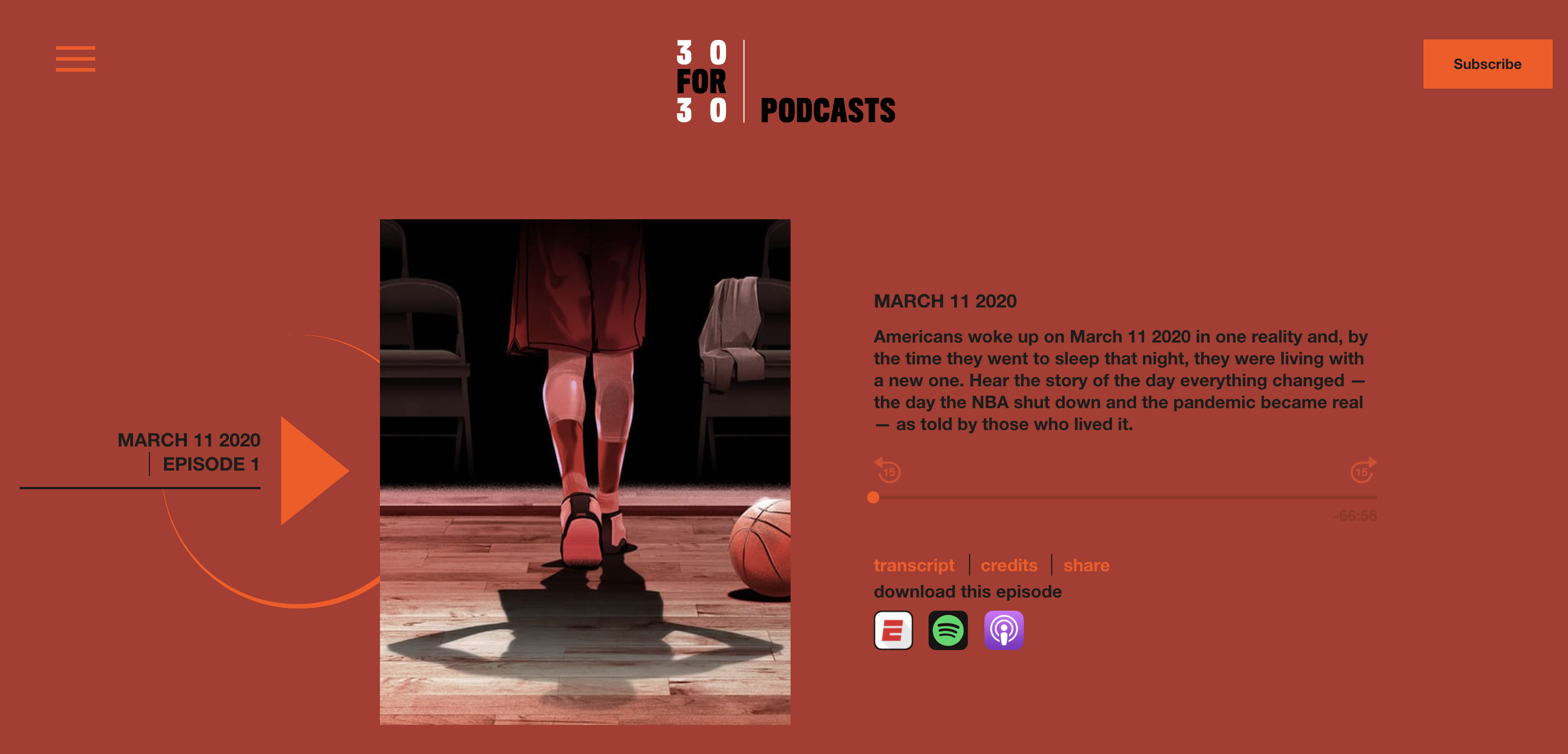 ABOUT THIS ENTRY
Americans woke up on the morning of March 11, 2020 in one reality…but by the time we went to sleep, we were living in a new one. This podcast preserves the memories of the historic day in sports and beyond.
How does this represent "Excellence in Engagement"?
Podcasting tends to move very slow or very fast. For those in the narrative documentary side of things, the speed is slow. Reporting takes time. Production takes time. For those on the news or produced talk side of things, the speed is hyper fast. Like almost everything else in our media climate, topics are outdated almost as soon as they go to air. What we did here was find a happy medium. Accelerating our own production timeline in order to meet a moment, rather than wait months or years to reflect back on a moment. But also giving ourselves, our interview subjects, and fans a chance to have lived through and processed the experience enough to warrant the reflection and treatment we brought to it.
Objective: This has been a year unlike any other. Americans woke up on the morning of March 11, 2020 in one reality…but by the time we went to sleep, we were living in a new one. Over the course of a few short hours, the coronavirus was declared a pandemic, the NBA suspended its season after a player tested positive, a travel ban from Europe was announced, and Tom Hanks posted that he had COVID-19. Our world as we knew it came to a screeching halt. Weeks turned into months turned into a year. It's been exhausting to navigate — so full of grief and isolation, so much change, so much uncertainty. As we on the 30 for 30 team processed these events, it became clear to us that, even though we don't know exactly when or how this ends, understanding how it began felt necessary. We wanted to get the story of this day while it was still fresh, before the self-preservation that sets in with grief and dulls the edges of memory took over. This is, and was, about more than the stoppage of sports, this is about our communal experience of losing our lives as we knew them.
Strategy & Execution: We decided immediately that in order to do this story justice, and to meet the needs of modern sports fans, we had to tell this story without a narrator — using only interview and archival tape. We wanted to give listeners the opportunity to recall their own experiences while listening to the experiences of the key players of that day. We talked to everyone from Rudy Gobert (the player who tested positive), to Dr. Fauci, to ESPN broadcasters Scott Van Pelt and Doris Burke, and used their tape along with copious amounts of archival material and sound design to recreate that seismic day.
Results:
Three months after its release, this podcast episode has more than half a million downloads and is one of the best performing 30 for 30 episodes to date. Fans have engaged on social media, especially Twitter, sharing their own memories of March 11th.
PRODUCTION
CREDITS
Senior Editorial Producer
ESPN
Senior Producer
ESPN
Executive Producer
ESPN
Executive Producer
ESPN
Executive Producer
ESPN
Executive Producer
ESPN
BRANDS AT THE LIVE SERIES
CONTENT x SPORTS BETTING
Over two days, sports betting + media will converge to discuss the North American fan. Learn the insights and strategies needed to develop partnerships, create and monetize betting content, and drive critical revenue and engagement.
May 12-13, 2021 (Virtual)
TRANSFORMING THE NEXT DECADE
Hashtag Sports® is the leading platform for media and marketing professionals and the next generation of creative talent across the converging sports and entertainment industries.
From unparalleled experiences like our annual conference and the Hashtag Sports Awards presented with Budweiser to inspirational digital content and mission-driven initiatives, Hashtag Sports is the benchmark for fan engagement and the go-to resource for the development of a new sports and entertainment ecosystem powered by digital media, content, culture, purpose, and technology.