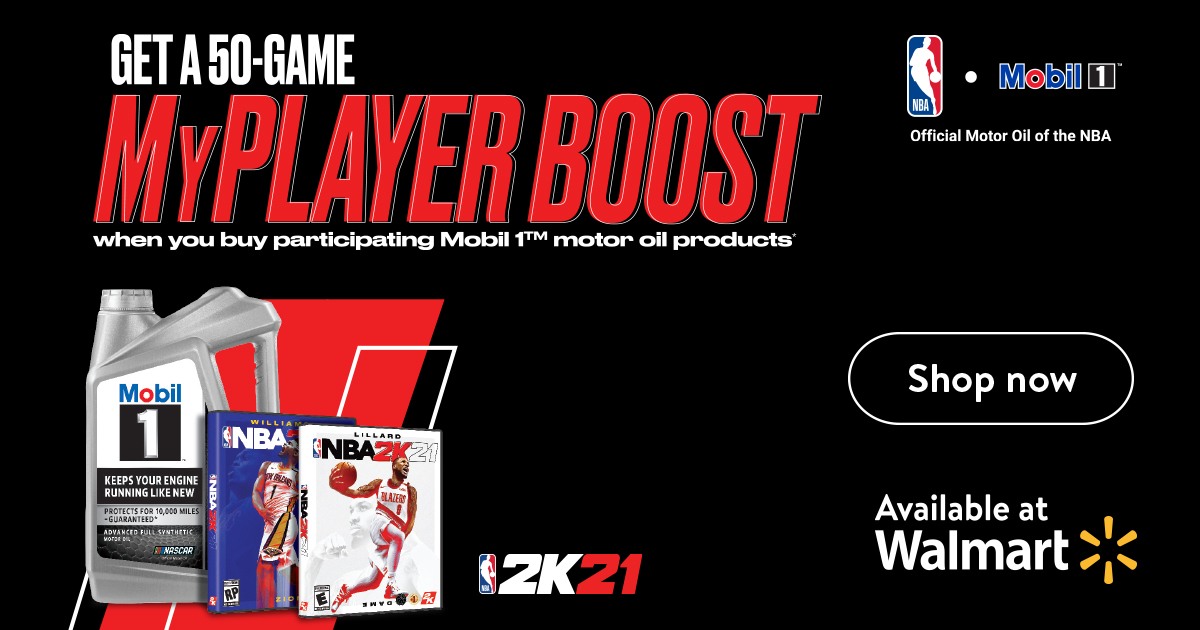 ABOUT THIS ENTRY

The Mobil 1 brand decided to pivot to an opportunity in the gaming space - a first for the brand - by partnering with the NBA's most popular sports video game, NBA 2K21.

How does this represent "Excellence in Engagement"?

We were able to grow an entirely new audience through gaming integration – expanding fans to become fans of Mobil 1 and giving them a reason to trade up in a timeframe when motor oil is typically not on the shopping list. Mobil 1 gave shoppers a reason to pay attention to a category that differentiated their brand from the competition. While others were focused on the garage, Mobil 1 took their game to a brand-new arena.

This partnership extended far beyond the in-game integration. Mobil 1 developed their very first Twitch stream by leveraging their sponsored in-game online event, the Mobil 1 Grand Prix. Mobil 1 ambassador, LA Laker Anthony Davis, participated in the Grand Prix which was broadcasted on NBA's Twitch channel. For the NBA fans who may not be 2K fans, this allowed an opportunity for Mobil 1 to showoff branded integration.

By leveraging data and insights to show the high indexing of DIY motor oil shoppers in sports gaming, Mobil 1 was able to differentiate themselves from their competition by offering a promotion that not only was of interest to our demographic, but also grasped onto an emerging trend of gaming as shoppers hunkered down at home.

Objective: While shoppers are looking to make their dollar stretch in order to splurge on holiday gifts, Mobil 1 motor oil sales tend to see a plateau in the holiday timeframe. On top of the typical seasonal trials, 2020 layered on a national pandemic that pumped the brakes on auto travel.

It became apparent in our research that there was an opportunity to leverage our existing sponsorship with the NBA to integrate the brand into an NBA 2K21 promotion. We would measure success by impressions of the program, engagement post-purchase through a promotional offer, and, of course, a sales lift that would be a true comeback for the ages.




Strategy & Execution: Time stood still in the NBA between March and July 2020. ExxonMobil is a NBA league partner, yet the season on pause caused a halt in all ExxonMobil activation. The Mobil 1 brand decided to pivot to an opportunity in the gaming space - a first for the brand - by partnering with the NBA's most popular sports video game, NBA 2K21. The modern sports fan was craving competition and an escape from a COVID world, and several fans turned to gaming which spiked in popularity last year.

The partnership was driven primarily by the Mobil 1 retail team to offer an exclusive NBA 2K MyPLAYER boost when a shopper purchases a bottle of Mobil 1 oil exclusively at Walmart. With shoppers having no plans to get back on the road, we needed to evolve our plan to the landscape. Our goal was to leverage the emerging trends and shopper mindsets of the pandemic to determine new targeting opportunities and create an omni-channel shopper program at Walmart.

Demographic studies showed DIY shoppers index high with playing sports video games, and that they are 39% more likely than average shoppers to notice brand names within video games.
PRODUCTION
ExxonMobil, GMR Marketing, The Integer Group, 2K
CREDITS
Sr. Shopper Marketing | Strategic Accounts, ExxonMobil
Account Supervisor, GMR Marketing
Associate Account Director, The Integer Group
Manager, Partnerships and Licensing, 2K,
Consumer Brand Strategy & Comms Advisor, ExxonMobil
Sponsorship Activation Advisor, ExxonMobil
Brand Manager, ExxonMobil
BRANDS AT THE LIVE SERIES
CONTENT x SPORTS BETTING
Over two days, sports betting + media will converge to discuss the North American fan. Learn the insights and strategies needed to develop partnerships, create and monetize betting content, and drive critical revenue and engagement.
May 12-13, 2021 (Virtual)
TRANSFORMING THE NEXT DECADE
Hashtag Sports® is the leading platform for media and marketing professionals and the next generation of creative talent across the converging sports and entertainment industries.
From unparalleled experiences like our annual conference and the Hashtag Sports Awards presented with Budweiser to inspirational digital content and mission-driven initiatives, Hashtag Sports is the benchmark for fan engagement and the go-to resource for the development of a new sports and entertainment ecosystem powered by digital media, content, culture, purpose, and technology.