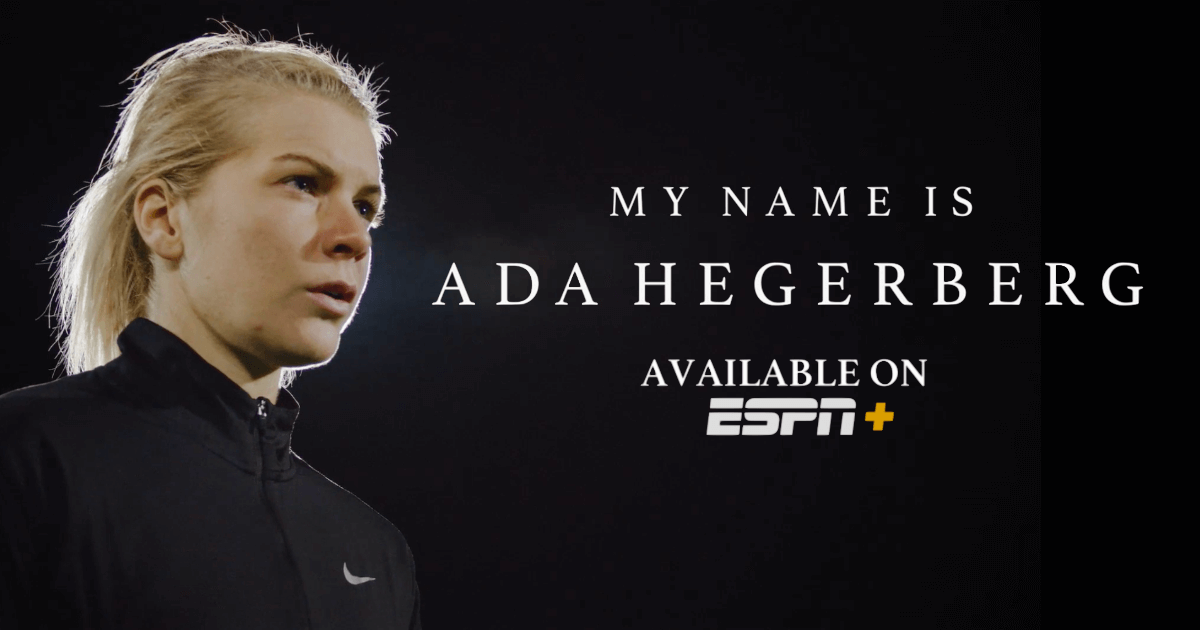 ABOUT THIS ENTRY
Why was Ballon d'Or trophy recipient Ada Hegerberg not playing for Norway on the world's biggest stage? This project was her platform to finally tell her side of the story.
How does this represent "Excellence in Engagement"?
Ada Hegerberg, the subject of our film, took to social media to promote and share the film when it came out on ESPN+ in November 2020. She was able to communicate directly with not only her fans, but potential new viewers – and promote the film's debut. This project will definitely inspire and move the industry forward, reinforcing the importance of athletes/documentary subjects engaging their fans online and continuing the story beyond the screen in order to generate more buzz around the content.
Objective: Our objective was to make Ada's story known worldwide. In 2018, when Ada became the first female recipient of the Ballon d'Or trophy – designating her the best women's soccer player in the world – the night was marred by a male host asking, "if she knew how to twerk." A momentous occasion for women overshadowed by casual sexism. Ada: "...If I was a man would I have to deal with stuff like this?" The following year, she chose not to compete in the World Cup. No one understood it. Why was Ada Hegerberg not playing for Norway on the world's biggest stage? Nearly every article criticized her for the lack of information behind her reasoning. If she wanted to take a stance and opt out for moral reasons, what were they? It was clear this was an opinionated woman who had something to say, but just quite hadn't yet. Additionally, Hegerberg's protest wasn't top news in the U.S. like it would be for a male superstar. This inspired our team to make her the focus of this documentary. This project was her platform to finally tell her side of the story, and our team wanted to make this possible.
Strategy & Execution: Women's soccer is reaching more viewers than ever. In 2019, the Women's World Cup smashed global ratings records and broke viewership records - and became the most-streamed women's final in history. Telling a story about the best female soccer player in the world, who was actively voicing her frustrations with the disparities and unequal opportunities between the men's and women's game, seemed not only timely but absolutely necessary. The modern sports fan no longer only follow's men's sports, but actively watches and engages with women's sports as well. Therefore, Ada's story does not just appeal to a niche audience, but to a broad group containing modern sports fans and those who care about the fight for women's equality.
Results:
Beyond Ada's social engagement via Twitter and Instagram, we secured distribution for My Name is Ada Hegerberg on ESPN+, and successfully shared Ada's story with their 10+ million subscribers. Writer Sarah Spain wrote a companion piece to the documentary for ESPNW, which generated online buzz for the project as well. In the piece, Spain referred to Ada as a "fascinating study in modern female sports stardom."
PRODUCTION
Relevent Sports Group, Film 45
CREDITS
CEO
Relevent Sports Group
CEO
LaLiga North America
Executive Vice President
Film 45
Head of Communications and Public Affairs
Relevent Sports Group
Independent
Independent
BRANDS AT THE LIVE SERIES
CONTENT x SPORTS BETTING
Over two days, sports betting + media will converge to discuss the North American fan. Learn the insights and strategies needed to develop partnerships, create and monetize betting content, and drive critical revenue and engagement.
May 12-13, 2021 (Virtual)
TRANSFORMING THE NEXT DECADE
Hashtag Sports® is the leading platform for media and marketing professionals and the next generation of creative talent across the converging sports and entertainment industries.
From unparalleled experiences like our annual conference and the Hashtag Sports Awards presented with Budweiser to inspirational digital content and mission-driven initiatives, Hashtag Sports is the benchmark for fan engagement and the go-to resource for the development of a new sports and entertainment ecosystem powered by digital media, content, culture, purpose, and technology.