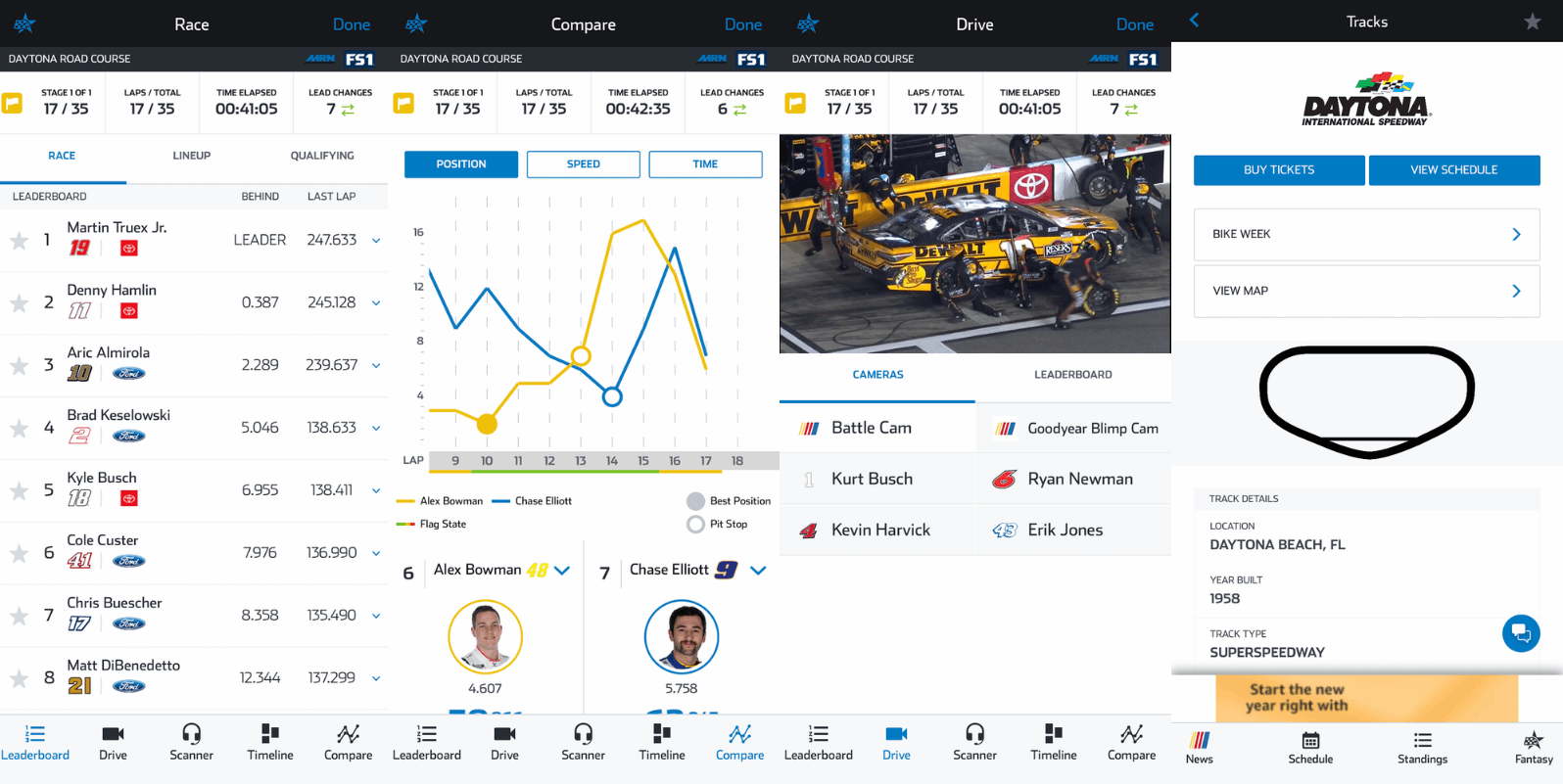 ABOUT THIS ENTRY
With the virtual fan in mind, NASCAR delivers an immersive experience on mobile during live races that is unmatched, with unique offerings for all fans.
How does this represent "Excellence in Engagement"?
The bwlow results affirm the fact that NASCAR has created a strong race-day App experience since fans are not only signing in and subscribing at a higher rate, but also are sticking around in the app longer to engage with all of the offerings. Furthermore, we have transformed the live experience from being a passive delivery of information to now providing fans an opportunity to be active participants, bolstering the communal nature of racing in the process.
Outside of the live experience, the personalized news, track guides and AR game provides fans numerous opportunities to engage with the App in between events, providing compelling reasons to access the app on a frequent basis, while also providing a customized experience.
The NASCAR Mobile app is available on iOS and Android mobile devices.
Objective: Approaching another NASCAR season with uncertainty around how fans would be able to consume the sport, albeit in-person or virtually, we evaluated ways to enhance our digital experience and allow fans different engagement opportunities inside NASCAR Mobile, while continuing to enhance the most immersive live app experience in sports. Additionally, NASCAR Digital Media wanted to introduce personalization elements to the app experience. Lastly, NASCAR Mobile is now being positioned to serve fans looking to return to the race track, as individual track apps were sunset at the end of the 2020 season, with track elements incorporated into the NASCAR Mobile App for a richer user experience.
Strategy & Execution: Live race features include leaderboard data, in-car camera views, race broadcast radio, driver and crew chief audio channels, lap-by-lap updates and race highlights. With the ability to follow a specific driver, fans have access to driver position and telemetry data that includes RPM, MPH, brake, and throttle.
A new live offering for this season included the introduction of Virtual Cheer powered by LiveLike, allowing for fans to engage in polls, head-to-head cheers and other live interactions during the race.
Fans can now set their driver, team and other preferences to personalize a news feed just for them, while also being able to view the trending news marked with a flame icon.
A new track section was created with individual track pages providing access to tickets, schedule, maps and event guides. The event guides were a new item built for this season, specially formatted for mobile and created for each event, including non-NASCAR events at the tracks. Fans could also access an AR Racing Experience, placing actual NASCAR tracks in their physical environment.
Results:
Through the month of February, there has been a 27% increase in time spent and 17% increase in subscription revenue YoY. In addition, the App has seen a 65% increase in app logins since Jan. 1, driven by the need to register for personalized preferences and to receive the live engagement experiences. Nearly 60% of fans are engaging with at least one interactive feature delivered during live races. Our Marketing and Track business units are now promoting the app as the single source of event related information while at the track, so it is now servicing fans attending the event or at home as a second screen experience. Fans are now accessing ticket information directly from the App's homepage.
PRODUCTION
CREDITS
Chief Digital Officer
NASCAR
Managing Director, Digital Media
NASCAR
Managing Director, Digital Media
NASCAR
VP, Commercial Operations
iX.co
Project Manager
iX.co
Senior Project Manager
iX.co
Director, Interactive Applications & Strategy
iX.co
BRANDS AT THE LIVE SERIES
CONTENT x SPORTS BETTING
Over two days, sports betting + media will converge to discuss the North American fan. Learn the insights and strategies needed to develop partnerships, create and monetize betting content, and drive critical revenue and engagement.
May 12-13, 2021 (Virtual)
TRANSFORMING THE NEXT DECADE
Hashtag Sports® is the leading platform for media and marketing professionals and the next generation of creative talent across the converging sports and entertainment industries.
From unparalleled experiences like our annual conference and the Hashtag Sports Awards presented with Budweiser to inspirational digital content and mission-driven initiatives, Hashtag Sports is the benchmark for fan engagement and the go-to resource for the development of a new sports and entertainment ecosystem powered by digital media, content, culture, purpose, and technology.