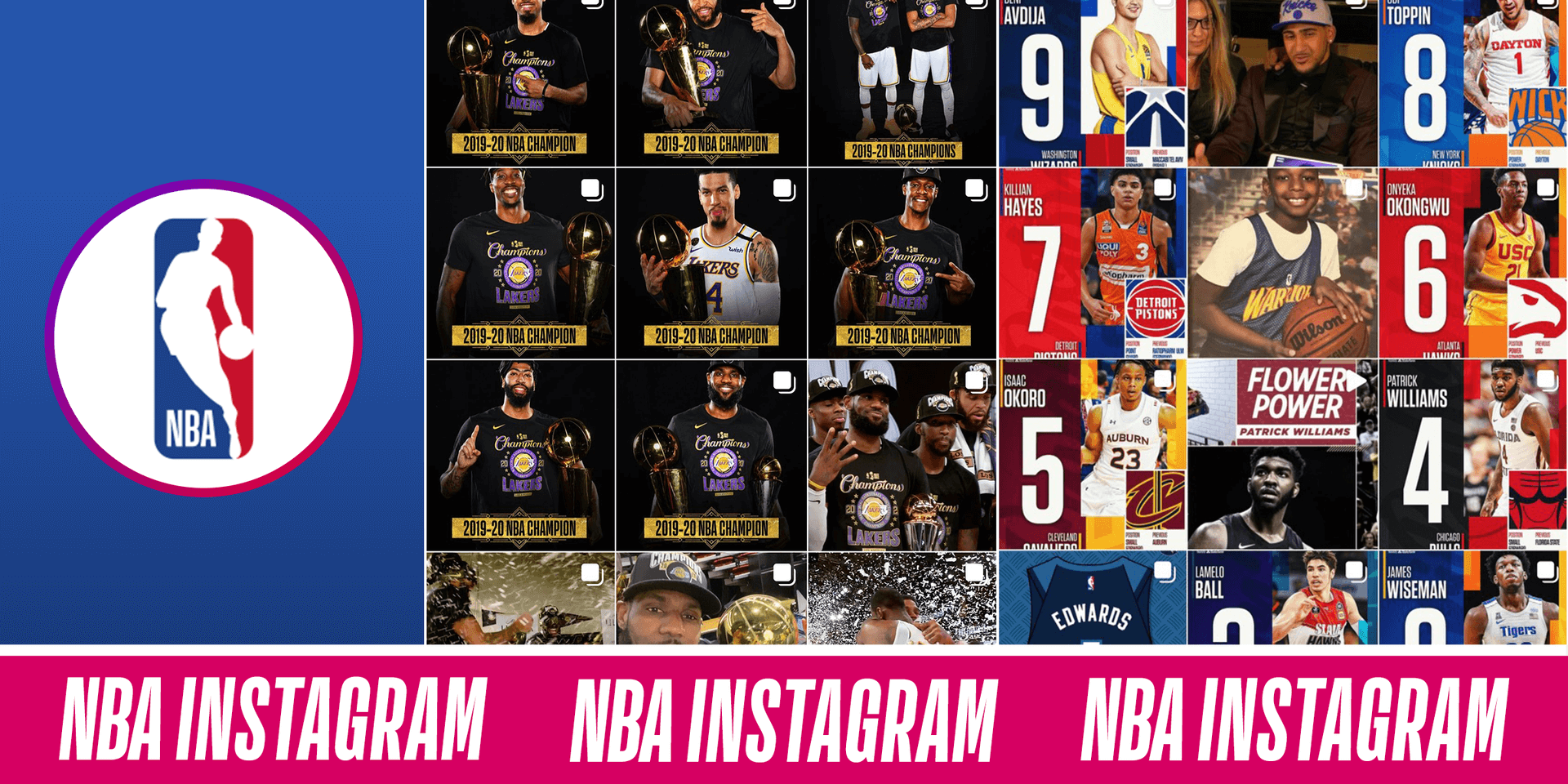 ABOUT THIS ENTRY
Through the ups and downs, twists and turns of 2020, the NBA had its highest-performing year ever on Instagram.
How does this represent "Excellence in Engagement"?
Over the course of the submission timeframe, the NBA brought in 11M new Instagram followers (surpassing 54M) and drove over 2B interactions.
Excellence in engagement is not only defined by the numbers mentioned above but the context and precedent that is set to move forward in a new, 2020 world. From live activations, to content creation, and everything in between, we are always looking to push the boundaries of what is possible on Instagram. We are consistently among the first accounts to test new features (like Guides, Reels and AR Filters) and leverage new Instagram products. We strive to innovate daily to drive not only the industry forward, but the platform forward as we often discover new use-cases and ideas for Instagram to implement. The content output on NBA Instagram could not have been possible without the NBA social teams' meticulous in-house digital content creation and curation process that ultimately delivers the best moments around the Association night in and night out. @NBA Instagram truly raised the bar for what it means to engage fans and followers during the most unprecedented of times for ourselves and the industry.
Objective: The NBA has always been about celebrating the game and bringing fans closer to our players, and this objective was more important than ever in a virtual environment. In addition to the goal of serving fans up-close access to players at their fingertips, we provided a platform for players to share their important messages on social justice, the pandemic and mental health and wellness with fans directly.
@NBA Instagram is not only the league's fastest growing and most-viewed social account on a daily basis, but has consistently generated the second-most video views of any account on Instagram. We've built a programmed channel that keeps fans and followers engaged and coming back for more. By leveraging platform features such as Stories, Carousels, Reels, IGTV, Live, Guides, AR, Tap to Shop and more, we're able to tell the story of a particular moment or game and continuously educate fans on the most important storylines from around the league.
Strategy & Execution: It was an exciting NBA All-Star 2020 in Chicago with an epic dunk contest and All-Star Game. The game was revamped to pay homage to the late Kobe Bryant and served an even greater purpose as each team played for youth charities. The NBA brought fans close to the action through behind the scenes access with players, which included a special postgame celebration between the kids and LeBron James.
Then in March, as the world paused due to the pandemic, NBA players took over @NBA Instagram Live to speak directly to the fans. From DeMar DeRozan talking about mental health, to Stephen Curry hosting a trivia show with his NBA buddies, to Cody Zeller doing a home renovation, fans got an inside look into the lives of NBA players.
When the NBA finally returned, players were in a bubble and fans could not be in attendance. To bring fans inside, we shared content showcasing the unique ways players stayed busy on campus. We leveraged the new Reels feature to provide insight into what it was like to work on campus in Orlando and captured exclusive moments like the back-of-house celebration between LeBron and Anthony Davis after winning the NBA Finals.
Results:
Over the past year, @NBA has generated a record 14 billion video views, surpassed 54M followers and consistently generated the second-most video views of any account on Instagram - more than any other sports league or sports media account on the platform.
During 2020 NBA All-Star Weekend in Chicago:
@NBA was the most-engaged with Instagram account during the span with 62M total actions
@NBA amassed 592M video views (+92% from 2019)
During the NBA Hiatus:
The NBA generated over 1.46 billion views on Instagram
The @NBA Instagram Live shows with NBA players accumulated over 15M views
During the NBA Finals:
Generated the second most videos views of any account on the platform
The NBA set a Finals-record for engagement on the platform with over 104M actions, a 22% increase vs. 2019
The Instagram Reel featuring LeBron and Davis' NBA Finals celebration earned over 20M views
@NBA surpassed 51M followers
Since the launch of Reels in August 2020, @NBA's Instagram Reels have gained over 1B video views with an average of 4.3M views per Reel
PRODUCTION
NBA

CREDITS
Senior Vice President, Digital & Social Content, NBA
Senior Director, Social Content, NBA
BRANDS AT THE LIVE SERIES
CONTENT x SPORTS BETTING
Over two days, sports betting + media will converge to discuss the North American fan. Learn the insights and strategies needed to develop partnerships, create and monetize betting content, and drive critical revenue and engagement.
May 12-13, 2021 (Virtual)
TRANSFORMING THE NEXT DECADE
Hashtag Sports® is the leading platform for media and marketing professionals and the next generation of creative talent across the converging sports and entertainment industries.
From unparalleled experiences like our annual conference and the Hashtag Sports Awards presented with Budweiser to inspirational digital content and mission-driven initiatives, Hashtag Sports is the benchmark for fan engagement and the go-to resource for the development of a new sports and entertainment ecosystem powered by digital media, content, culture, purpose, and technology.