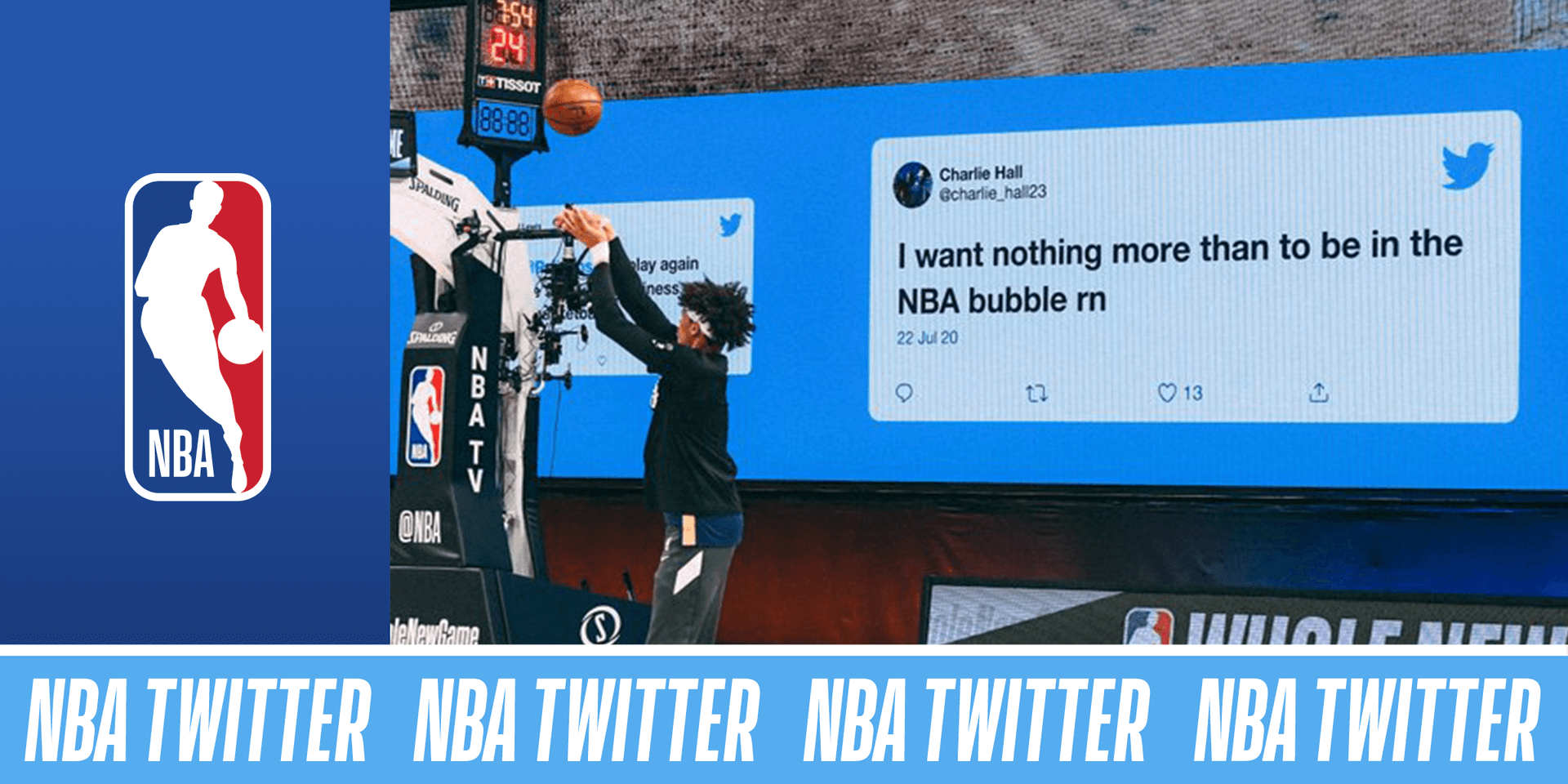 ABOUT THIS ENTRY
Our objective on @NBA Twitter is to serve the fan and bring them closer to our game and players at a time where they may not be able to be.
How does this represent "Excellence in Engagement"?
From fans being able to see their tweets on the video boards, to watching livestreams from the arena, to tweeting to cheer on their favorite teams and more, excellence in engagement was brought to life during NBA Restart in Orlando - and @NBA Twitter was invaluable to the fan experience at a time when fans couldn't be present at our games.
New benchmarks following Orlando were capitalized on immediately, as we launched @NBA Twitter Fleets with a Q&A with Tyler Herro of the Miami Heat. Recognizing the importance of connecting our fans with our players on a personal level has set a new standard for the Twitter experience and one that will continue in the seasons to come.
Objective: First, let's set the stage. It is July 30, 2020 and after several months of a hiatus, the NBA is back to restart the 2020-21 regular season in Orlando, Florida. You were able to stay connected with the NBA during the hiatus by watching nightly classic games, participating in Twitter Q&As and watching additional programmed shows - all on @NBA Twitter. But now, the NBA is back and you're ready to watch.
We accomplished our objective by leveraging all of Twitter's native tools such as livestreams, polling, Q&As, Twitter Moments, Fleets, GIFs, photos, carousels, new conversation control features, exclusive alternate angles of highlights and more.
Strategy & Execution: Now, focusing back to July 30, 2020. You're ready to get as close to the NBA action as possible - but how? Well let me tell you.
You could submit a tweet using the hashtag #NBATwitter about the opening night matchups featuring Jazz vs. Pelicans and Clippers vs. Lakers for a chance to be featured in the arena in Orlando. Yes, inside the arena. Funny, witty, heartful and excited tweets were displayed on the video boards courtside in Orlando, then captured with photos and video content to be shared across @NBA and @TwitterSports platforms.
But what if you wanted to cheer for your favorite team even though you can't be there? You're able to open the Twitter app, tweet using your team's specific hashtag and that will be counted towards a total number of cheers to be displayed in the arena on the video boards.
You're also able to vote on who you want to watch warm up live, join the virtual fan section to be virtually present in Orlando and consume our game with all angles of highlights.
Results:
That strategy and execution example was just the first night of the NBA Restart in Orlando, Florida, but fans were able to experience the NBA's return to action on Twitter over the course of three months until the Lakers claimed their championship trophy in October. During the NBA Finals, we gave fans exclusive access to a Q&A immediately following the Lakers championship-clinching win with Anthony Davis. Throughout NBA Restart in Orlando, we also launched @NBAonCampus Twitter, which allowed for fans to get a behind-the-scenes look at all things bubble-related in Orlando.
Over the course of the NBA Restart in Orlando, @NBA Twitter was the most engaging sports league on the platform, generating 5.5M engagements and more than 420M video views. @NBA Twitter was already the most-followed sports league, and in the last year became the fastest-growing as well. From 29 Million to more than 32 Million followers, the growth of @NBA Twitter almost tripled the other domestic sports leagues combined (+1.3M).
PRODUCTION
NBA
CREDITS
Senior Vice President, Digital & Social Content
NBA
Senior Director, Social Content
NBA
BRANDS AT THE LIVE SERIES
CONTENT x SPORTS BETTING
Over two days, sports betting + media will converge to discuss the North American fan. Learn the insights and strategies needed to develop partnerships, create and monetize betting content, and drive critical revenue and engagement.
May 12-13, 2021 (Virtual)
TRANSFORMING THE NEXT DECADE
Hashtag Sports® is the leading platform for media and marketing professionals and the next generation of creative talent across the converging sports and entertainment industries.
From unparalleled experiences like our annual conference and the Hashtag Sports Awards presented with Budweiser to inspirational digital content and mission-driven initiatives, Hashtag Sports is the benchmark for fan engagement and the go-to resource for the development of a new sports and entertainment ecosystem powered by digital media, content, culture, purpose, and technology.