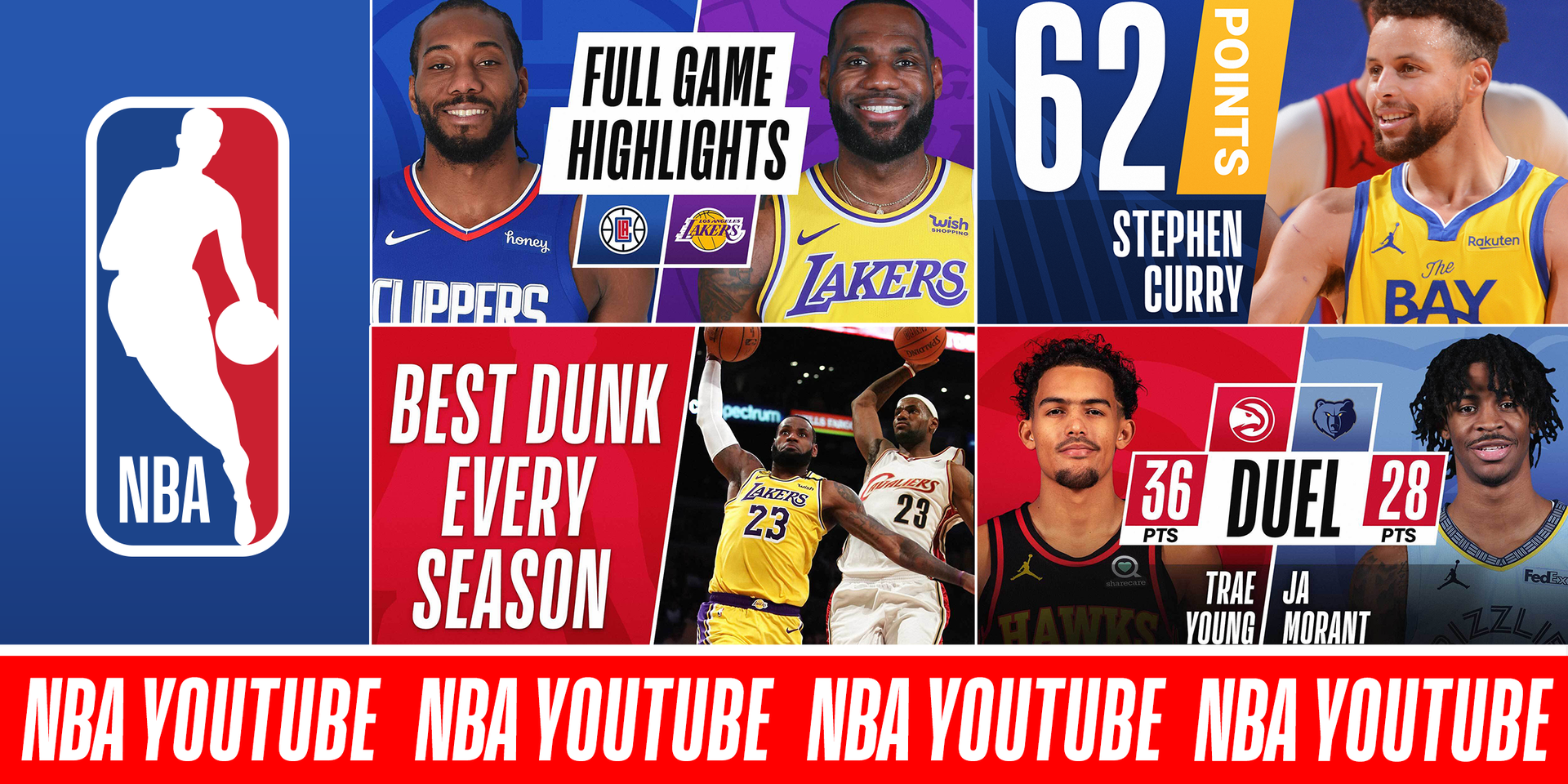 ABOUT THIS ENTRY
@NBA YouTube has become a destination for fans who want to fully immerse themselves and dive deeper on the NBA.
How does this represent "Excellence in Engagement"?
The @NBA YouTube channel reaches 1 in 100 people around the world every 90 days. That same 1% of the world watches, on average, nearly nine NBA YouTube videos in that timeframe for a total of 45 minutes, a testament to our global footprint and ultimate objective. Our audience demands quality, speed and content on all the top moments from around the league. @NBA YouTube provides it all including Full Game Highlights, Decade Content, Best of Season Content, Top 100 Content, player Top Performances, the best Mic'd Up moments from players, and so much more, resulting in the league earning more than 181 million watch hours consumed from fans around the world.
Objective: Since launching its channel in 2005, the NBA's primary objective on YouTube has been to reach and engage our fans across the world. Our commitment to that mission - and attention to evolving data trends - has helped the NBA build and engage one of the largest communities on the platform. In 2020, the compound effects of years of optimization realized itself in record-setting engagement and reach. Each of the NBA's five most viewed months in its channel's history have occurred in the last year. And, most tellingly, the NBA channel now reaches 1 in 100 people in the world every 90 days, a testament to our global footprint and ultimate objective.
Strategy & Execution: We are constantly optimizing the @NBA YouTube channel and have focused heavily on increasing longform content, creating eye-catching thumbnails and engaging with the community through the YouTube Community tab.
Subscribers of the NBA YouTube channel now have access to Full Game Highlights immediately after each game concludes. Every special moment in the NBA is available at your fingertips with different angles and mic'd up access from players. If LeBron James throws down an incredible dunk, there's a full package of every epic dunk from each of his 18 seasons available.
The engagement doesn't just stop with our video content; in the YouTube Community tab, we are sharing the top league storylines, videos to watch and asking our fans their predictions on games to engage further with our audience.
Results:
With the goal of engaging our current YouTube community, acquiring new subscribers and improving retention on the platform, the channel saw increases across the board in views, subscriber growth and watch time.
Video views up 38% YoY
YouTube Subscriber Growth up 16% YoY
Watch Hours up 82% YoY
Click-Through-Rate up 18% YoY
PRODUCTION
CREDITS
Senior Vice President, Digital & Social Content
Senior Director, Social Content
NBA
BRANDS AT THE LIVE SERIES
CONTENT x SPORTS BETTING
Over two days, sports betting + media will converge to discuss the North American fan. Learn the insights and strategies needed to develop partnerships, create and monetize betting content, and drive critical revenue and engagement.
May 12-13, 2021 (Virtual)
TRANSFORMING THE NEXT DECADE
Hashtag Sports® is the leading platform for media and marketing professionals and the next generation of creative talent across the converging sports and entertainment industries.
From unparalleled experiences like our annual conference and the Hashtag Sports Awards presented with Budweiser to inspirational digital content and mission-driven initiatives, Hashtag Sports is the benchmark for fan engagement and the go-to resource for the development of a new sports and entertainment ecosystem powered by digital media, content, culture, purpose, and technology.