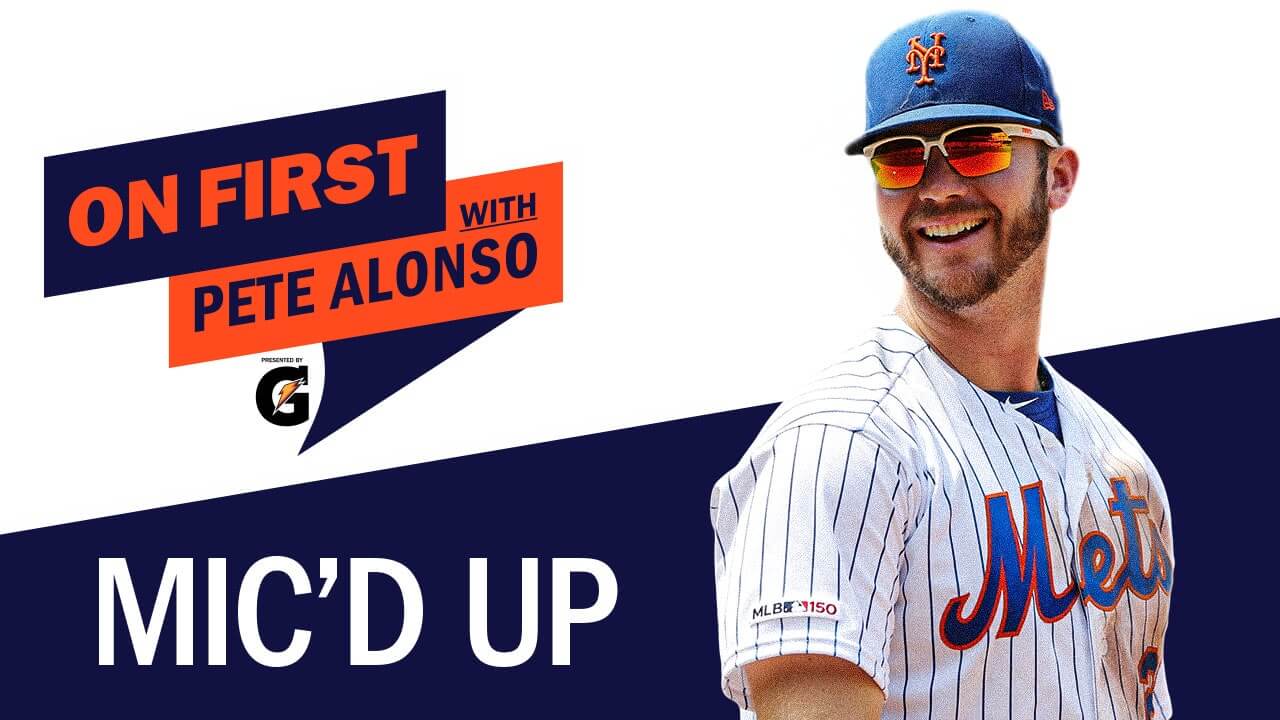 ABOUT THIS ENTRY
On First with Pete Alonso is an MLB Original show airing on YouTube featuring Pete mic'd up in multiple games throughout the 2020 season.
How does this represent "Excellence in Engagement"?
Nearly 60% of all viewers were age 24-and-under, the critical growth audience MLB needs to reach; this group also averaged the highest view duration of all age groups, reflecting the interest and appeal of the content to the next generation of fans.
Objective: The goal of the show - the first of its kind - was to showcase a unique part of baseball culture yet to be explored: the natural interactions that take place between a first baseman and base runners and teammates throughout a game. In alignment with our Player Marketing strategy that calls for authenticity, relatability and connecting players to fans, On First aimed to spotlight Pete's personality through unprecedented access and perspective.
Strategy & Execution: During his 2019 Rookie Year Pete Alonso was MLB's most Googled player. It was clear fans were hungry for a way to get to know Pete's personality. As 2020 dawned we began to flesh out the logistics of how we'd approach such an unprecedented project. We faced two major challenges to mic'ing Pete during games: culture, and technology.
The culture of baseball has long resisted pulling back the curtain of unfettered access to players. To create this series we needed a player willing to break one of baseball's strongest taboos. In 2019 we invested heavily in the relationship with Pete and his agent earning their trust and laying the groundwork for Pete to be that player in 2020.

Baseball players have resisted wearing mics in game due to uncomfortable devices hindering their performance. We created a solution Pete approved during Spring Training. We customized a mic holder sewn into the jersey between the player's shoulders which gave Pete full unbothered range of motion while performing.

A third challenge emerged in the form of the Covid-19 Pandemic. We adapted the mic system to be fully remote, allowing for a seamless process the moment he put his jersey on.
Results:
The series saw 1.57M views, and over 80k Hours Watched – the equivalent of 9 years of watch time.
A third of the audience was Female, significantly outperforming our channel average (3x channel average)
Nearly 4M Impressions
BRANDS AT THE LIVE SERIES
CONTENT x SPORTS BETTING
Over two days, sports betting + media will converge to discuss the North American fan. Learn the insights and strategies needed to develop partnerships, create and monetize betting content, and drive critical revenue and engagement.
May 12-13, 2021 (Virtual)
TRANSFORMING THE NEXT DECADE
Hashtag Sports® is the leading platform for media and marketing professionals and the next generation of creative talent across the converging sports and entertainment industries.
From unparalleled experiences like our annual conference and the Hashtag Sports Awards presented with Budweiser to inspirational digital content and mission-driven initiatives, Hashtag Sports is the benchmark for fan engagement and the go-to resource for the development of a new sports and entertainment ecosystem powered by digital media, content, culture, purpose, and technology.