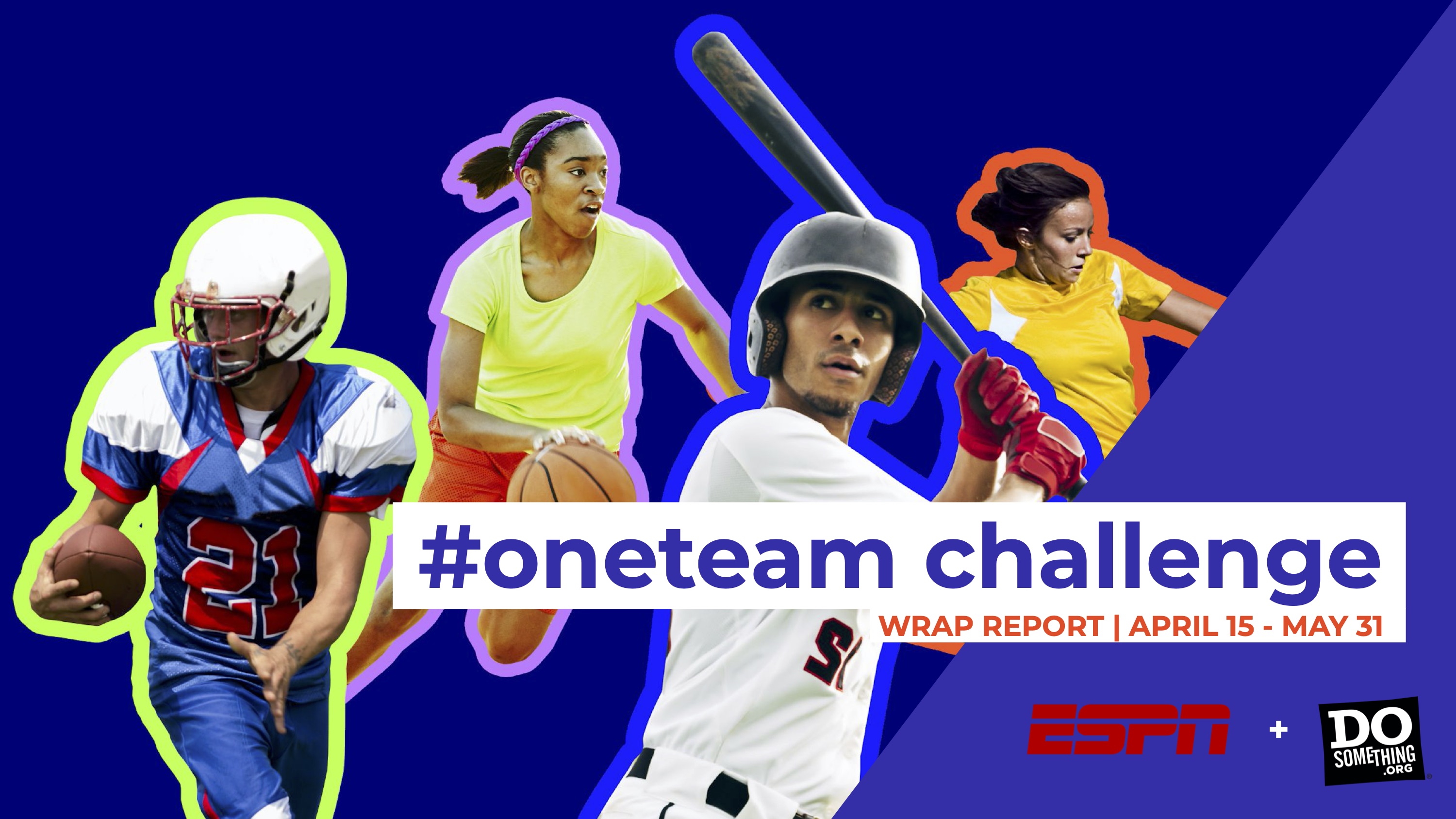 ABOUT THIS ENTRY
Because of ESPN's commitment to serving youth, we launched the #oneteam Challenge with DoSomething.org in recognition of the struggles youth were suddenly facing and their inherent desire to help. The program promoted togetherness and service through sports-themed challenges.
How does this represent "Excellence in Engagement"?
Sports has a powerful ability to spark national conversations, and despite live competitions being put on hold, ESPN demonstrated that it could pivot and develop a strategy to use its airwaves for good. As the pandemic took hold, disseminating public health information was critical to that strategy, and we wanted to show that the values of sports — teamwork, resilience and unity — were still needed despite there not being games.
Serving sports fans and the places where we live, work and play are a big part of ESPN's culture and its commitment to service. To keep our employees connected and give them a sense of belonging as they adjusted to working from home, we worked to connect our employees with virtual volunteer opportunities and resources so they could safely give back and feel a sense of connection to our organization while away from their offices.
Objective: The world came to a sudden halt last March due to COVID-19, and the world of sports was no exception. For a business that lives and breathes live action, we had to find a new normal, but our commitment to serve sports fans never wavered. It was time for us to come together — as one team — to help each other in a time of unprecedented need.
The best of sports — resilience, teamwork and unity — was needed more than ever, and ESPN worked with our colleagues, communities, sports leagues, advertisers and others to spread messages of safety, of hop and of inspiration through our platforms. Our goals were threefold:
Storytelling

— Use ESPN's wide reach to disseminate important information and resources, and provide inspiration through messaging and storytelling.
Fan Activation

— Show fans we are on #oneteam, and we look out for one another. Help keep young people active and motivated through fun and interactive activities.
Service Engagement

— Enable employees to feel engaged in their communities and as part of a larger team.
Strategy & Execution: We deployed a #oneteam strategy that activated every part of our business, including disseminating public health information by running PSAs; working with league and business partners to use our programming to engage fans; enabling youth to help their communities; and empowering employees to safely help others.
ESPN ran PSAs for the CDC, the American Red Cross and Feeding America across our platforms. We also developed PSAs to spread messaging on unity, and worked with advertisers to donate their airtime. Additionally, we collaborated with partners to highlight the needs of the most vulnerable during key programming, such as the NFL and WNBA Drafts and the All In Challenge.
ESPN and DoSomething.org teamed up for the #oneteam Challenge to engage youth and promote service through sports-themed challenges, including making masks, creating signs of encouragement and committing to civic engagement.
We created the #oneteam Speaker Series with Adrian Wojnarowski and the Boys & Girls Clubs to allow kids to engage with sports stars, who shared advice and tips to stay active.
To maintain safety protocols for employees and keep our network running, over 255 new home studios were deployed. We also connected employees with virtual service opportunities so they could give back.
Results:
Understanding many felt powerless in the days and weeks following the shutdown, the goal of #oneteam was to spread awareness and empower fans to work together.
Over the course of two-months, nearly 5,000 COVID-related PSAs ran across ESPN's networks, resulting in over 100 million impressions. Messages reached fans everywhere, helping them understand the importance of social distancing, checking on others and helping the most vulnerable.
Over 35,000 youth participated in the #oneteam Challenge, making a difference in their communities through the power of sports. ESPN personalities and professional athletes also took part in the challenges, which led to additional participants. Results included:
10,011 songs shared
9,880 masks made
3,444 notes/songs/cheers shared
1,042 signs for essential workers
906 Senior Awards
1,757 workouts
As part of #oneteam, over 50 engagement projects connected employees virtually with our communities. There were several drives, where over 500 essential food and hygiene items were collected, as well as a school supply drive that collected over 1,400 items for under-resourced schools. Volunteers also participated in career panels, mentoring programs and tutoring sessions with local organizations. ESPN was proud to participate in an HBCU Mentoring Program, which engaged 70 employees, allowing them to share career advice and perspectives.
PRODUCTION
Boys and Girls Clubs of America
CREDITS
BRANDS AT THE LIVE SERIES
CONTENT x SPORTS BETTING
Over two days, sports betting + media will converge to discuss the North American fan. Learn the insights and strategies needed to develop partnerships, create and monetize betting content, and drive critical revenue and engagement.
May 12-13, 2021 (Virtual)
TRANSFORMING THE NEXT DECADE
Hashtag Sports® is the leading platform for media and marketing professionals and the next generation of creative talent across the converging sports and entertainment industries.
From unparalleled experiences like our annual conference and the Hashtag Sports Awards presented with Budweiser to inspirational digital content and mission-driven initiatives, Hashtag Sports is the benchmark for fan engagement and the go-to resource for the development of a new sports and entertainment ecosystem powered by digital media, content, culture, purpose, and technology.