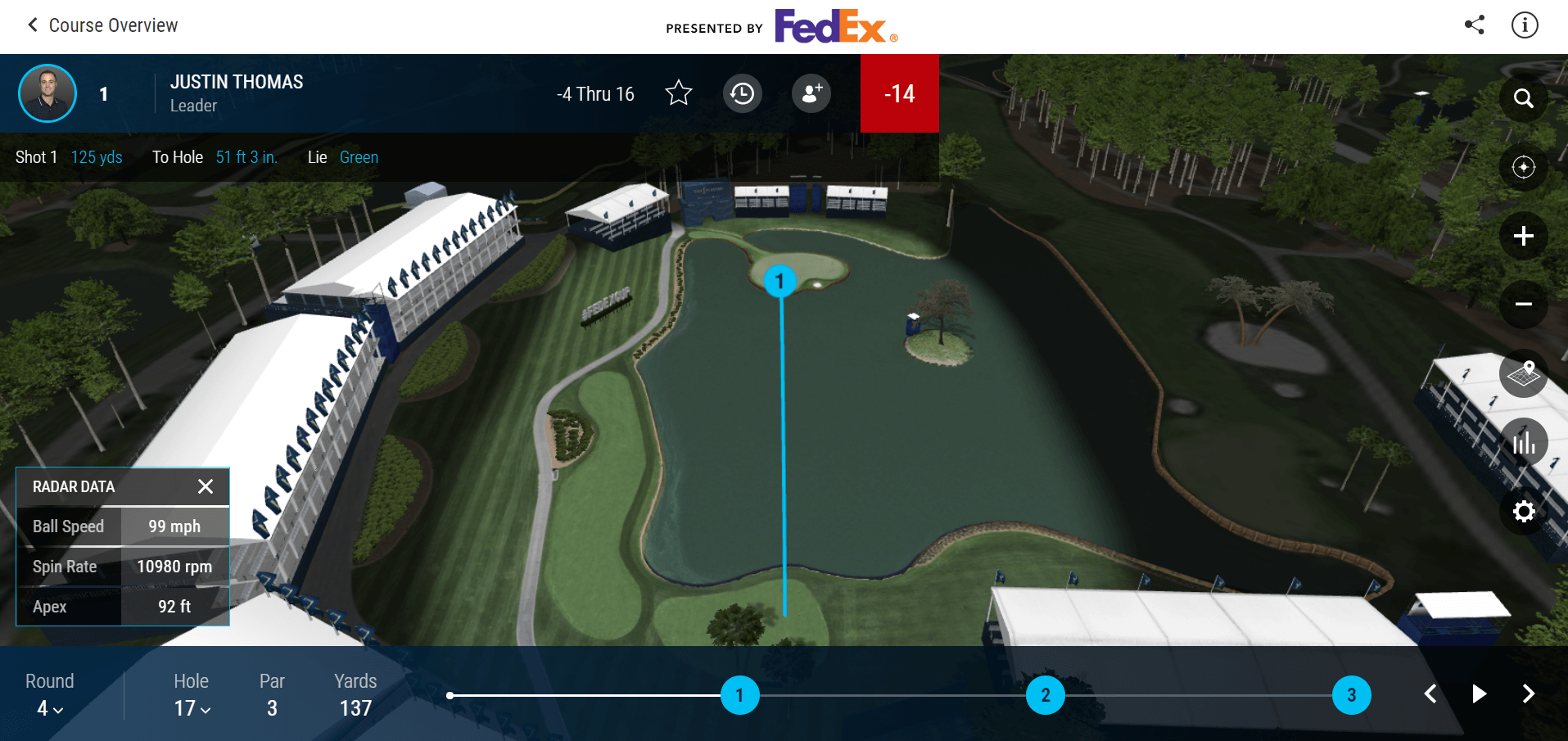 ABOUT THIS ENTRY
TOURCast allows fans to experience each player's shots in 3D while video-on-demand plays along with the shot trail.
How does this represent "Excellence in Engagement"?
Within months of its launch, TOURCast had been featured in relevant industry publications including Golf Digest and Golf News Net. As of this writing, TOURCAST has won and / or received the following honors:
Leaders in Innovation Award; October 2020

Shortlisted (ultimately finishing in 2nd place) for SportsPro OTT awards in the 'Best Digital-First Production' category; December 2020

Received an Interactive Media Award with the highest distinction; December 2020

Shortlisted for Sports Technology Award; February 2021 (winner announced May 2021)
Objective: The PGA TOUR and iX.co have been partners for many years; as the PGA TOUR's business has continued to expand, so too has the partnership between the two companies.
Because of their long-standing partnership, and iX.co's track record of delivering experiences that are both highly technical and fan-focused, PGA TOUR immediately turned to iX.co to help build TOURCast, an interactive golf shot tracker and video highlights platform that lets fans track players in real-time as they move around the golf course. This data-driven platform leverages video clips generated by WSC Sports and ShotLink, powered by CDW, to draw shot trails on the 3D renderings (which are used as part of TV broadcasts), created by Virtual Eye.
Ultimately, TOURCast is a data-driven and user-centric innovation designed with fans' needs in mind.
Strategy & Execution: The video for TOURCast is sourced from the TV broadcast and an OTT stream using AI technology and automatically appends each clip to each player's shot. A fan can see a 3D representation of the shot while the video plays back at the same time.
TOURCast further enhances the fan experience by being the first - and only - platform that lets fans see the trajectory of every player's tee shot using TrackMan radar technology. In addition, fans are able to view valuable player and course statistics; these update in real-time as players complete their holes and remain as a snapshot of player performance during that point in time. The platform enables fans to manipulate camera positioning in the 3D model to watch the course from their preferred angle.
Additionally, TOURCast allows fans to follow any player shot-by-shot, hole-to-hole, or through an entire round of live play. Fans are also able to experience TOURCast even after tournaments are complete; they can automatically replay a player's entire tournament from start to finish.
Results:
TOURCast debuted at the 2020 PLAYERS CHAMPIONSHIP in March 2020, which was cancelled due to the COVID-19 outbreak. When play resumed in June, TOURCast quickly became the second-most used feature on PGATOUR.COM and PGA TOUR mobile apps (second only to the live leaderboard).
Our data shows fans consume this product throughout tournaments, often running it side-by-side with the telecast as they follow their favorite golfers. To date, we've seen a strong global audience engage with this product. As the game of golf continues to grow, and the number of international golfers on The PGA TOUR continues to increase, we anticipate the usage numbers to continue to accelerate.
PRODUCTION
PGA Tour, Shotlink, Virtual Eye, WSC Sports
CREDITS
Sr. Director, Product Development
PGA TOUR Digital
BRANDS AT THE LIVE SERIES
CONTENT x SPORTS BETTING
Over two days, sports betting + media will converge to discuss the North American fan. Learn the insights and strategies needed to develop partnerships, create and monetize betting content, and drive critical revenue and engagement.
May 12-13, 2021 (Virtual)
TRANSFORMING THE NEXT DECADE
Hashtag Sports® is the leading platform for media and marketing professionals and the next generation of creative talent across the converging sports and entertainment industries.
From unparalleled experiences like our annual conference and the Hashtag Sports Awards presented with Budweiser to inspirational digital content and mission-driven initiatives, Hashtag Sports is the benchmark for fan engagement and the go-to resource for the development of a new sports and entertainment ecosystem powered by digital media, content, culture, purpose, and technology.