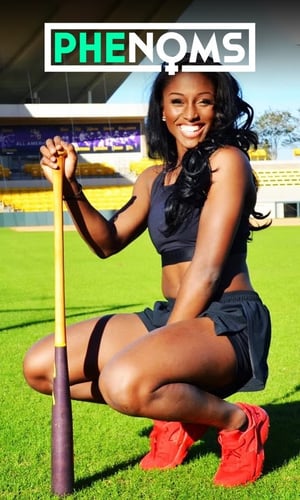 ABOUT THIS ENTRY
Women's sports programming has historically not received as much support in traditional media because the status quo understanding was that audiences "don't care" about it as much as traditional major sports programs. Phenoms set out to defy this standard.
How does this represent "Excellence in Engagement"?
With 9.8M monthly unique viewers and 1.5m+ viewers per episode today, Phenoms' success since its launch in 2020 has proven that there is a massive, underserved fanbase for programming fully focused on women in sports. Through Snapchat, the show has been able to reach a massive fanbase of young millennials and Gen-Z fans who are more socially and politically conscious than previous generations, and Phenoms' message of female empowerment has resonated perfectly with these fans.
With 95 episodes already published, and no end in sight, the success of Phenoms is something that we hope shows just how much fandom exists for women's sports, and that it inspires the rest of the industry to invest more in the space.
Objective: Since its inception, WAVE.tv has had a guiding mission to champion fandom. Today's sports fans are vastly different than previous generations. They seek out highlights first, prefer athletes and creators over teams and leagues, and live entirely on social. This simple insight pushed WAVE.tv to create a portfolio of media brands, catering to a wide array of genres and fandoms.
While WAVE.tv covers more traditional sports like football (soccer), American football, basketball, baseball, and hockey, a large quantity of programming is focused on non-traditional sports or emerging categories. They include combat, timber sports, amateur athletics, wrestling, and in 2020 women's sports.
At the core of WAVE.tv's strategy was Snapchat, where they were able to expand their presence on Discover by delivering highly-successful sports programming built for the platform, highlighting great UGC and new ways for fans to engage with content from leagues & rights partners.
Snap's audience is right in the sweet spot of the next-gen sports fan, and WAVE.tv was looking to expand their presence of women's sports coverage. With those thoughts in mind, 'Phenoms' was born.
Strategy & Execution: WAVE.tv knew that through original shows on the Discover network, they would be able to deliver a new kind of programming for the sports industry, built for the previously underserved young sports fan. The successful strategy for developing Snap-specific sports programming has allowed WAVE.tv's network to grow from 5 to 14 shows in 2020 alone, with a total, unduplicated network reach in November 2020 of 62.9M.
WAVE.tv's network of Discover Shows has successfully taken themes we know fans want to see and turns them into a program that they keep returning to week-after-week.
'Phenoms' highlights women who are changing the world of sports. Each week, the WAVE.tv Discover Show focuses on female powerhouse athletes across various sport fandoms from soccer, football, and judo to powerlifting, track, and rock climbing. These stories focus on athletes from around the world with ages ranging from 7 to 75.
Season one premiered in February 2020 and ran for 75 episodes. Season two kicked off this past January with 15 episodes already underway.
Results:
'Phenoms' has 1.2M subscribers and is one of the top Snapchat shows across the WAVE.tv Discover network with 9.8M monthly unique viewers who tune in to see incredible women in sports every episode. Phenoms on average also garners 1.5M+ viewers per episode.
Additional WAVE.tv Snap stats:
The WAVE.tv Discover network reached 62.9M monthly active viewers in November 2020.

In 2020, WAVE.tv original shows running on the platform have grown from 5 to 14. Three of these shows were just greenlit and launched in December--Lil Legends, TBH and Off Track--proving how their shows have resonated with the Snapchat Discover community.

WAVE.tv was featured in Snapchat's Q2 earnings report as a top publisher on their platform.

WAVE.tv was featured at the 2020 Snap Partner Summit as being one of two companies innovating for digital natives on their platform.
PRODUCTION
WAVE.tv
PRODUCTION
Supervising Producer
WAVE.tv
Producer
WAVE.tv
Producer
WAVE.tv
BRANDS AT THE LIVE SERIES
CONTENT x SPORTS BETTING
Over two days, sports betting + media will converge to discuss the North American fan. Learn the insights and strategies needed to develop partnerships, create and monetize betting content, and drive critical revenue and engagement.
May 12-13, 2021 (Virtual)
TRANSFORMING THE NEXT DECADE
Hashtag Sports® is the leading platform for media and marketing professionals and the next generation of creative talent across the converging sports and entertainment industries.
From unparalleled experiences like our annual conference and the Hashtag Sports Awards presented with Budweiser to inspirational digital content and mission-driven initiatives, Hashtag Sports is the benchmark for fan engagement and the go-to resource for the development of a new sports and entertainment ecosystem powered by digital media, content, culture, purpose, and technology.