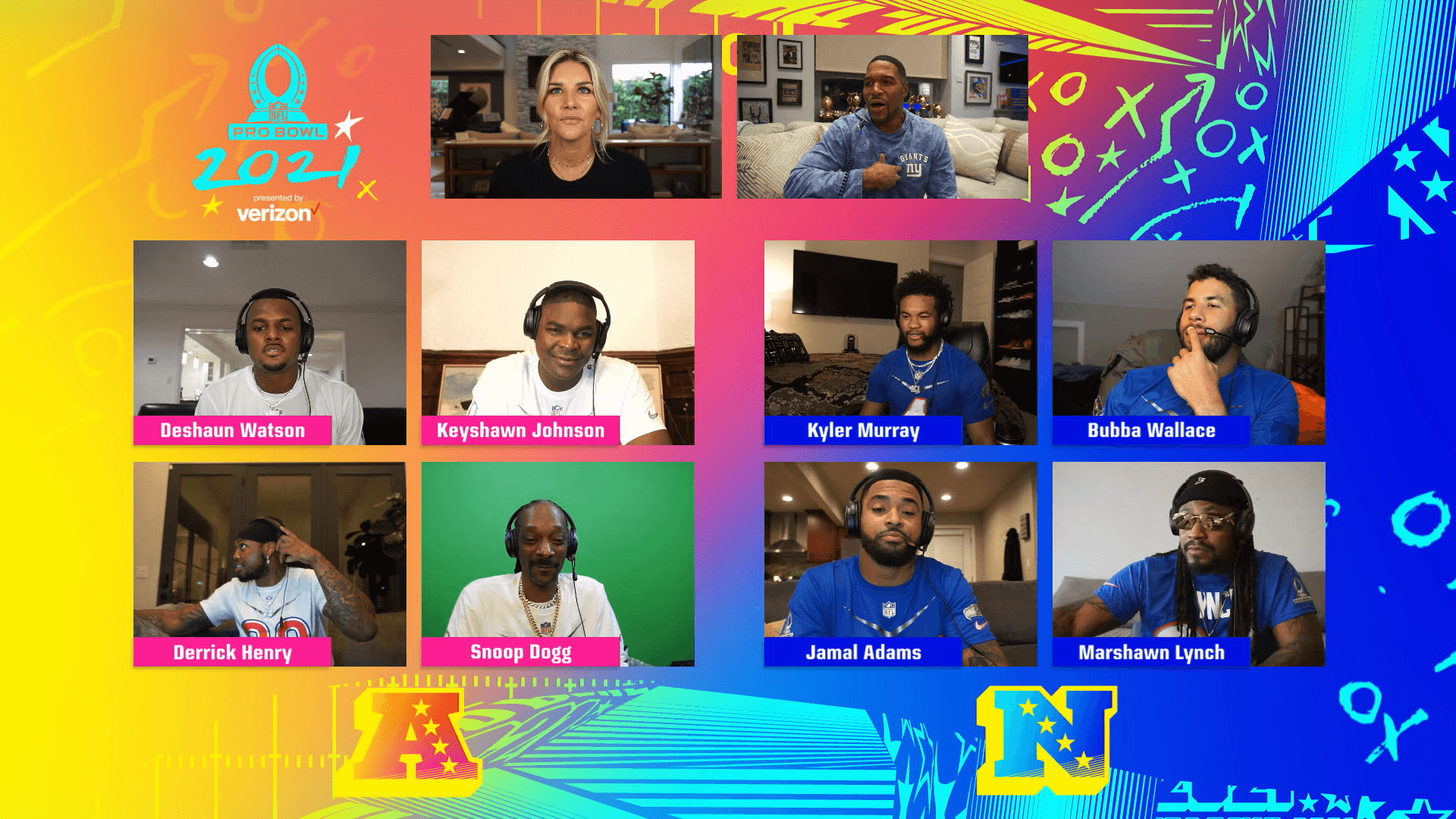 ABOUT THIS ENTRY
The Pro Bowl: Madden NFL 21 Edition Presented by Verizon was the first-ever major sporting event to go entirely virtual, completely reimagined on the virtual fields of Madden NFL 21.
How does this represent "Excellence in Engagement"?
The Pro Bowl: Madden NFL 21 Edition Presented by Verizon was the first-ever major sporting event to go entirely virtual, completely reimagined on the virtual fields of Madden NFL 21. The unique format of the event, featuring an esports/gaming integration and a star-studded NFL and celebrity player lineup transformed the Pro Bowl into a must-watch NFL experience - setting a precedent for the industry and for future sporting events to come.
Additionally, EA rolled out new opportunities for fans to engage with the Pro Bowl, including the Video Game Numbers Challenge, which empowered fans to place their favorite players on the official Pro Bowl roster by scoring touchdowns in Madden NFL.
This year's Pro Bowl was a digitally-driven event with multiple live streams across a variety of social platforms meeting the next generation of NFL fans where they live online. This paid off by drawing increased viewership from younger audiences [+36% in 18-34 viewership during the NFL Network re-air].
With the success of the Pro Bowl, fans' surging interest in gaming and a unique execution of a virtual event, EA SPORTS and the NFL's efforts will serve as inspiration for other sports leagues, brands and partners in the future.


Objective: When the NFL canceled its in-person Pro Bowl for the first time in more than 60 years, long-time partner EA SPORTS was quick to step in with a solution - transform the Pro Bowl into an all-virtual event, enabling the League to keep it on the NFL calendar while also engaging a new generation of NFL fans who live on social. The result: an all-virtual Pro Bowl played in Madden NFL 21, the first-ever major sporting event to go virtual, reigniting widespread interest in the Pro Bowl and turning the brand-new way to play into an entertaining and star-studded must-watch sports experience. Main objectives included:
Generate mass awareness, while engaging digital natives online

Demonstrate how the collaboration is transforming sports consumption

Drive appointment-setting through multiple channels and beats

Secure mass tune-in with support from top talent
Strategy & Execution: To build momentum over 3+ months, the team conceptualized a campaign to engage fans, influencers and media, including:
A narrative-setting announcement of EA SPORTS and NFL collaborating to transform the first major sporting event

The introduction of new ways for fans to dictate Pro Bowl roster additions through Video Game Numbers Challenge, which empowered fans to send their favorite players to the Pro Bowl by scoring touchdowns in Madden NFL

Leveraging the power of celebrity by unveiling NFL athletes and entertainers representing the AFC and NFC




Throughout the campaign, the team created engaging social content across EA platforms, as well as larger media buys with partners including ESPN and NFL Network. EA also leveraged top talent including Deshaun Watson, Kyler Murray, Jamal Adams, Bubba Wallace and Charissa Thompson to promote roles in the event via media interviews, driving national media coverage and social conversation. The main event resulted in an epic virtual experience, with players and celebrities showcasing their Madden skills with official Pro Bowl rosters to determine the winner. The Pro Bowl: The Madden NFL 21 Edition was live-streamed across NFL social channels, 28 NFL team Twitter accounts and Madden NFL Twitch to reach the next generation of fans.



Results:
The virtual Pro Bowl shattered multiple records, with fans engaging across digital platforms:
The event generated 3.5M live views, a 121K combined average minute audience and trended on Twitter in the US
Ranked as #1 most-viewed event on digital platforms in Madden NFL history
Ranked as #1 highest viewed Madden live stream in NFL YouTube history
Ranked as #6 highest viewed live stream in NFL YouTube history
Fans engaged on social with 317K+ posts driven by top viral moments like Marshawn Lynch breaking his chair in excitement, and Snoop Dogg's running commentary
This year's Pro Bowl also brought in younger fans to NFL Network with the re-air of the event up +36% in 18-34 viewership as compared to last year
From a PR perspective, across both pre and post-game initiatives, including the initial announcement to transform the event, the Video Game Numbers Challenge, celebrity and talent lineup unveils and overall tune-in, the Pro Bowl generated over 1,200 earned media and broadcast placements with 74.9M UPVD. Top media coverage included pieces from CBS Sports, Sports Illustrated, ESPN, Complex, The Ringer, Bleacher Report, Reuters, NBC Sports, USA Today, Engadget, GameSpot, and many more.
PRODUCTION
EA SPORTS, NFL, One Team Partners, Find Your Battlefield, Verizon, FleishmanHillard
CREDITS
Senior Brand Marketing Lead - EA Sports Madden NFL
EA SPORTS
Executive Producer
EA SPORTS
Madden CG Program Manager
EA SPORTS
PR Manager
EA SPORTS
Brand Coordinator
EA SPORTS
Director, Gaming & eSports
NFL
Senior Manager, Social Media Content & Marketing
NFL
Producer
Find Your Battlefield
VP, Production & Creative
One Team Partners
Producer/Athlete Relations Consultant
One Team Partners
Production Manager
One Team Partners
Partner
FleishmanHillard
Managing Supervisor
FleishmanHillard
Senior Account Executive
FleishmanHillard
BRANDS AT THE LIVE SERIES
CONTENT x SPORTS BETTING
Over two days, sports betting + media will converge to discuss the North American fan. Learn the insights and strategies needed to develop partnerships, create and monetize betting content, and drive critical revenue and engagement.
May 12-13, 2021 (Virtual)
TRANSFORMING THE NEXT DECADE
Hashtag Sports® is the leading platform for media and marketing professionals and the next generation of creative talent across the converging sports and entertainment industries.
From unparalleled experiences like our annual conference and the Hashtag Sports Awards presented with Budweiser to inspirational digital content and mission-driven initiatives, Hashtag Sports is the benchmark for fan engagement and the go-to resource for the development of a new sports and entertainment ecosystem powered by digital media, content, culture, purpose, and technology.