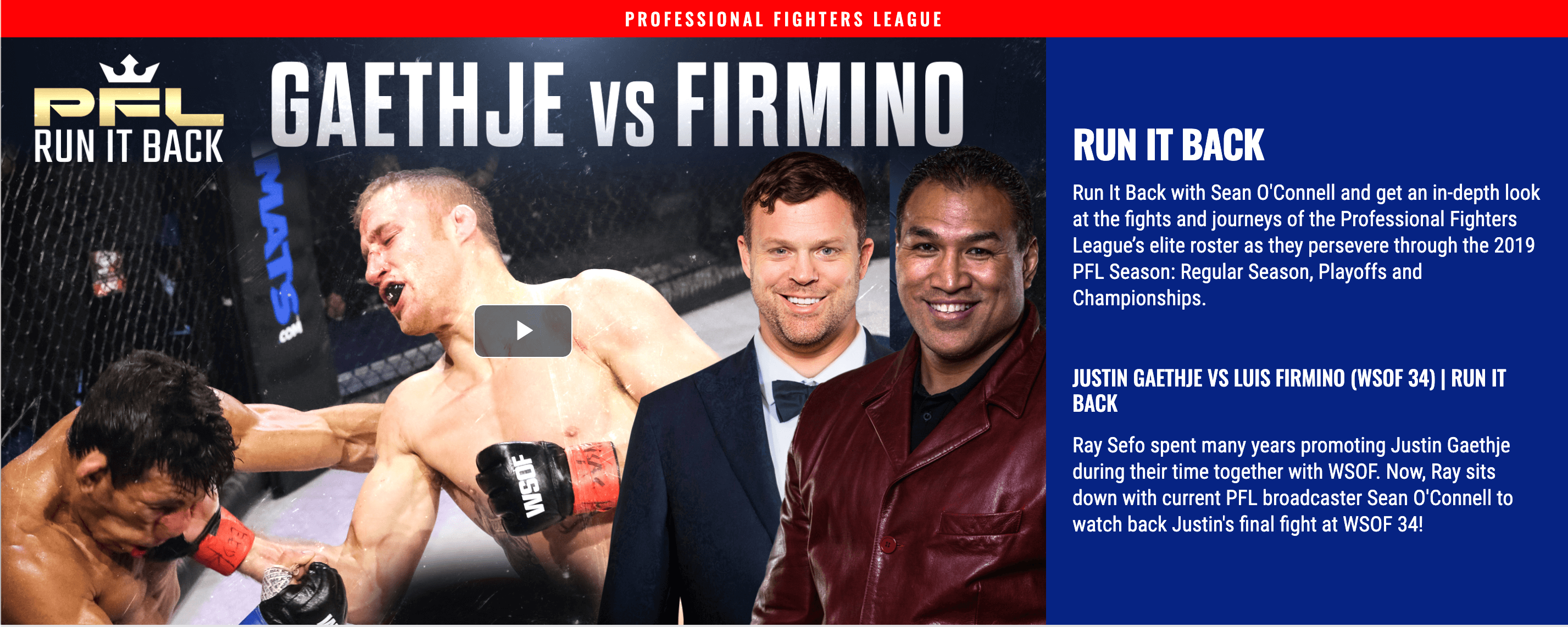 ABOUT THIS ENTRY
"Run It Back" was PFL's first original content series when it launched in April 2020, establishing a level of high-quality content that viewers could come to expect from the league moving forward.
How does this represent "Excellence in Engagement"?
In April, the Professional Fighters League (PFL) announced it was postponing its 2020 season due to the coronavirus pandemic, prioritizing the health and safety of the league's fighters, fans, business partners and event staff. The series engages with fans on a different level as part of the PFL's shorter form content strategy. PFL created compelling content and narratives that would keep the innovative sports league top-of-mind during the hiatus.
Objective: The goal of Professional Fighters League's "Run It Back" series is for host, Sean O'Connell, to take viewers through an in-depth look back at the fights and journeys of PFL's elite athletes. O'Connell speaks directly with some of PFL's biggest stars as discuss through some of their best fights, breaking down the film and giving viewers new perspective on some of the biggest matchups in league history.
Strategy & Execution: PFL recognized that its best performing videos consistently focused on fight highlights and saw this as an opportunity to create unforgettable fan experiences as some of the best athletes in the world analyzed their own performances. As a sports media company, PFL developed a network style approach to deliver its audience with engaging content that centered around these never-before-seen angles. Leveraging archival footage, the PFL showcased never seen before video and unheard broadcast audio to tell the stories behind some of the most talked about moments in the company's history.
Results:
The Run It Back series helped grow the PFL's social channels:
Total Engagements: 26M (+56 percent YOY)
Total Views: 234M (+36 percent YOY)
Total Fans: 3.4M (293k new followers)
BRANDS AT THE LIVE SERIES
CONTENT x SPORTS BETTING
Over two days, sports betting + media will converge to discuss the North American fan. Learn the insights and strategies needed to develop partnerships, create and monetize betting content, and drive critical revenue and engagement.
May 12-13, 2021 (Virtual)
TRANSFORMING THE NEXT DECADE
Hashtag Sports® is the leading platform for media and marketing professionals and the next generation of creative talent across the converging sports and entertainment industries.
From unparalleled experiences like our annual conference and the Hashtag Sports Awards presented with Budweiser to inspirational digital content and mission-driven initiatives, Hashtag Sports is the benchmark for fan engagement and the go-to resource for the development of a new sports and entertainment ecosystem powered by digital media, content, culture, purpose, and technology.