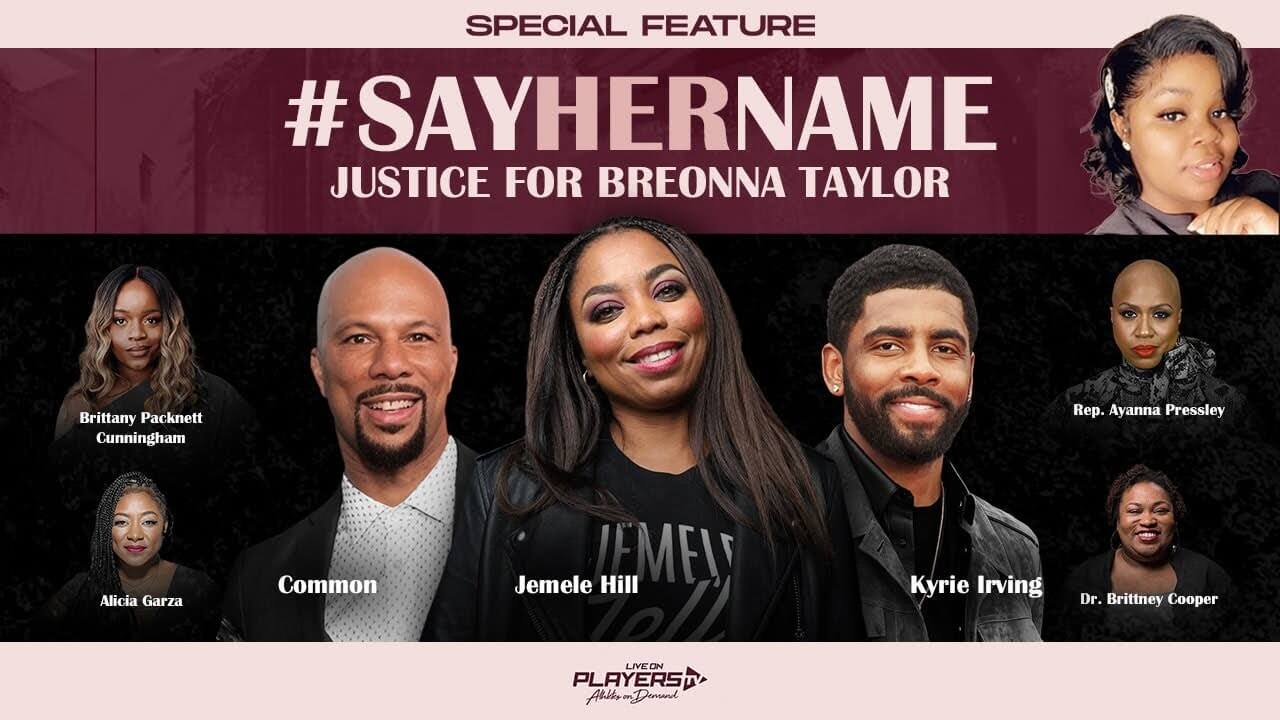 ABOUT THIS ENTRY
This one-hour special produced by Kyrie Irving and PlayersTV explores the importance of movements like #SayHerName and examines how Breonna Taylor's murder highlights the lack of awareness around Black women victims of police brutality.
How does this represent "Excellence in Engagement"?
The piece saw over 4 million views across social media and our distribution partners: Samsung, SLING TV, LG Channels, Vizio Smartcast, Roku, and Xumo TV.
Objective: To raise awareness on the tragic shooting and death of Breonna Taylor featuring community leaders, instructors and educators on what its like to raise a strong voice during a year which majority of the black communities felt wasn't being done enough at governing level.
Strategy & Execution: The special was to provide viewers with several actionable steps to drive change and demand justice for Breonna. Including:
Dial 844-298-2731 to demand Louisville City Leadership get #JusticeForBreonnaTaylor via Color of Change.

Check your voter registration status and register to vote at Vote.Org.

Sign the Justice For Breonna Taylor petition today on Change.Org.

Call Kentucky Attorney General Daniel Cameron at 502-696-5300 and demand he charge the officers who murdered Breonna Taylor via Until Freedom.

Post on social media using #SayHerName and #JusticeForBreonnaTaylor to raise awareness about Breonna's case.
Results:
Over 12 million combined views across social media, 250k+ worth of fan engagement and distribution across linear and OTT via Samsung, SLING TV, LG Channels, Vizio Smartcast, Roku, and Xumo TV (all devices), reaching more than 165+mm households.
PRODUCTION
CREDITS
Executive Producer
(Breonna Special)
Co-Founder
PlayersTV
Chief Creative Officer
Players Media Group
Producer
Players Media Group
BRANDS AT THE LIVE SERIES
CONTENT x SPORTS BETTING
Over two days, sports betting + media will converge to discuss the North American fan. Learn the insights and strategies needed to develop partnerships, create and monetize betting content, and drive critical revenue and engagement.
May 12-13, 2021 (Virtual)
TRANSFORMING THE NEXT DECADE
Hashtag Sports® is the leading platform for media and marketing professionals and the next generation of creative talent across the converging sports and entertainment industries.
From unparalleled experiences like our annual conference and the Hashtag Sports Awards presented with Budweiser to inspirational digital content and mission-driven initiatives, Hashtag Sports is the benchmark for fan engagement and the go-to resource for the development of a new sports and entertainment ecosystem powered by digital media, content, culture, purpose, and technology.