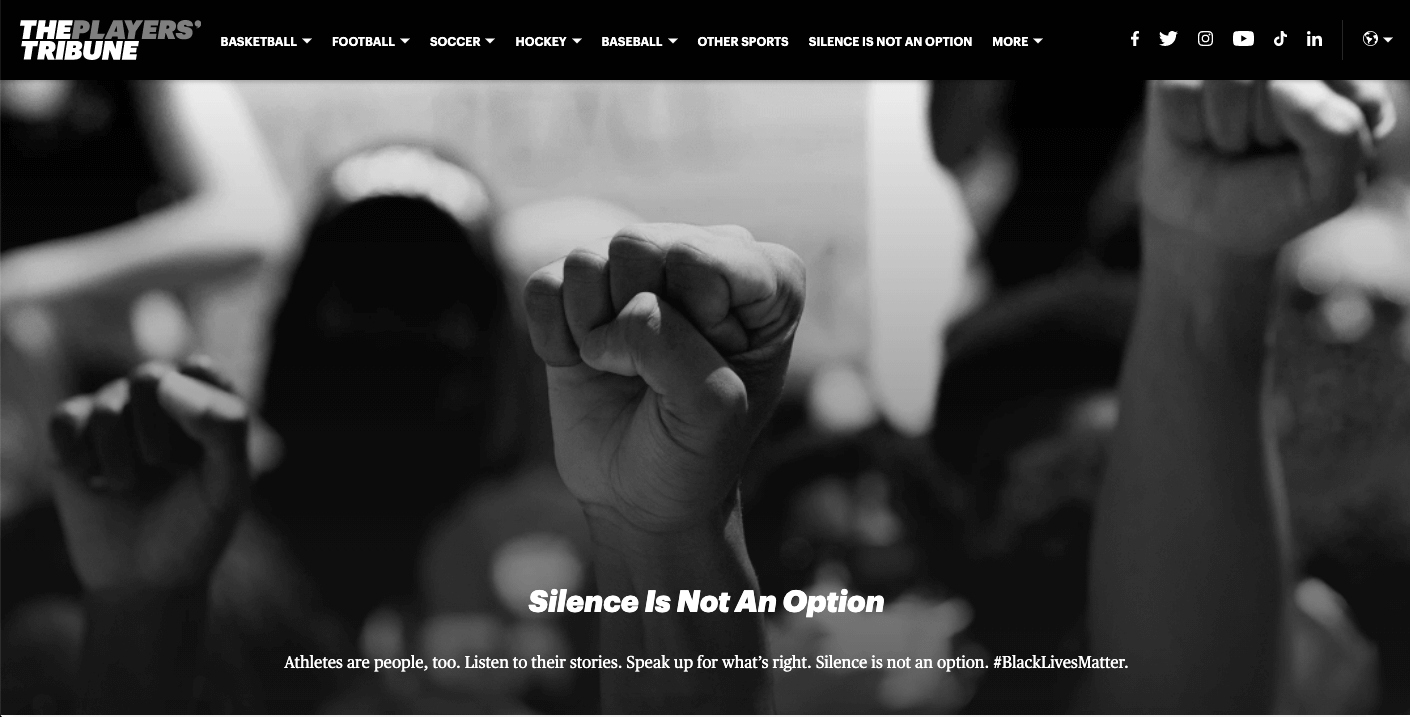 ABOUT THIS ENTRY
'Silence is Not An Option' is meant to amplify athlete stories that center around the issues of race, racial injustice and the Black Lives Matter movement.
How does this represent "Excellence in Engagement"?
The Players' Tribune exists to give athletes the ability to take control over their own stories and experiences and share them broadly with the world in thoughtful, impactful ways.
The importance of the stories shared in 'Silence is Not An Option', and the thoughtful, emotional insights that they provided were the main reason that the collection was such a success with audiences. The public was looking to further understand, and put into context, what was happening in the world, and hearing the raw, honest accounts of these athletes helped make that possible.
The engagement of this series went far beyond social media metrics or pageviews and resulted in real social change, with conversations happening all around the world of sport, and in society as a whole, that would not have happened if these athletes did not share their stories in this way.
Objective: The Players' Tribune (TPT) is a first-of-its-kind media platform created specifically for athletes to be able to share their own stories and experiences, in their own words. Since its creation, TPT has worked with its robust community of athletes to amplify their voices around important social issues such as gender equality, mental health and race.
In the summer of 2020, the world witnessed a horrendous act of police brutality against George Floyd. His death and other instances of violence and injustice against people of color led to outcries for change across the US. Among those outraged were not only ourselves, but our athlete community, who have spoken on the topic of racial injustice before, but believed now more than ever their stories needed to be heard.
True to our ethos as a company, we answered the call of our community and in partnership with multiple athletes across nearly every sport, we created 'Silence is Not an Option' -- a robust collection of athlete stories all centered around racial injustice. The objective of this was to further conversations and understanding around the systemic issues that face people of color in the US and to create change within our society.
Strategy & Execution: The collection, which is still growing, currently features articles from 35 athletes and sports leaders of color, as well as their allies. For example, WNBA player Natasha Cloud penned a piece entitled 'Your Silence is a Knee on My Neck' in which she openly discusses the raw emotions she felt in the aftermath of the killing of George Floyd, her anger, her fear and her exhaustion from having to live a life dictated by the color of her skin.
These impactful first-hand accounts allowed those writing them to freely and openly share their experiences with their communities, fans and peers about what the world is truly like for them, shining a spotlight on the very real racial issues within the U.S.
These stories live natively on The Players' Tribune website and are shared across TPT's social channels. Additionally, each athlete shared their article across their own social channels, adding to the reach and impact of these important stories.
Results:
The 'Silence is Not An Option' stories were successful in their goal of furthering conversations about race and racial injustice within the US, garnering over 11M+ social impressions and 46K+ engagements. The series also had a significant sport, culture and press impact with social engagement from Eminem, Evander Kane, Deborah Cox, LaMarcus Aldridge, the Washington Mystics, ESPNW, the WNBA, ABC 6, and Yahoo Sports NBA as well as a total of over 4.5 billion impressions through 660+ earned media pick-ups including mentions in publications such as Forbes, NBC Sports, The New York Times, Sports Illustrated and The Boston Globe to name a few.
Additionally, these pieces had a hand in creating real life change for Natasha Cloud, one of the writers within 'Silence is Not An Option'. After her piece 'Your Silence is a Knee on My Neck', Natasha was offered a deal with Converse, making her the first WNBA player to join the brand. Her vocal activism about racial injustice is what led to this iconic partnership according to Ronald Johnson, Converse's General Manager of Global Basketball, "Natasha Cloud's recent piece is one of many examples of integrity, grace and strength she brings to the Converse team," (Bleacher Report).
BRANDS AT THE LIVE SERIES
CONTENT x SPORTS BETTING
Over two days, sports betting + media will converge to discuss the North American fan. Learn the insights and strategies needed to develop partnerships, create and monetize betting content, and drive critical revenue and engagement.
May 12-13, 2021 (Virtual)
TRANSFORMING THE NEXT DECADE
Hashtag Sports® is the leading platform for media and marketing professionals and the next generation of creative talent across the converging sports and entertainment industries.
From unparalleled experiences like our annual conference and the Hashtag Sports Awards presented with Budweiser to inspirational digital content and mission-driven initiatives, Hashtag Sports is the benchmark for fan engagement and the go-to resource for the development of a new sports and entertainment ecosystem powered by digital media, content, culture, purpose, and technology.