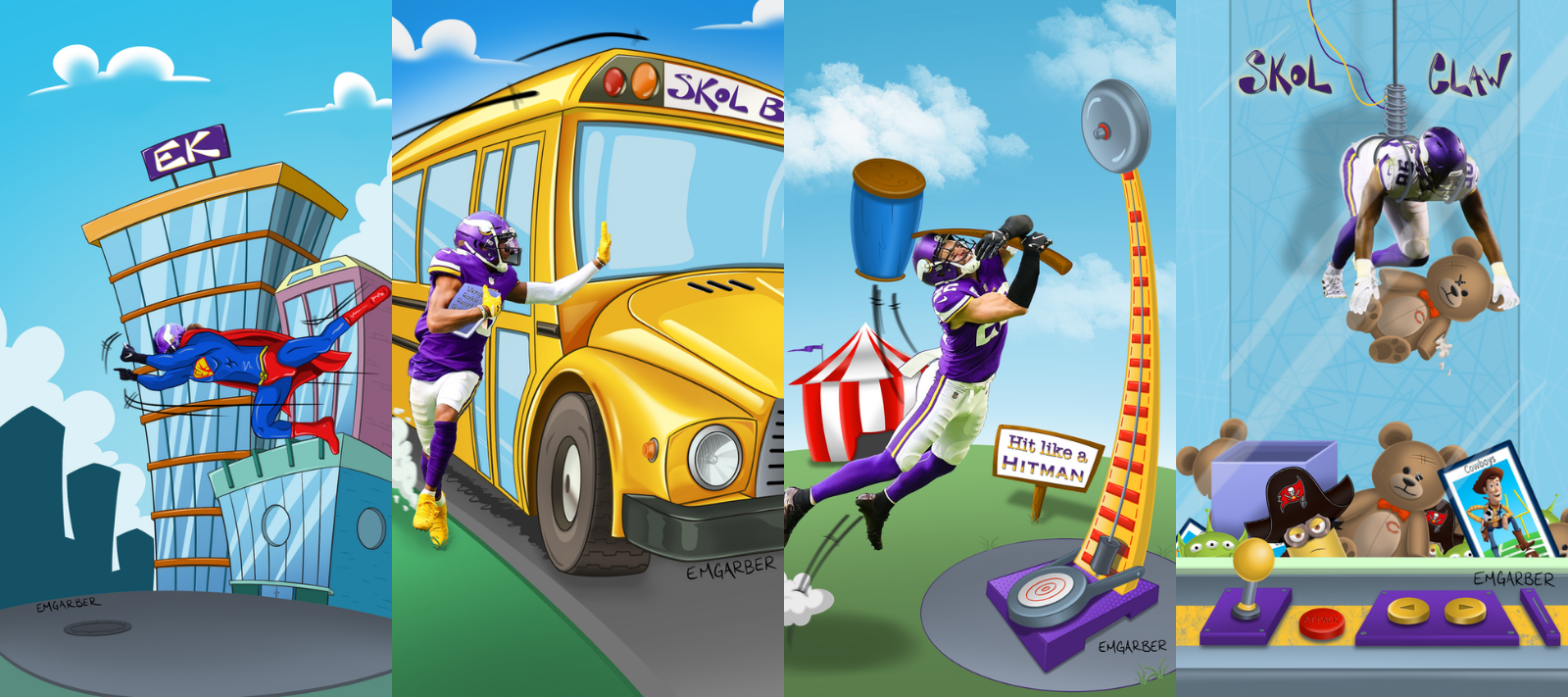 ABOUT THIS ENTRY
For the fourth year in a row, the Minnesota Vikings looked to stand out in an increasingly saturated social media environment with Skol Scribbles. Game highlight images are illustrated into a theme based on the time of year or current trend, creating the digital equivalent to the coloring books that everyone grew up with as a child.
How does this represent "Excellence in Engagement"?
Time and time again, Skol Scribbles is some of the highest-performing social content the Vikings produce.
Working with a talented artist to integrate art into social media has put a different spin on what social content looks like for the sports industry. It sets the Vikings apart from a very saturated gameday environment.
In addition to the content being visually pleasing, the payoff for the fan is significant. The anayltics alone suggest people return each week in order to "play" for their chance to be featured on the Vikings social media accounts, as well as win prizes. Taking high-quality content that is "fans-first" is always the team's #1 goal.
Objective: Competition on social media platforms has never been greater - especially in a year where everyone was stuck at home. On Snapchat and Instagram Stories, the Vikings only have a matter of nanoseconds to captivate someone and encourage them to interact back and forth.
Strategy & Execution:
Leverage the power of both technology and a talented illustrator
Create platform-native content that could only be done on Snapchat or Instagram Stories
Unleash the power of fan creativity and give them a chance to participate
Align with the existing Transformation Tuesday trend that was already popular
After each game of the 2020 season, the social team sorts through game images to determine which ones would be ideal candidates to transform into an illustrated story. Once selected, the team polls Instagram and Snapchat audiences what theme they'd like to see the image transformed into. Once submissions are gathered, the Vikings social team and award-winning artist, Evan Garber, choose a final idea. Garber creates high-quality "scribbled" masterpieces based off the fan's submission to post on stories. This gives fans the opportunity to screenshot the illustration to use as wallpaper for the background of their phone each week. Winning fan submissions receive a copy of the illustration with an autograph from the player featured.
This year marked a change from previous years in two ways: the content was attached to a partner and the team sought to bring a new audience by filming the "behind the scenes" process for TikTok.
Results:
When Tuesday came around, fans from around the country sent in their original ideas for a chance to be featured. On Snapchat, Skol Scribbles series generated an average of over 14,000 views per stories, in addition to seeing an average of 400 screen shots per series. Instagram impressions were well over 8.2 million for the entire series, as well as a 3.45% average completion rate. In total, there were 294 individual stories, respectively, on Snapchat and Instagram throughout the entire season. The accounts received thousands of idea submissions across Snapchat and Instagram each week. Additionally, players from the Vikings often interacted with posts where they were featured and shared to their broader audiences.
PRODUCTION
Evan Garber, Illustrator
Minnesota Vikings
CREDITS
Social Strategy & Business Impact Manager
Minnesota Vikings
Social Media Manager
Minnesota Vikings
Digital & Social Content Coordinator
Minnesota Vikings
Social Content Intern
Minnesota Vikings
Executive Director, Digital & Innovation
Minnesota Vikings
Illustrator
EMGarber
BRANDS AT THE LIVE SERIES
CONTENT x SPORTS BETTING
Over two days, sports betting + media will converge to discuss the North American fan. Learn the insights and strategies needed to develop partnerships, create and monetize betting content, and drive critical revenue and engagement.
May 12-13, 2021 (Virtual)
TRANSFORMING THE NEXT DECADE
Hashtag Sports® is the leading platform for media and marketing professionals and the next generation of creative talent across the converging sports and entertainment industries.
From unparalleled experiences like our annual conference and the Hashtag Sports Awards presented with Budweiser to inspirational digital content and mission-driven initiatives, Hashtag Sports is the benchmark for fan engagement and the go-to resource for the development of a new sports and entertainment ecosystem powered by digital media, content, culture, purpose, and technology.