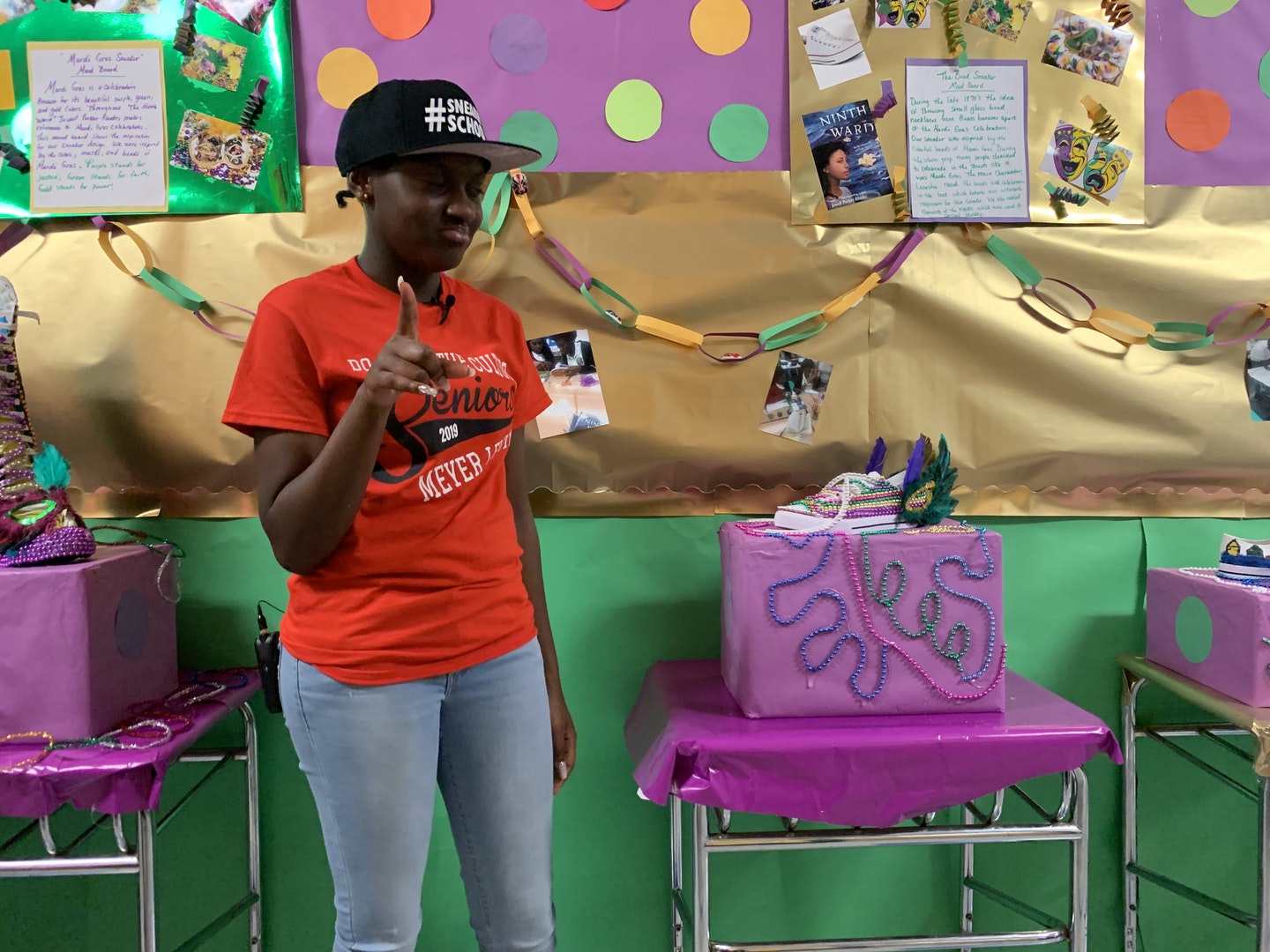 ABOUT THIS ENTRY
The Sneaker Essentials K-12 pilot program was created to connect students' passion for an area of the sports ecosystem (sneakers) to their learning experiences to deepen educational engagement, develop a practical design and critical thinking skills, and explore potential career paths.
How does this represent "Excellence in Engagement"?
The Sneaker Essentials K-12 pilot allowed students to think beyond the arena & the athlete and into an actual career in an industry surrounding sports. Students were extremely interested in finding out the different facets of the sneaker industry and how they could apply this knowledge in the future. They were eager to tell their stories and the history of African Americans through sneaker design. The course allows students to be expressive and tell their stories in a way that is comfortable for them while learning about an industry that so many of them are passionate about. This program allows teachers to engage students in a way that they otherwise may not have been able to and connect with them on a cultural level. This is one of the moments where teachers could become the student and learn about a topic that is special to the student.
Objective: Whether it's creating an innovative material to design the next basketball shoe or starting a sneaker business, there are quite a few options to choose from. Having a career in the sports industry expands past being an athlete. We want the students, who are often fans of sports, to know that there are career options outside of being the athlete. While some people are successful in their quest to be professional athletes, others aren't so lucky. Athletes like Langston Galloway have explored entrepreneurship through sneakers, which started because of his love for sneakers when he was young. Each player is their own brand and they are not only playing the game but building their brands and businesses. Giving students the foundation to turn their passions into careers can help them take the appropriate next steps toward a more focused higher education journey.
Strategy & Execution: The program was designed from the perspective that the sneaker industry plays a major role in all aspects of sports play. From a fan perspective, sports can involve everything from uniforms to sneakers to workout regimens to the food athletes eat. This course approaches sneakers as not just a culture/collector's item but an integral tool that gives athletes the support they need to excel at the sports they love. By learning about the jobs in the sneaker industry, students can start developing the steps to a higher education plan while immersing themselves in real-life activities. Working towards a career in the sneaker industry allows students to eventually become part of the community that helps create, design, market, and sell the very same products that their favorite athletes also love. Most young people, especially in inner-city communities, are often persuaded by the notion that "getting a scholarship to play sports'' is the only way to get to college. This program was designed to debunk the myth that the only way into sports is through play. Langston Galloway, Zach Collins, and Chasson Randle are just a few of the NBA players who enrolled in online school during the pandemic to level up.
Results:
The program asks students to complete a variety of activities that require them to apply what they've learned from the course to "real-world" activities. They created mood boards, studied silhouettes for different types of athletic footwear to create their version of a sneaker mock-up. They studied how to survey their customer demographic and they even learned how to track the value of a shoe, similar to tracking the value of a stock option. They have to figure out gains/losses and explain what could have affected the shoe value. They can use these skills in the real world to buy, sell, trade stocks. For the first pilot program classes that launched at Meyer Levin Middle School (Brooklyn, N.Y.), students presented their final deliverables for a Juneteenth festival that is annually held at their school. Themes around sneaker design and brand storytelling included Black Wall Street and Black Excellence. Another class chose a literary theme from the book Ninth Ward, and designed all of their final projects to reflect the messages from the book.
PRODUCTION
F.I.T. (Fashion Institute of Technology)
CREDITS
CEO
Yellowbrick
Content Strategy Manager/Instructional Designer
Yellowbrick
Director of Instructional Design
Yellowbrick
BRANDS AT THE LIVE SERIES
CONTENT x SPORTS BETTING
Over two days, sports betting + media will converge to discuss the North American fan. Learn the insights and strategies needed to develop partnerships, create and monetize betting content, and drive critical revenue and engagement.
May 12-13, 2021 (Virtual)
TRANSFORMING THE NEXT DECADE
Hashtag Sports® is the leading platform for media and marketing professionals and the next generation of creative talent across the converging sports and entertainment industries.
From unparalleled experiences like our annual conference and the Hashtag Sports Awards presented with Budweiser to inspirational digital content and mission-driven initiatives, Hashtag Sports is the benchmark for fan engagement and the go-to resource for the development of a new sports and entertainment ecosystem powered by digital media, content, culture, purpose, and technology.