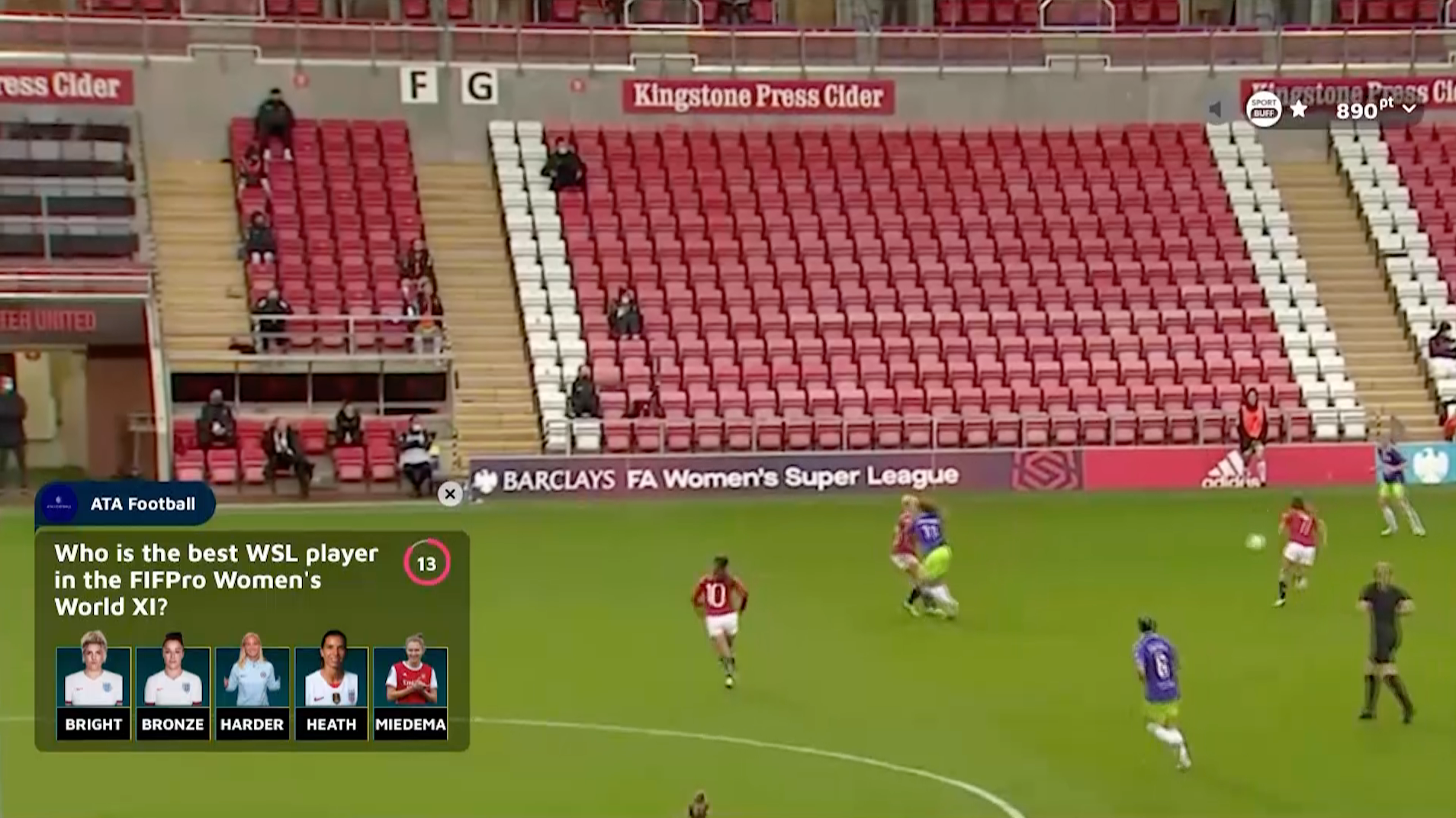 ABOUT THIS ENTRY
Ata Football is the new home to Women's Soccer, sharing top league live-action with NBC Sports.
How does this represent "Excellence in Engagement"?
Sport Buff has now operated over 100's hours of live sports broadcast and 100's hours of on-demand sports content. The total users increase week on week as fans tune in to top the rankings, beat their previous scores and get their names on the GOAT leaderboard!
The highest engagement seen was 63% of all live viewers engaging. Sport Buff is a permission-based platform, meaning the viewer/user can disable or hide Buffs at any point. Median disable/ hide rates are 0.1% across all Sport Buff events
The average engagement for Buffs per game is 55% of all Buffs seen - and that number is climbing as new features are released based on insights from audience behaviour.
Sport Buff is delivering Excellence in Enagement, then using this engagement to personalize the audience experience. Ata Football is using this to provide a true differentiator in the OTT space, a position as innovative and forward thinking as their leadership in Women's Soccer.
Objective: Ata is also creating a community of women's soccer fans and next generation women's soccer players. It's a special, dedicated OTT platform showcase great live-action, podcasts, interviews and educational coaching clinics.
Their objective was to take the experience further and innovate more than any standard OTT experience. That was where the partnership with Sport Buff came in.
Sport Buff is all about creating a unique and profound experience for sports fans who want more than just a passive viewing experience. Sport Buff delivers spectacular uptake within the Gen Z (8-23 yr old) and Millennial audiences but importantly engages fans of all ages. This is a real solution for engaging audiences over OTT, also combating churn while enticing in curious potential new subscribers with prizes and discounts.
Strategy & Execution: Millenial and Gen Z viewers watch less live sport, are less engaged and more distracted by social media and friend content. Sport Buff re-engages viewers in live content by offering them the best of the broadcast, social media and game stats, presented via real-time challenges to offer opinions, with or against friends, fans, and influencers.
Sport Buff offers Ata Football pundits and commentators an opportunity to interact directly with fans and get real-time responses - which drives debate, informs editorial, or can run passively alongside traditional linear TV programming. Sport Buff and Ata Football truly break the 4th wall, allowing fans to feel a part of the action.
The strategy was to launch free for all users on initial top flight games, then starting to make more engagement matches and content available behind premium gateways.
Results:
Sport Buff went live with Ata Football in early 2021, starting with a handful of Buffs on a live game. Within a few weeks, demand from fans and engagement metrics were so high it was rolled across multiple games per weekend, delivering over 55% of all audiences/ viewers engaging and interacting with Sport Buff content over live and VOD action. The amount of Buffs per game increased by 400%+ and overall engagement increased even further.
PRODUCTION
Sport Buff & Ata Football
CREDITS
Founder & CEO
Sport Buff
Founder & President
Sport Buff
Co-Founder, General Manager
Atalanta Media
Co-Founder, Advisor
Ata Football
Digital Product Manager
Ata Football
Co-Founder & CTO
Sport Buff
Co-Founder & VP
Sport Buff
BRANDS AT THE LIVE SERIES
CONTENT x SPORTS BETTING
Over two days, sports betting + media will converge to discuss the North American fan. Learn the insights and strategies needed to develop partnerships, create and monetize betting content, and drive critical revenue and engagement.
May 12-13, 2021 (Virtual)
TRANSFORMING THE NEXT DECADE
Hashtag Sports® is the leading platform for media and marketing professionals and the next generation of creative talent across the converging sports and entertainment industries.
From unparalleled experiences like our annual conference and the Hashtag Sports Awards presented with Budweiser to inspirational digital content and mission-driven initiatives, Hashtag Sports is the benchmark for fan engagement and the go-to resource for the development of a new sports and entertainment ecosystem powered by digital media, content, culture, purpose, and technology.