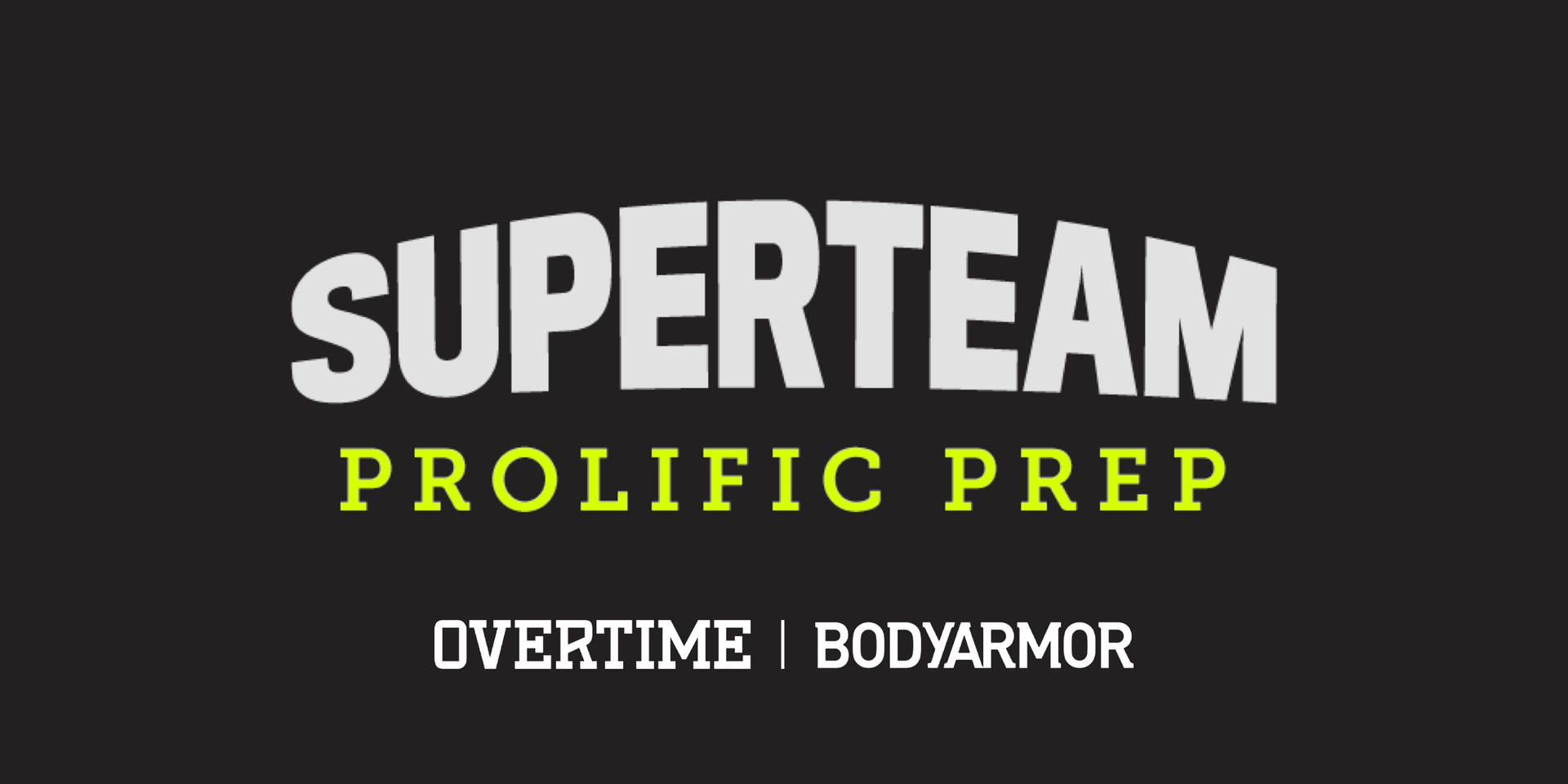 ABOUT THIS ENTRY
During the 2019-2020 high school basketball season, Overtime went all-access with one of the best teams in the country hailing from Napa Valley, California.
How does this represent "Excellence in Engagement"?
As mentioned, the Overtime community has demonstrated strong appointment viewing habits for our story-driven content, and they did more than just tune in to Superteam: Prolific Prep; they went above and beyond to show their support of the content and the BODYARMOR brand. The inaugural season of Superteam quickly became a top performer for Overtime's already industry-leading engagement.
Some of the comments received on the show's YouTube videos included:
"I was waiting till Sunday's for The Last Dance, now I can't wait till Sunday's for PROLIFIC PREP"

"I think I'm gonna cry...I've watched every episode best series I've ever watched"

"Best money BODYARMOR has ever spent"

"When I saw BODYARMOR I went to get some. The drink was so good I got Peach Mango"

"Anyone else started drinking BODYARMOR because of this series"
After the season finale, Overtime posted a poll asking our community if we should do a Season 2 of the Superteam series. With almost 20,000 responses, an overwhelming 94% of respondents said yes!
Objective: With the Beverage Wars heating up, BODYARMOR's goal was to build brand equity and credibility among Gen Z and Millennials by infiltrating the environments they go for athletic, lifestyle, and health inspiration, as well as steal share from larger competitors in the space. Overtime was the perfect partner to help achieve these goals, and our story-driven longform programming, known as Overtime Originals, was the perfect solution to help BODYARMOR increase awareness, perception, and purchase consideration.
As the leading brand for the next generation of sports fans, Overtime's goal was to provide an authentic and valuable partnership for BODYARMOR by integrating the sports drink within the Superteam series and introducing the brand as the drink sponsor of the Prolific Prep team throughout the season.
Strategy & Execution: The Overtime audience can't get enough of our exclusive storytelling. Our original longform content drives industry-leading watch times and views. Our audience is accustomed to weekly premieres, leading to appointment viewing habits.
Located 47 miles north of San Francisco, Prolific Prep was #5 in the preseason rankings and was poised to compete for a national championship. With 5-star prospects all over the court, Prolific was guaranteed to be one of the most dominant and entertaining teams ever. Overtime covered the wins, losses, and drama as this team of future NBA stars tried to bring home a title.
As the presenting sponsor, BODYARMOR was authentically integrated into the inaugural season of Superteam as it became the official sports drink of Prolific Prep and the series. Integration as a school sponsor placed BODYARMOR front and center for our audience; they engaged with content that had layers of brand attribution, including an animated title treatment and product integration featuring top hoopers in America drinking the beverage and playing alongside branded coolers, signage, and towels.
Results:
The Superteam: Prolific Prep series and BODYARMOR's sponsorship of the series proved to be resounding successes. In fact, the series was even featured in the Hashtag Sports newsletter.
BODYARMOR saw tremendous results from the series, as the campaign drove double digit lifts in brand favorability (+74%), purchase consideration (+40%), and aided recall (+31%) among exposed viewers. In addition to the numbers, a big proof point was seeing the Overtime community writing comments about how they are now buying and drinking BODYARMOR since seeing it in the series. This is how we went from awareness to actually moving the needle for the brand.
Beyond BODYARMOR's success, the series has become one of the most successful Overtime shows, with over 50MM ORGANIC views and 669,000 average views per episode, which is 7x the 2020 U.S. Sports Media average. When looking at Part 1 and Part 2 of the full season compilation, they have garnered over 1.5MM views and an average watch time of over 36 minutes! Not only did our audience tune in, but they also engaged with the content, as the series saw an engagement rate of 4.6%, 3.3x the 2020 U.S. Sports Media Average.
PRODUCTION
CREDITS
Chief Content Officer
Overtime
Head of Content West Coast Overtime
Overtime
Overtime
Senior Director, East Coast Sales
Overtime
Partner, Integrated Investment UM Worldwide
BRANDS AT THE LIVE SERIES
CONTENT x SPORTS BETTING
Over two days, sports betting + media will converge to discuss the North American fan. Learn the insights and strategies needed to develop partnerships, create and monetize betting content, and drive critical revenue and engagement.
May 12-13, 2021 (Virtual)
TRANSFORMING THE NEXT DECADE
Hashtag Sports® is the leading platform for media and marketing professionals and the next generation of creative talent across the converging sports and entertainment industries.
From unparalleled experiences like our annual conference and the Hashtag Sports Awards presented with Budweiser to inspirational digital content and mission-driven initiatives, Hashtag Sports is the benchmark for fan engagement and the go-to resource for the development of a new sports and entertainment ecosystem powered by digital media, content, culture, purpose, and technology.