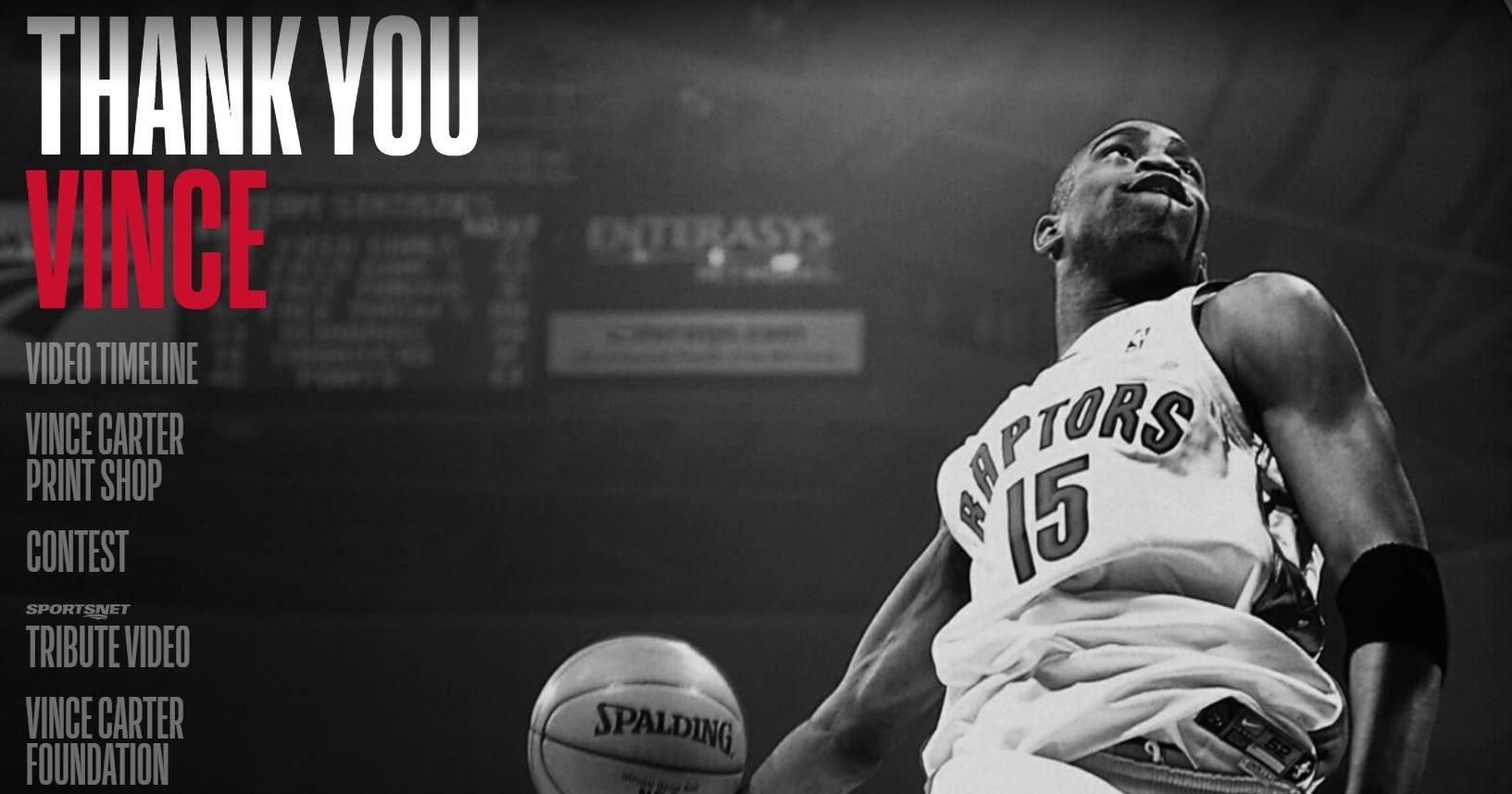 ABOUT THIS ENTRY
As fans called for a proper send-off, this multidimensional campaign rooted in storytelling successfully provided fans with an interactive platform to celebrate Vince Carter's historic career.
How does this represent "Excellence in Engagement"?
Vince Carter put Toronto on the basketball map, defined the 'dunk' and inspired a nation's love for the game - including a record number of Canadians currently in the NBA. Carter transcended time and defied gravity. When the NBA's return to play plans were announced, the Atlanta Hawks' 2019-20 season officially ended, and Vince's record-breaking career was officially over. Fans posted tributes across social media, calling for a proper send-off.
"Thank You Vince" wasn't just a campaign, but an online community- the NBA answered the call of a global chorus of basketball fans, creating a mobile-first stage to celebrate Vince Carter- hitting key objectives and resulting in 90M impressions, more than 282,000 site visits, and 65,000 new followers and emails captured. The disruption of schedules caused by COVID-19 presented an opportunity to engage fans beyond a 24-hour sports news cycle - leveraging a shared desire to revisit moments and memories that fans relished, while providing an inspiring distraction. Vince Carter's legacy extends beyond geographical borders and generations, and in a digitally connected world, this campaign presents a successful case study in the art of emotional storytelling around an iconic and record-breaking athlete.
Objective: Vince Carter, the longest tenured player in NBA history, inspired generations of players, millions of fans and put Toronto on the basketball map. The first NBA player to play in four different decades, at 42 years old Carter's record-breaking season was cut short due to the pandemic.
Anchored by a mobile-first, digital hub, this fully integrated campaign was designed to entertain casual and core NBA fans and spotlight Carter's achievements. Featuring an interactive video timeline, documentary, custom print shop, details on his foundation and more, the campaign launched with a contest, augmented reality filter and was bolstered by an influencer program leveraging global visual artists. The NBA approached the campaign with three priorities- to drive awareness, engage fans and grow their audience.
Emotional and authentic story-telling fueled awareness and affinity for the NBA brand, while thoughtful digital experiences and innovative campaign components helped educate and inspire fans. A series of unique mechanics drove consumption, conversion, and fan acquisition.
Strategy & Execution:
"Thank You Vince" drove awareness through authentic storytelling:
A 60 second spot recapping Vince's historic career aired daily on national television in Canada.
+50 pieces of original content were developed and formatted for multiple channels including highlight videos, artwork and custom graphics.
Coordination with the NBA's international offices (Latin America, Europe, Philippines, India, Asia and Africa) amplified reach.
Several tactics were used to engage global fans:
A 'life-size' Augmented Reality rendering of Vince's iconic dunk from the 2000 Slam Dunk Contest was the first-ever AR execution by the NBA in Canada.
NBA.com created original content revisiting some of Carter's most memorable moments, and was added to newsletters targeting North American fans.
Fans could watch and vote on 20 of the most significant moments of Vince's career, including never-before-seen footage.
Sportsnet produced a 15-minute documentary showcasing some of the NBA's biggest stars as they reflected on Vince's remarkable career and contributions to basketball.
The NBA successfully grew its audience:
Canadian fans could enter for their chance to win a Carter-themed prize pack (pin pack, Nike Shox, and Carter jersey).
Fans could browse and download free posters, prints and digital wallpapers inspired by Carter, designed by 15 artists from around the world.


Results:
Vince Carter's legacy extends beyond borders, and the appetite among basketball fans for timeless, thrilling highlights by a globally-recognized star only grew during the pandemic. This campaign achieved the NBA's objectives across each priority:
Awareness:
Coordination with the NBA's international generated an additional 6.7M digital impressions.
The :60 broadcast spot generated +33M impressions.
Variety of original content drove nearly 50M impressions.
90M impressions were generated through broadcast, NBA Canada social media accounts and other NBA regional social accounts.
Artists from around the world also garnered local media attention, contributing to international campaign coverage from CNN, Sports Illustrated, Complex & more.
Engagement:
76 days' worth of videos in the interactive timeline was watched; 88% of videos were watched in their entirety.
Newsletters targeting North American fans had above-average open rates.
More than 19,000 pieces of art were downloaded.
Audience:
NBA Canada's social following grew by 19,000 between campaign start and conclusion.
More than 40,000 Canadian fans entered the contest.
Email database grew by 46,000.
PRODUCTION
CREDITS
Marketing & Fan Engagement
NBA
Communications
Digital Media
NBA
Digital & Social Content
NBA
CEO
Victory
Executive Creative Director
Victory
Creative Team Lead & Co-Founder
Victory
Senior Account Director
Victory
Marketing Manager
Sportsnet
BRANDS AT THE LIVE SERIES
CONTENT x SPORTS BETTING
Over two days, sports betting + media will converge to discuss the North American fan. Learn the insights and strategies needed to develop partnerships, create and monetize betting content, and drive critical revenue and engagement.
May 12-13, 2021 (Virtual)
TRANSFORMING THE NEXT DECADE
Hashtag Sports® is the leading platform for media and marketing professionals and the next generation of creative talent across the converging sports and entertainment industries.
From unparalleled experiences like our annual conference and the Hashtag Sports Awards presented with Budweiser to inspirational digital content and mission-driven initiatives, Hashtag Sports is the benchmark for fan engagement and the go-to resource for the development of a new sports and entertainment ecosystem powered by digital media, content, culture, purpose, and technology.