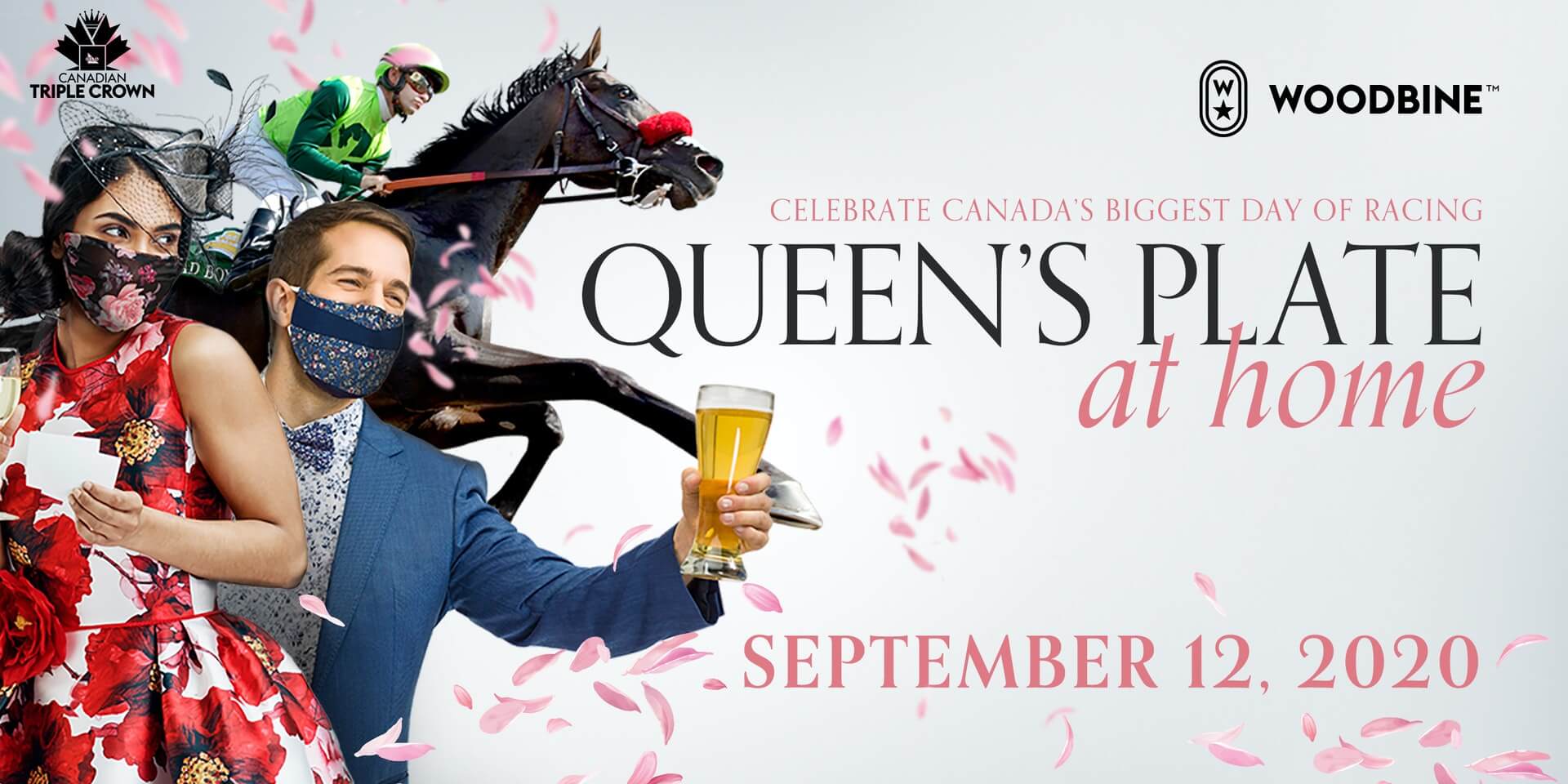 ABOUT THIS ENTRY
The Queen's Plate is North America's longest continually run stakes race & the first jewel of the OLG Canadian Triple Crown. The Queen's Plate at Home(QP@Home) started as a strategy to mitigate the financial & fan impacts of not having a physical event, but quickly evolved into an opportunity to build a new National property on digital platforms to engage fans & introduce a new demographic to the thrill of horse racing & The Queen's Plate.
How does this represent "Excellence in Engagement"?
Horse racing has thrilled Canadians for more than 250 years & along the way the sport has established storied traditions that coincide with a premier day at the racetrack. From food to fashion to hearing the thunderous gallops breeze by, horse racing is a sport best enjoyed in-person. Like the Kentucky Derby, The Queen's Plate takes the race day experience to the next level & previously included live conerts, fashion shows, contests & much more.
Through The Queen's Plate At Home, Woodbine was able to show the entire North American racing industry how to successfully engage racing fans while creating new ones in ways that fed into the expectations & behaviours of the modern sports fan. For a sport so reliant on the sights, smells & sounds of the racetrack to help convey the excitement, successfully transitioning to a digital-first strategy was meaningful.
The model set out by The Queen's Plate at Home & reliance on Instagram can also serve as inspiration for the evolution of other large sporting events. Not only is there short term necessity to innovate, but longer term changes in behaviours by sports fans make it crucial for organizations, teams & leagues to bring the large event experience to fans in new ways.
Objective: Due to the COVID-19 pandemic, Woodbine Entertainment made the decision not to open The Queen's Plate to the general public for the first time in 161 years.
Living largely on Instagram, Woodbine partnered with a stable of multi-platform content creators, celebrities & musicians to contribute unique #QueensPlate inspired content to bring the experience home. Anchored in the event's key pillars (racing, fashion, food&drink, music & wagering)QP@Home engaged fans digitally from coast-to-coast driving to the live broadcast of the $1million Queen's Plate on TSN & CTV.
QP@Home Objectives:
Extend reach & engagement through digital to make QP@Home a new national tradition supporting Canada's most important horse race

Support broadcast with a second-screen live experience & introduce wagering to a new audience through the Dark Horse app

Generate excitement & revenue through partnered content & exclusive experiences
Strategy & Execution: A primary objective of The Queen's Plate at Home was to engage casual horse racing fans through strategic partnerships & unique content. Leveraging a network of more than 20 creators & media personalities, with prominent voices in the sport, fashion & entertainment spaces, Woodbine was able to bring each pillar of the Queen's Plate experience home through Instagram.
Leading up to the big day Instagram was used to "invite" Canada to host their own celebrations through online contests, recipes, fashion insights & wagering tips.
On September 12th, The Social's, Melissa Grelo hosted a "party" on Instagram Live while creator & Woodbine accounts shared racing content, lifestyle videos & exclusive live "look-ins" to their celebrations. Sponsors Moxie's Bar&Grill hosted COVID-19 friendly events on select patios across the country along with providing 12 fans the chance to see The Reklaws perform an intimate concert. In place of the on-track concerts, music videos were filmed at the racetrack & shared on Instagram through the "Woodbine Sessions" featuring Ryland James & Jade Eagleson.
Fans new to wagering were invited to "play along" with their favourite personalities on the Dark Horse app. Built for the next generation of racing fans, Dark Horse uses artificial intelligence to simplify the wagering experience for new players.
Results:
The Queen's Plate at Home generated 18M impressions across social & saw a 30 percent increase to Woodbine's Instagram followers. The uniquely developed content drove 400,000 video views with a 12 percent average engagement rate across Woodbine & Partner/Creator channels.
On September 12th, more than 24,000 fans tuned in to the Instagram Live & #QueensPlate became trending nation-wide on social. With the help of our sponsors, Woodbine hosted our largest contest to-date generating 1.8M impressions, over 3,600 entries & resulting in a 7.8 percent increase in Instagram followers from the contest alone.
The overall growth in followers & engagement directly impacted wagering, a key pillar for the business. The Queen's Plate generated $14.5M in wagering, the third highest handle in history & saw a four times increase in activity on Dark Horse on September 12th. The event also successfully engaged the coveted 25 to 44-year-old demographic, including 40% female, aligning to Woodbine's objective to engage new, more diverse fans to horse racing & wagering.
Woodbine was further able to retain investments from sponsors who traditionally supported the physical event & repurposed assets, while bringing new partners on-board.
The Queen's Plate broadcast on CTV & TSN saw over 1 million Canadians tune-in at some point during the show.
PRODUCTION
CREDITS
Producer
TV Host
CTV's The Social
Host
Co-Founder
Stathletes
Celebrity Stylist & Founder
Erica On Fashion
Sports Commentator & Host fuboTV
Reporter
ET Canada
Official Milliner
David Dunkley Fine Millinery
Producer & On-Air Contributor CTV's The Social
Multimedia Host & Producer
B. Tru Media,
Multimedia Host & Producer
A Piece of Elise
Style Expert
The Style House
Lifestyle Content Creator
Content Creator
Much Music
Food & Entertaining Expert
CTV's The Social
Digital Creator
21 Entertainment
Radio Host
OverDrive
Radio Host, TSN - First Up with Landsberg and Colaiacovo
Spirits Portfolio Consultant
Corby Wine & Spirits
Creative Director
NORD Magazine
BRANDS AT THE LIVE SERIES
CONTENT x SPORTS BETTING
Over two days, sports betting + media will converge to discuss the North American fan. Learn the insights and strategies needed to develop partnerships, create and monetize betting content, and drive critical revenue and engagement.
May 12-13, 2021 (Virtual)
TRANSFORMING THE NEXT DECADE
Hashtag Sports® is the leading platform for media and marketing professionals and the next generation of creative talent across the converging sports and entertainment industries.
From unparalleled experiences like our annual conference and the Hashtag Sports Awards presented with Budweiser to inspirational digital content and mission-driven initiatives, Hashtag Sports is the benchmark for fan engagement and the go-to resource for the development of a new sports and entertainment ecosystem powered by digital media, content, culture, purpose, and technology.