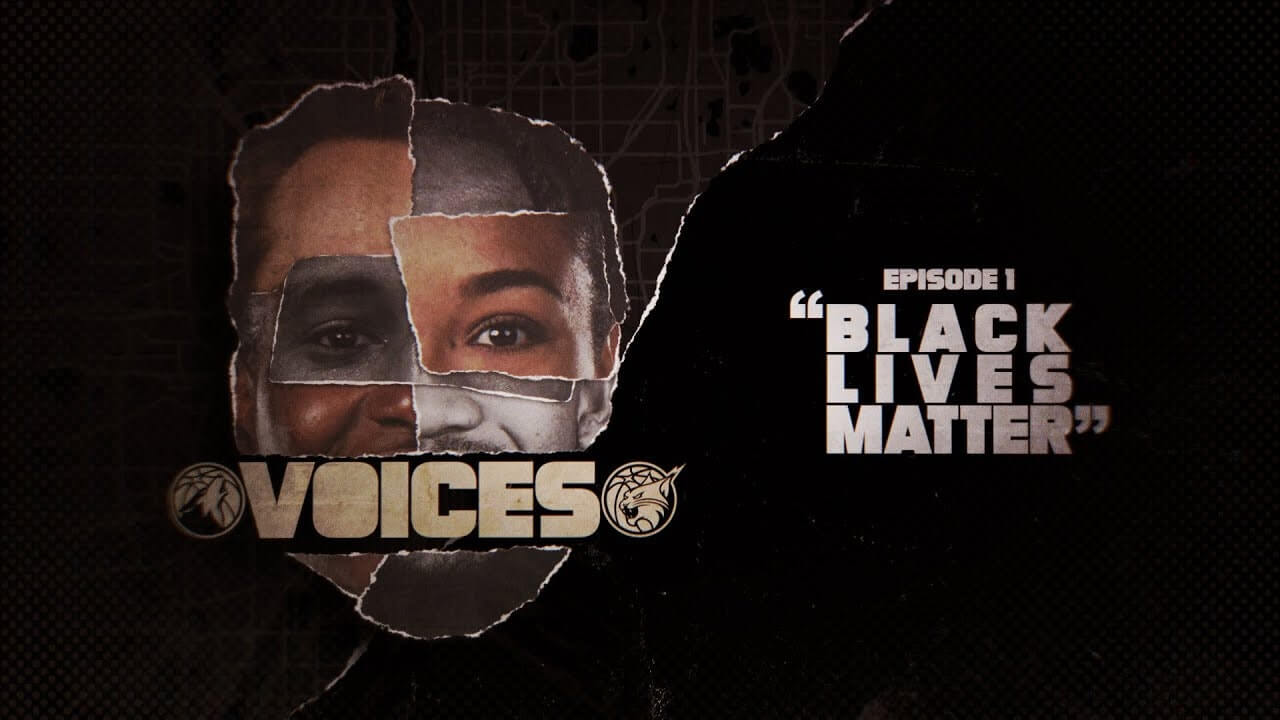 ABOUT THIS ENTRY
VOICES is a player-driven content series focusing on conversations around racial injustice, voting rights, equality and the power of diversity.
How does this represent "Excellence in Engagement"?
Now is not the time to shut up and dribble, it is the time to use our team platforms and voices to move us forward toward a more just and equitable society. By sharing the story of how the murder of George Floyd affected one of our players, and how the community of Minneapolis came together after the killing, we engaged our audience to think about critically important conversations around race and policing. This work should inspire others to protest injustice.
Objective: In this episode, Timberwolves guard Josh Okogie and Athletic Trainer Kurt Joseph meet at the George Floyd memorial to discuss the issue of police violence, and the resulting protests in Minneapolis.
Throughout partnerships and initiatives, the Timberwolves and Lynx have made a commitment to its fans to continue speaking up and being leaders in social advancement, social justice and racial equity, and "Voices" is an extension of the organization's promise. "Voices" will continue to bring awareness to topics that need attention and assist the players and personnel in using their platforms to be agents of change in these spaces.
Strategy & Execution: The modern sports fan wants to have a connection with players off the court. The Voices series is intended to nurture the connection between athletes, fans, and social justice issues, allowing fans to hear directly how these issues affect everyone in our community. The murder of George Floyd sparked a movement that brought people together to fight for justice and change, we were able to tell that story through Josh Okogie's view and participation in the protests following the murder.
Results:
The video garnered praise from media and viewers, but most notably was very well received by Josh Okogie and Kurt Joseph, who were interviewed for the piece. They felt the video did their story justice and were very happy with the end product. For a business outcome, the best we can hope for is that our content resonates with our players when they allow us to tell their story.
PRODUCTION
Minnesota Timberwolves & Lynx
CREDITS
Director of Digital Production
Minnesota Timberwolves & Lynx
Senior Motion Graphics Animator
Minnesota Timberwolves & Lynx
Motion Graphics Animation Manager
Minnesota Timberwolves & Lynx
BRANDS AT THE LIVE SERIES
CONTENT x SPORTS BETTING
Over two days, sports betting + media will converge to discuss the North American fan. Learn the insights and strategies needed to develop partnerships, create and monetize betting content, and drive critical revenue and engagement.
May 12-13, 2021 (Virtual)
TRANSFORMING THE NEXT DECADE
Hashtag Sports® is the leading platform for media and marketing professionals and the next generation of creative talent across the converging sports and entertainment industries.
From unparalleled experiences like our annual conference and the Hashtag Sports Awards presented with Budweiser to inspirational digital content and mission-driven initiatives, Hashtag Sports is the benchmark for fan engagement and the go-to resource for the development of a new sports and entertainment ecosystem powered by digital media, content, culture, purpose, and technology.