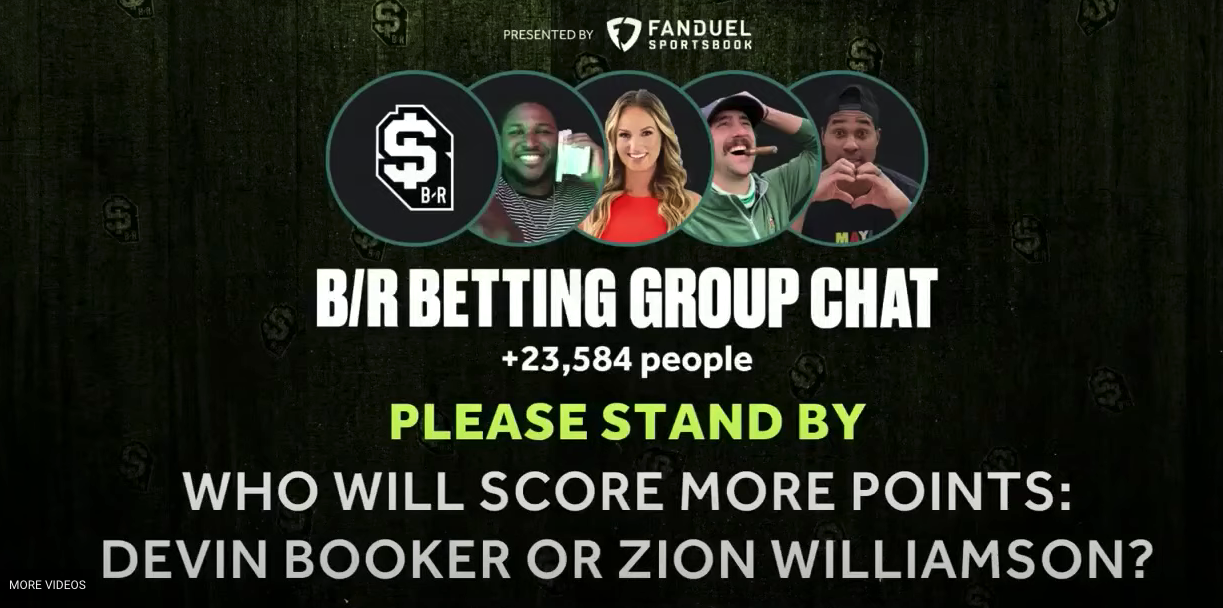 ABOUT THIS ENTRY
The ability to bring together all of the power of Turner Sports, Bleacher Report, FanDuel, and DraftKings to create unique and fresh betting integrations for sports fans on giant media platforms is nothing short of excellence in the betting space.
How does this represent "Excellence in Engagement"?
Turner Sports and Bleacher Report's partnership with both FanDuel and DraftKings represents excellence in engagement through creative IP, mass integration across linear, social, and O&O platforms; and through entertaining betting content that's reaching fans in the millions of engagements.

Objective: When Turner Sports and Bleacher Report struck partnerships with both DraftKings and FanDuel in 2020, the value proposition was to create engaging betting content for our audiences that would both entertain and funnel casual fans and seasoned bettors alike to each partners' sportsbooks.

Turner Sports and Bleacher Report did just that in partnership with DraftKings on the linear and digital productions of Capitol One's The Match: Champions for Change, as well as with FanDuel in linear and digital productions of Chuck vs. America.

In the clearest terms, Turner Sports and Bleacher Report approach betting with a comprehensive cross-platform narrative journey that reaches sports fans and betting consumers across our O&O, social, and linear platforms.
Strategy & Execution: Every Thursday night ahead of Inside The NBA on TNT, B/R Betting polls fans on social with different lines and prop bets for the night's NBA slate and marries this with it's NBA Group Chat series. This interactive experience culminates in an entertaining and authentic segment on Inside the NBA called Chuck Vs. America (sponsored by FanDuel). The whole Inside gang judges Charles Barkley on his picks for the night, giving fans a content payoff for their participation.

Likewise, ahead of Capitol Ones' The Match: Champions for Change, Turner Sports, Bleacher Report, and DraftKings partnered to create an immersive experience between the B/R App and the linear broadcast with live, interactive prop challenge in the B/R app that resulted in prizes and cash giveaways, and integrations throughout TNT's broadcast calling out specific prop bets.

All told, Turner Sports and Bleacher Report partnered with both FanDuel and DraftKings to create immersive and interactive experiences across our linear, O&O, and social channels.
Results:
On Turner Sports' linear channels, there have been over 200 FanDuel integrations dating back to the league's return to play in 2020. This is coupled with strong performance on digital with the NBA Group Chat series via B/R Betting that leads into Chuck Vs. America, which has seen well over 1.7 million views across episodes and a 85% growth YoY in average views per episode.

DraftKings' partnership for Capitol One's The Match: Champions For Change saw 21 live integrations on a linear broadcast boasting 1 million viewers. 30 DraftKings attributed social posts for The Match drove 8.1 million digital impressions and 2.67 million video views; which was good for the #1 sports trending topic of the day on Twitter.

Though in early stages, Turner Sports and Bleacher Report have proven that there is an immense appetite for entertaining betting content in partnership with both FanDuel and DraftKings.
PRODUCTION
Turner Sports
Bleacher Report
CREDITS
Director, Business Development & Strategic Partnerships, Bleacher Report
BRANDS AT THE LIVE SERIES
CONTENT x SPORTS BETTING
Over two days, sports betting + media will converge to discuss the North American fan. Learn the insights and strategies needed to develop partnerships, create and monetize betting content, and drive critical revenue and engagement.
May 12-13, 2021 (Virtual)
TRANSFORMING THE NEXT DECADE
Hashtag Sports® is the leading platform for media and marketing professionals and the next generation of creative talent across the converging sports and entertainment industries.
From unparalleled experiences like our annual conference and the Hashtag Sports Awards presented with Budweiser to inspirational digital content and mission-driven initiatives, Hashtag Sports is the benchmark for fan engagement and the go-to resource for the development of a new sports and entertainment ecosystem powered by digital media, content, culture, purpose, and technology.