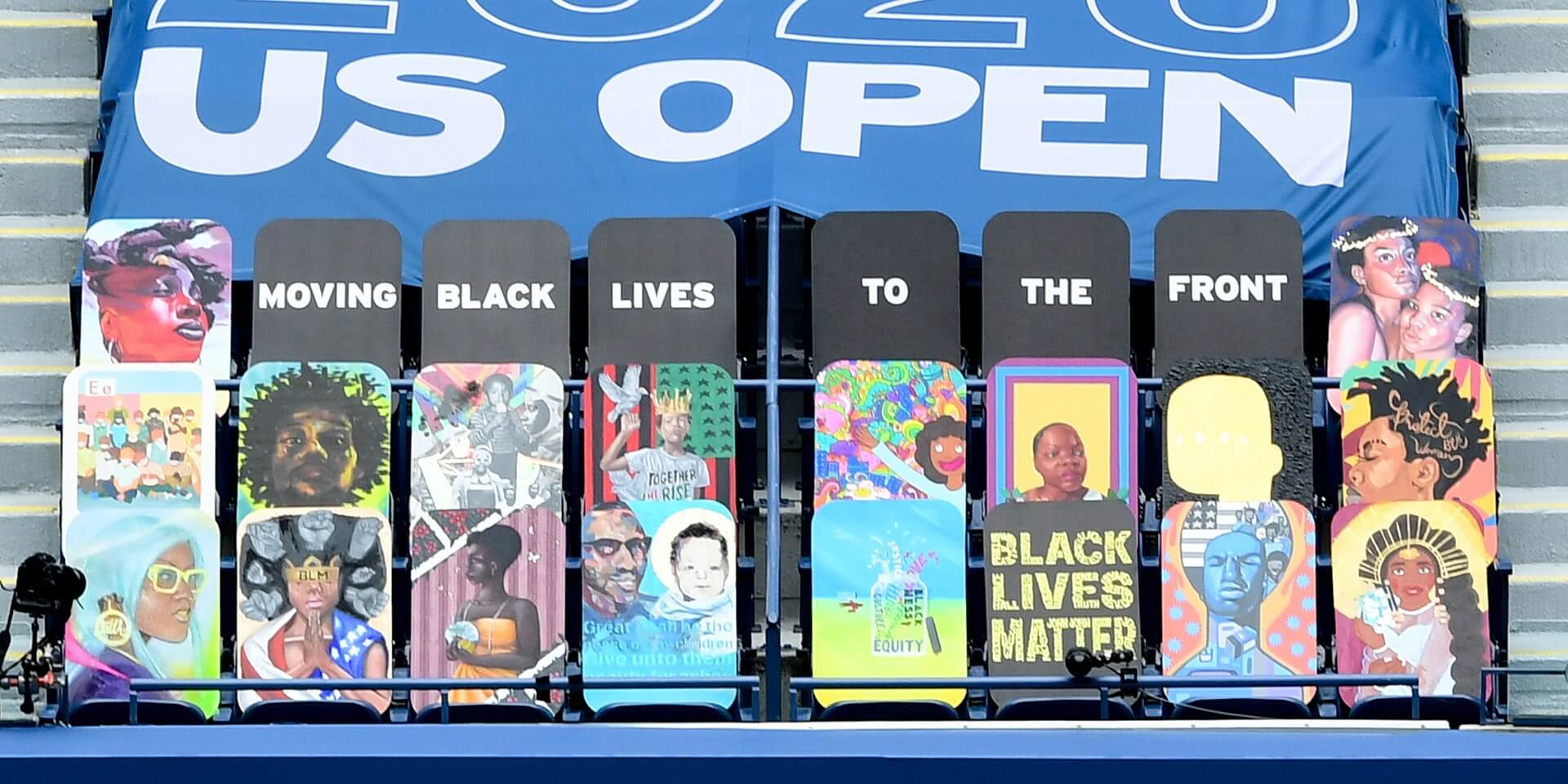 ABOUT THIS ENTRY
We found 18 Black and BIPOC artists to transform front-row seats in Arthur Ashe Stadium. While the world's greatest tennis players battle it out for the millions watching from home, this art installation got people talking, and thinking about the issues.
How does this represent "Excellence in Engagement"?
From being the first Grand Slam to offer equal prize money to men and women back in 1973, to naming our center court stadium after the boundary-breaking Arthur Ashe, to championing our LGBTQ players and fans, to promoting adaptive tennis programs through grants and scholarships—we believe great things happen when we are all a little more open. The 'Black Lives to the Front' Original Art Exhibit is another step forward to use the voice and visibility of a global sporting event to propel a powerful and important movement.
The excellence of the initiative comes through the bold statement of putting this powerful art in stands instead of cardboard cutouts. It comes through the stories of each artist, each piece of art, and each brushstroke. More importantly it comes through by starting conversations around Black Lives Matter in a positive light.
Objective: At the USTA and our flagship event, the US Open, we challenge ourselves daily to embody these core values of equity, inclusion and respect. Our commitment to openness has taken on even greater urgency this year with the reigniting of the Black Lives Matter movement. The USTA stands unwaveringly against racism and injustice of any kind and stands in solidarity with our African-American friends and colleagues of color. As a part of our efforts in 2020 we launched a new social impact campaign called 'Be Open,' with an emphasis on bringing the Black Lives Matter conversation to the forefront of our event.
Strategy & Execution: While we missed hosting fans at the US Open this year, it also meant we had the opportunity to use the stadium seats for a different and bigger purpose. We commissioned 18 Black and BIPOC artists to create works of art to fill our front-row seats in Arthur Ashe Stadium and shine a light on the Black Lives Matter movement.
Instead of celebrities in our front row seats we had 'Resilience,' a piece of art dedicated to Black mothers who are committed to challenging the narrative around motherhood. We also had 'Break Point' that reflects the thousands of men and women struggling and fighting for equality and justice, 'Rising from the Blue' depicting Black women beginning to gain the confidence, appreciation that they didn't have before, and 15 other pieces telling their own unique stories.
Our domestic broadcast partner, ESPN, featured the artwork prominently throughout the two weeks of the event, driving fans to USOpen.org and US Open social channels to learn more about the art and the artists' stories behind the art.
Results:
From USA Today, to People Magazine to CBS This Morning, word got around about 'Black Lives to the Front.' Much to how it was designed, it was a major talking point in the Be Open campaign resulting in over 20 Million Media Impressions.
The art itself was also a big hit. Giving it life after the Open, each piece was auctioned off, raising over $56,000 to benefit USTA Foundation Rally to Rebuild efforts and charity of each artists' choice.
PRODUCTION
United States Tennis Association,
dentsu Mcgarrybowen
CREDITS
Managing Director, Marketing
USTA
BRANDS AT THE LIVE SERIES
CONTENT x SPORTS BETTING
Over two days, sports betting + media will converge to discuss the North American fan. Learn the insights and strategies needed to develop partnerships, create and monetize betting content, and drive critical revenue and engagement.
May 12-13, 2021 (Virtual)
TRANSFORMING THE NEXT DECADE
Hashtag Sports® is the leading platform for media and marketing professionals and the next generation of creative talent across the converging sports and entertainment industries.
From unparalleled experiences like our annual conference and the Hashtag Sports Awards presented with Budweiser to inspirational digital content and mission-driven initiatives, Hashtag Sports is the benchmark for fan engagement and the go-to resource for the development of a new sports and entertainment ecosystem powered by digital media, content, culture, purpose, and technology.