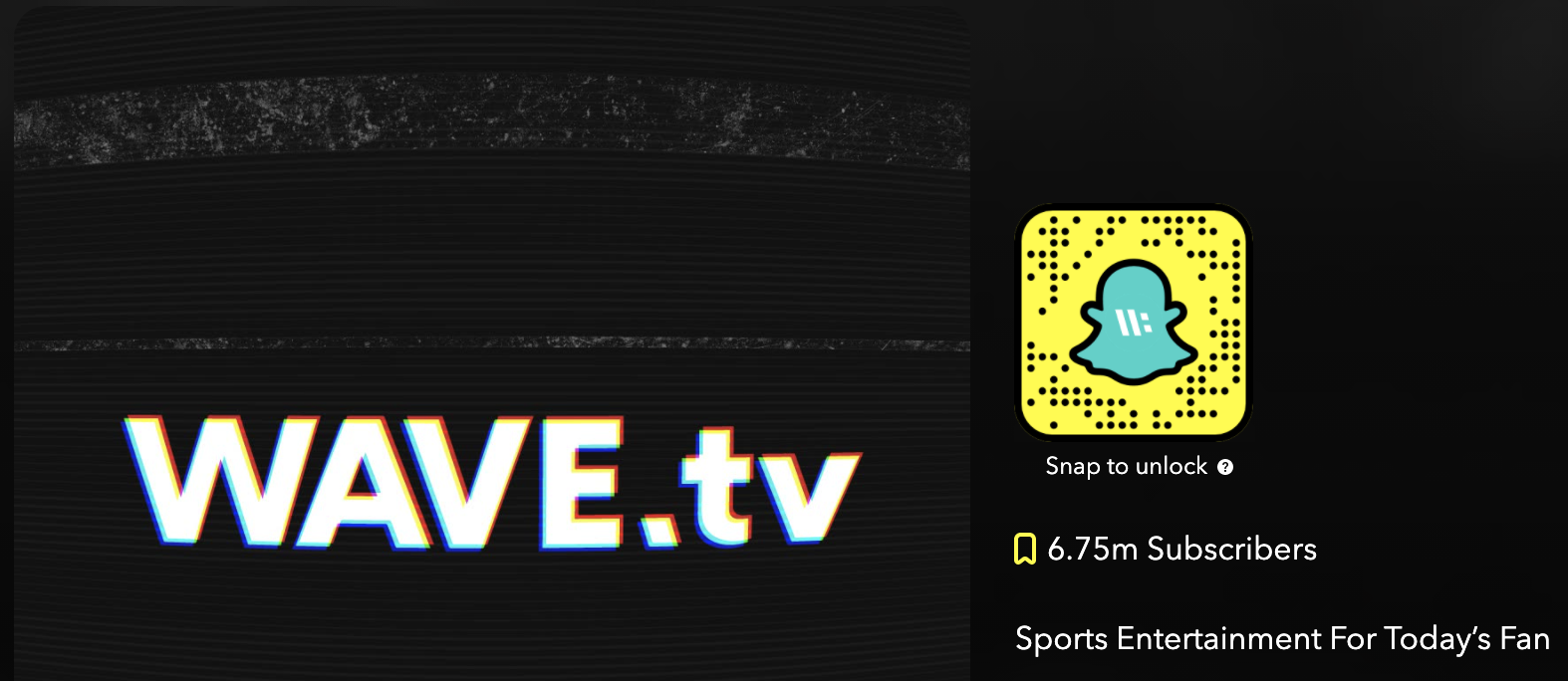 ABOUT THIS ENTRY
With WAVE.tv's 14 shows running across Snapchat Discover, there is something that captivates every fan.
How does this represent "Excellence in Engagement"?
WAVE.tv was founded on the insight that young sports fans watch sports differently, and they need programming that appeals to their tastes. This distinct perspective and strategy was what started the relationship with Snapchat, who wanted to turn the Discover platform into a can't-miss content destination for this same audience.
WAVE.tv has broken engagement records since the partnership began, growing their unique viewership from 45M to 62.9M throughout 2020, and are now one of the top publishers on Snapchat Discover. This shows that the modern sports fans not only watch sports differently, but their definition of sports is wider as well, including MMA, timber sports, global basketball, wrestling, fitness and more, when they're exposed to them.
With high engagement numbers across Snap, WAVE.tv has proven that they understand how to reach nuanced audiences across the world of sports at scale. WAVE.tv's work has shown what the future of sports programming can look like, and how the industry can ignite an entire generation of new fans, by simply evolving the way sports stories are told on today's major platforms like Snapchat.
Objective: Since its inception, WAVE.tv has had a guiding mission to champion fandom. Today's sports fans are vastly different than previous generations. They seek out highlights first, prefer athletes and creators over teams and leagues, and live entirely on social. This simple insight pushed WAVE.tv to create a portfolio of media brands, catering to a wide array of genres and fandoms. At the core of this strategy was Snapchat with the following goals:
To expand WAVE.tv's presence on Discover by delivering highly-successful sports programming built for the platform, highlighting great UGC and new ways for fans to engage with content from leagues & rights partners.

To establish themselves as a tier 1 media partner for Snapchat. Currently WAVE.tv reaches 64M+ monthly viewers across its 14+ shows on the Discover network.

To demonstrate to top sports leagues, legacy/digital media, investors and brands, that WAVE.tv understands the young sports audience.
Snap's audience is right in the sweet spot of the next-gen sports fan. In 2020, WAVE.tv set out to be THE dominant publisher in all of sports.
Strategy & Execution: Young fans aren't watching traditional sports programming. From the analyst desk to the full televised game, the modern sports fan isn't in front of their TV to catch these live, and these programs don't translate well to today's major digital platforms like Snapchat.
WAVE.tv knew that through original shows on the Discover network, they would be able to define a new kind of programming for the sports industry, built for the previously underserved young sports fan. The successful strategy for developing Snap-specific sports programming has allowed WAVE.tv's network to grow from 5 to 14 shows in 2020 alone, with a total, unduplicated network reach in November 2020 of 62.9M.
Take 'Gym Heroes,' which had 30.9M unique viewers in December and showcases incredible fitness journeys of everyday people; 'Phenoms', which focuses on female powerhouse athletes; or 'No Limits', that highlights the impressive accomplishments of athletes with disabilities who are defying the odds; WAVE.tv's network of Discover Shows has successfully taken themes we know fans want to see and turns them into a program that they keep returning to week-after-week.
Results:
Despite the pandemic, their partnership with Snapchat Discover has only grown stronger:
In 2020, WAVE.tv original shows running on the platform have grown from 5 to 14. Three of these shows were just greenlit and launched in December--Lil Legends, TBH and Off Track--proving how their shows have resonated with the Snapchat Discover community.

They also launched a special Snapchat Discover Show this year around the US Election titled 'Be The Moment', which focused on sports icons and their political activism. The seven-episode series encouraged GenZ and Millennial audiences to get out and vote, with stories coming from NBA analyst and ESPN host Jay Williams, WNBA star Brittney Griner, NFL players Anquan Boldin, Malcolm Jenkins and more.

The WAVE.tv Discover network reached 62.9M monthly active viewers in November 2020.

WAVE.tv was featured in Snapchat's Q2 earnings report as a top publisher on their platform.

WAVE.tv was featured at the 2020 Snap Partner Summit as being one of two companies innovating for digital natives on their platform.

WAVE.tv continues to be revenue positive month-on-month from Snapchat ads.
PRODUCTION
CREDITS
SVP Content
WAVE.tv
Supervising Producer
WAVE.tv
Senior Producer, Snap Content Lead
WAVE.tv
BRANDS AT THE LIVE SERIES
CONTENT x SPORTS BETTING
Over two days, sports betting + media will converge to discuss the North American fan. Learn the insights and strategies needed to develop partnerships, create and monetize betting content, and drive critical revenue and engagement.
May 12-13, 2021 (Virtual)
TRANSFORMING THE NEXT DECADE
Hashtag Sports® is the leading platform for media and marketing professionals and the next generation of creative talent across the converging sports and entertainment industries.
From unparalleled experiences like our annual conference and the Hashtag Sports Awards presented with Budweiser to inspirational digital content and mission-driven initiatives, Hashtag Sports is the benchmark for fan engagement and the go-to resource for the development of a new sports and entertainment ecosystem powered by digital media, content, culture, purpose, and technology.