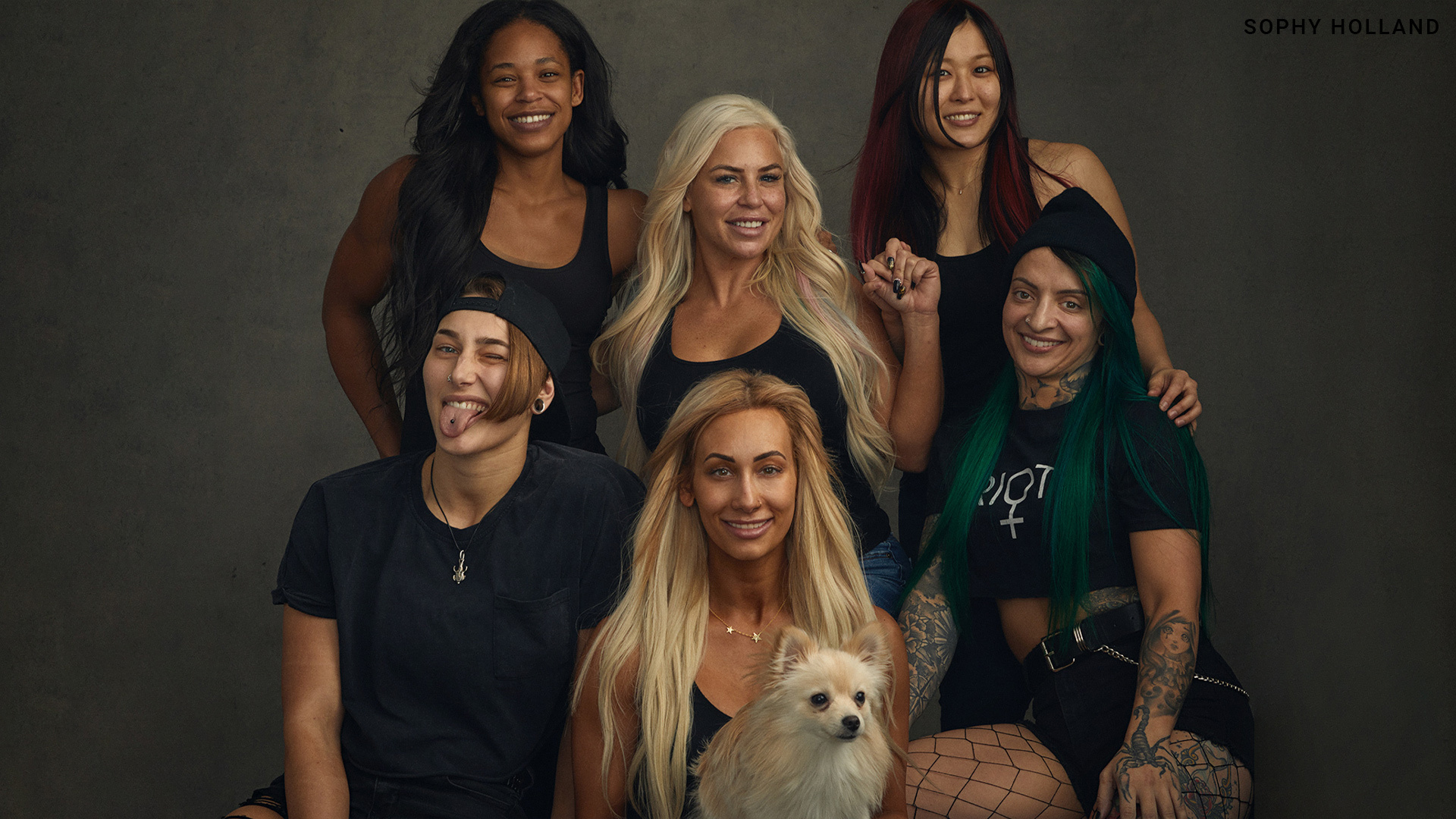 ABOUT THIS ENTRY
To celebrate Women's History Month, WWE took a diverse group of female Superstars and wiped away their makeup for a raw, unedited photoshoot.
How does this represent "Excellence in Engagement"?
WWE made sure to have a female video producer, a female photographer and a female social media producer on set. WWE gathered eight Superstars into a studio to create a neutral space away from the masculinity and pressure of a wrestling arena.
WWE dressed the female Superstars in simple black T-shirts and jeans and ensured they were makeup-free – meaning no false eyelashes, heavy contour, hair extensions or bright costumes. The Superstars had basic hair styles and were shot in front of a muted background. This way, the main focus was on the talents' faces and their honest connection with the camera, something often warped by social media.
WWE shot a mix of color and black & white photos to showcase the simplicity of the photographs, as well as to display the athletes' scars, bumps and bruises – badges of honor displaying their strength and hard work in the ring.
Objective: WWE's first-ever no makeup photo shoot took a diverse group of female Superstars, wiped away their makeup, glamorous ring gear and hair extensions, and had these strong women take raw, unedited photos. The female Superstars also gathered for an honest conversation about beauty, media scrutiny and past experiences with body dysmorphia in celebration Women's History Month.
In the early days of WWE's history, there was a prototype of what the ideal female body should look like. As respect for women's wrestling grew, openness to other body types, ethnicities and eccentricities were embraced. Being as these women are always in the spotlight with full glam, hair, makeup and flashy gear, WWE stripped that away to showcase their natural beauty.
Furthermore, social media has, unfortunately, created a toxic space for women in which they feel they have to look a certain way or else they are subject to ridicule. It's especially amplified for women in the public eye who must use their athletic build as a selling point.
Strategy & Execution:
Our WWE Network team produced five features celebrating various facets of The Undertaker's career and impact: "Untold: The Phenom and The Legend Killer," "Meeting The Undertaker," "The Mortician: The Story of Paul Bearer," "Steve Austin's Broken Skull Sessions: One More Round with The Undertaker" and "Brothers of Destruction."

An original photo shoot featuring our current and most popular WWE Superstars dressed in attire inspired by different eras of The Undertaker's career captured our fans' imagination across multiple platforms.

An Undertaker TikTok challenge engaged our fans as well as our talent in mimicking a signature Undertaker pose and catchphrase.

On Instagram and Snapchat, WWE offered unique Undertaker lenses to allow our fans to become The Deadman and celebrate his various personas.

Daily videos on YouTube, Instagram, Facebook, Twitter and TikTok allowed our fans to relive classic Undertaker moments each day of the activation.

A social media voting tournament allowed our fans to choose which bout would go down in history as the greatest Undertaker match of all time.

surprises.
Results:
Ahead of the official launch date of March 12, 2020, WWE posted a group teaser photo on WWE's Facebook, Instagram and Twitter on March 8, International Women's Day. The teaser photo performed exceptionally well on social as it reached over 2.6 million users on Facebook and garnered more than 3.2 million impressions on Instagram. On Twitter, the post was ranked the "Top Media Tweet" for WWE in the month of March, had the highest engagement rate of the month and garnered over 1 million impressions on the platform.
On the launch date, traffic to WWE.com was extraordinarily high with 8.8 million page views on the first day alone.
On social, the gallery post received more than 343,000 engagements on Facebook.
On Instagram, the carousel post had the highest engagement rate of the day, averaging 6.5 percent, and received over 326,000 likes, 2,400 comments, 2.7 million impressions and 9,300 saves.
The roundtable interview video was posted across social media, and most notably the video amassed 687,000 views on IGTV and 1.2 million views on YouTube.
PRODUCTION
CREDITS
Executive Vice President WWE Advanced Media Group
BRANDS AT THE LIVE SERIES
CONTENT x SPORTS BETTING
Over two days, sports betting + media will converge to discuss the North American fan. Learn the insights and strategies needed to develop partnerships, create and monetize betting content, and drive critical revenue and engagement.
May 12-13, 2021 (Virtual)
TRANSFORMING THE NEXT DECADE
Hashtag Sports® is the leading platform for media and marketing professionals and the next generation of creative talent across the converging sports and entertainment industries.
From unparalleled experiences like our annual conference and the Hashtag Sports Awards presented with Budweiser to inspirational digital content and mission-driven initiatives, Hashtag Sports is the benchmark for fan engagement and the go-to resource for the development of a new sports and entertainment ecosystem powered by digital media, content, culture, purpose, and technology.