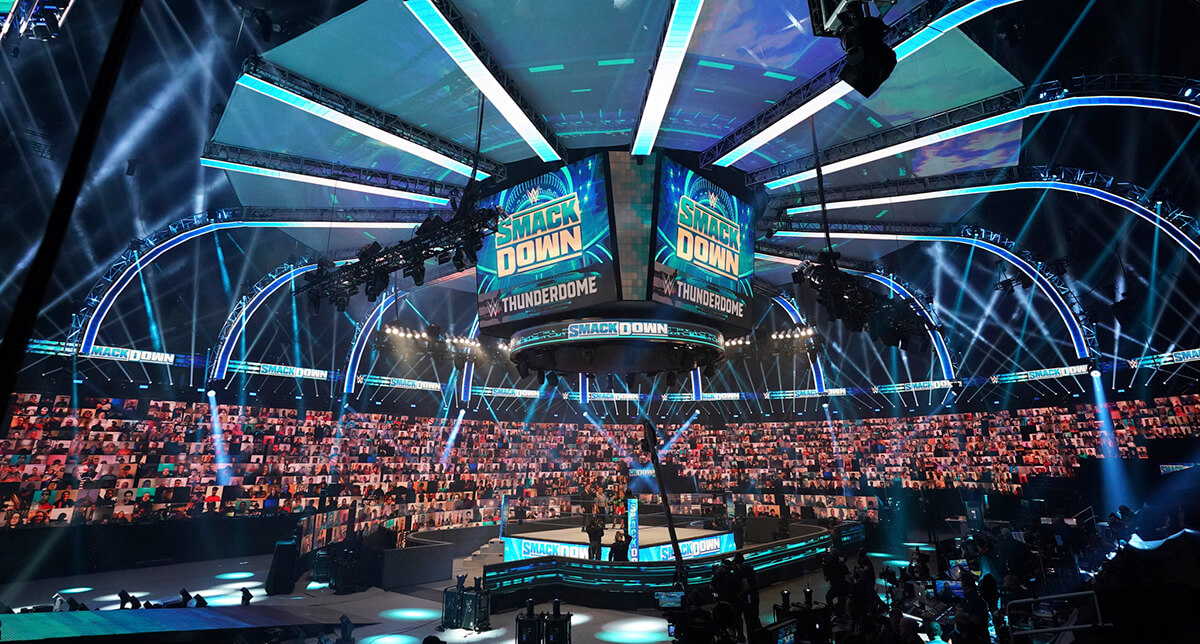 ABOUT THIS ENTRY
WWE fans are the heart of the company's success, and with fans no longer physically attending events, WWE continued to stay ahead of the curve to reimagine and recreate the in-arena atmosphere and energetic experience that is synonymous with WWE.
How does this represent "Excellence in Engagement"?
The award-winning WWE Thunderdome is one of the most visually stunning and creative event executions in all of sports and entertainment. A fan-first organization, WWE reimagined its live event spectacle during the COVID-19 pandemic and brought back that energy and interaction with our weekly shows and larger-than-life Superstars that we have been missing. In partnership with The Famous Group, no other organization brings 1,000 smiling faces onto virtual screens during a real-time live broadcast each week quite like WWE. Since its launch in August 2020, WWE ThunderDome has featured one of the largest virtual audiences in sports and entertainment—making WWE a pioneer in the media and sports industry and a visionary leader in fan engagement.

As the sports and entertainment world came to a halt in March 2020 with leagues and shows postponing games, programming, and events due to the COVID-19 pandemic, WWE strategically transformed the company's business model in order to continue to create content and provide fans with a diversion during this time and continue the company's mission of putting smiles on people's faces the world over.

Behind closed doors, with no fans, enhanced safety and measures in place, and only essential personnel in attendance, WWE continued to produce its exciting weekly televised shows, Monday Night Raw, Friday Night SmackDown, and NXT, for its fans and our TV partners, USA Network and FOX Sports.

In August 2020, understanding the company had to innovate, WWE unveiled WWE ThunderDome, an immersive live event experience featuring 1,000 virtual fans in attendance at any given time via proprietary technology provided by The Famous Group.

Strategy & Execution: WWE experimented with new ways to add more energy into live TV programming during the COVID pandemic. The company looked at what other leagues were doing and decided to lead with an innovative experience that was right for WWE and right for its fans.

With a longstanding history of producing the greatest live spectacles in sports and entertainment, WWE introduced WWE ThunderDome, a new interactive experience for WWE's fanbase in August 2020. In addition to taking a new residency at the Amway Center in Orlando, FL, WWE ThunderDome features a state-of-the-art set, video boards, pyrotechnics, lasers, cutting-edge graphics, and drone cameras to provide viewers with a reimagined live event spectacle. Additionally, in partnership with The Famous Group, a full-service fan experience company, WWE virtually brought fans back into the arena via live video on massive LED boards. In December 2020, WWE moved its world-class viewing experience and WWE ThunderDome to Tropicana Field in Tampa Bay, FL.

Results: To date, fans from around the world, Hollywood celebrities (such as an appearance by Oscar-winning actor, Matthew McConaughey), and WWE Legends have all enjoyed what WWE ThunderDome has to offer. In addition to premier pay-per-view events such as SummerSlam and Royal Rumble, more than 50 primetime episodes of Monday Night Raw and Friday Night SmackDown have been filmed live in the WWE ThunderDome.

The creation of WWE ThunderDome has delivered excitement for fans and further solidified WWE as a visionary leader in technology, live events, and production. Highlights include:
Nearly 1 million total registered fans enter the WWE ThunderDome (fans from 226 countries and territories represented virtually)
70% of virtual fans returned to WWE ThunderDome multiple times
100% full capacity for each show
400+ pieces of mainstream global launch coverage announcing WWE ThunderDome
PRODUCTION
CREDITS
Chairman & CEO
WWE
President & Chief Revenue Officer
WWE
Chief Brand Officer
WWE
Executive Vice President, Global Talent Strategy & Development
WWE
Executive Producer & Chief Global Television Distribution
WWE
Chief Financial Officer
WWE
Chief Marketing & Communications Officer
WWE
Executive Vice President Television Operations and Production
WWE
Partner & Owner
The Famous Group
Executive Producer
The Famous Group
BRANDS AT THE LIVE SERIES
CONTENT x SPORTS BETTING
Over two days, sports betting + media will converge to discuss the North American fan. Learn the insights and strategies needed to develop partnerships, create and monetize betting content, and drive critical revenue and engagement.
May 12-13, 2021 (Virtual)
TRANSFORMING THE NEXT DECADE
Hashtag Sports® is the leading platform for media and marketing professionals and the next generation of creative talent across the converging sports and entertainment industries.
From unparalleled experiences like our annual conference and the Hashtag Sports Awards presented with Budweiser to inspirational digital content and mission-driven initiatives, Hashtag Sports is the benchmark for fan engagement and the go-to resource for the development of a new sports and entertainment ecosystem powered by digital media, content, culture, purpose, and technology.