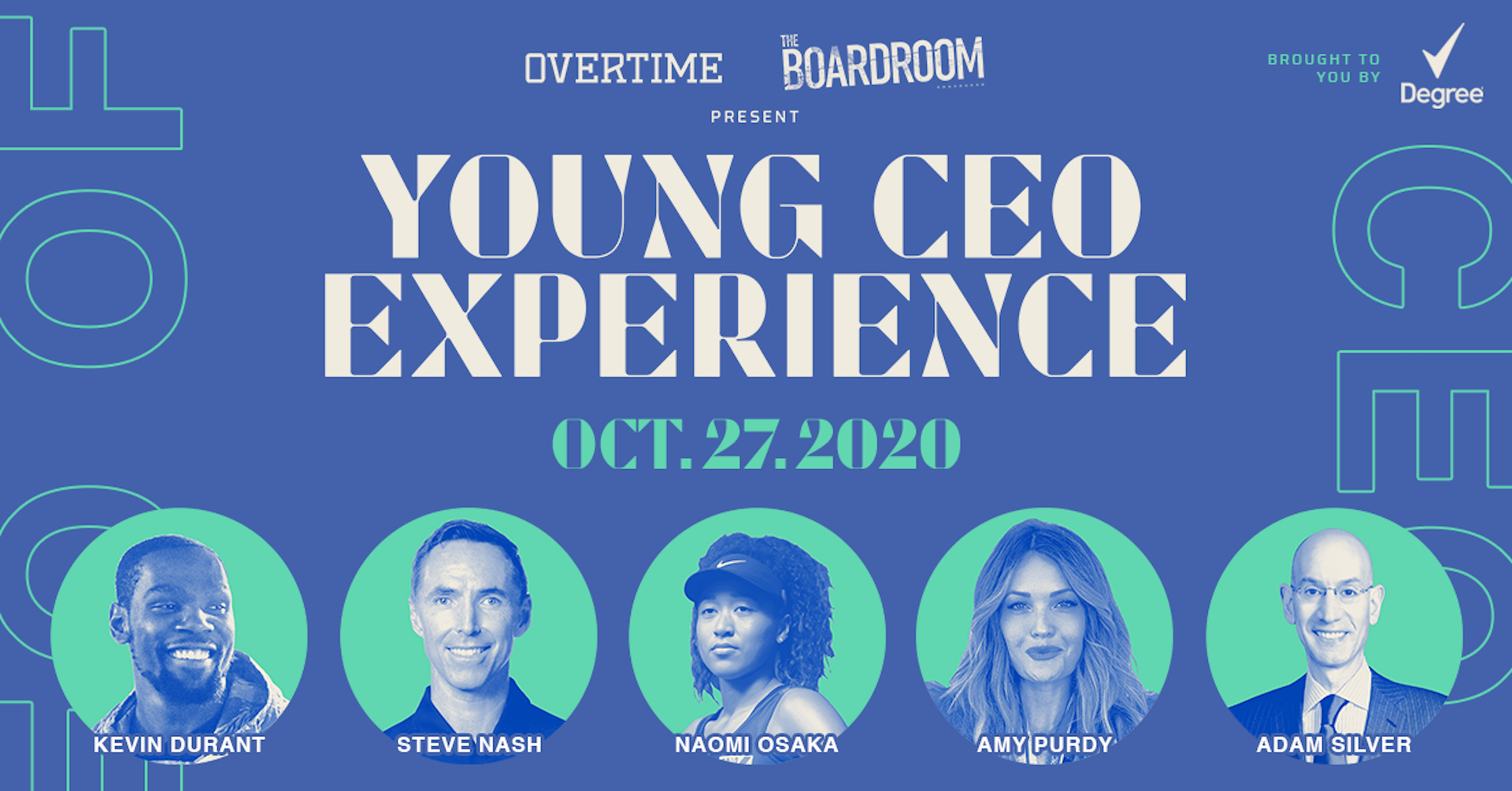 ABOUT THIS ENTRY
The Young CEO Experience flipped the script on a traditional conference by focusing on accessibility and forgetting about pretense.
How does this represent "Excellence in Engagement"?
Everything Overtime does has community engagement at the core, and this activation was no different. This event was a true testament to Overtime's effort to continuously engage our audience, the OT Fam, and a prime example of why Overtime has industry-leading engagement.
With the inability to hold a live event in 2020 due to the COVID-19 pandemic, Overtime and Boardroom leaned into this and pivoted to an online platform, Run The World, to host the Young CEO Experience virtually. This gave access to hundreds of attendees that would have otherwise been unable to attend.
In addition to hosting the event virtually, we gave attendees from around the world the chance to directly engage with the speakers, which differs from the typical conference environment where speakers talk AT the audience instead of with them. Our community utilized the platform's 'Grab the Mic' feature to ask questions about sports, business, and life after each Blueprint Session. This interactive format also fostered open communication amongst attendees, who engaged and encouraged others in the chat section. Following the Blueprint Sessions, attendees interacted with one another directly, as well as Overtime talent and employees, in the networking session to forge relationships for the future.
Objective: Conferences have traditionally been restricted to limited audiences. They do not typically allow broader groups to attend due to expensive tickets and exclusionary attendee requirements. Most of the time, junior-level professionals are unaware that these types of events even exist. Overtime and Thirty Five Ventures' Boardroom set out to change that with the Young CEO Experience by giving the next generation of leaders a chance to learn from the biggest names in sports and business.
Overtime Co-Founder and President Zack Weiner said, "A lot of these conferences exist, but none of them exist for this audience. It's sort of blocked out for them because it either costs a lot of money or it's limited to executives. This is more about democratizing that access, where they can get exposure to top leaders and executives that they wouldn't normally get."
The Young CEO Experience brought together the biggest names in sports, business, and culture to share their playbooks with the leaders of tomorrow through candid conversations and allowed Young CEOs to build their networks through authentic interaction.
Strategy & Execution: The digital generation is one of change agents. Movers. Young CEOs. Ready to ignite their creativity, invest in authenticity, and create their own futures. Overtime and Boardroom tailored this event to these needs.
This free, first-of-its-kind virtual event didn't include boring panels and nametags, but instead featured five Blueprint Sessions where leading names in sports, business, and culture shared their blueprints for success and led Q&A sessions to give advice to the next generation. Featured guests included 2x NBA Champion and Thirty Five Ventures Co-Founder Kevin Durant, Hall of Fame point guard and Brooklyn Nets head coach Steve Nash, 4x Grand Slam champion Naomi Osaka, 3x Paralympic Medalist and NY Times best-selling author Amy Purdy, and NBA Commissioner Adam Silver.
The event concluded with speed networking, where attendees were given the opportunity to meet other Young CEOs, as well as Overtime talent and employees, to spark connections with one another for their next chapters.
Powered by Degree, the Young CEO Experience provided the next generation with motivation to get through difficult times and #KeepMoving. Degree was seamlessly integrated into the experience through presenting sponsorship, feature of brand ambassador Amy Purdy, and incorporation of brand priorities into thematically-aligned sessions.
Results:
With over 1,200 registrants and 5 million views across live and video-on-demand assets, the Young CEO Experience was an incredible success.
This is further supported by feedback received from attendees in a post-event survey, which showed 100% positive sentiment from respondents about the speakers and the event overall. When asked what words come to mind when describing the Young CEO Experience, attendees responded with the words "amazing", "inspiring", "innovative", and "informative" most frequently. Beyond the ability to hear from some of the biggest names in a casual setting, the ability to create connections with others made the event stand out from a normal conference, as a majority of attendees were able to grow their network. Participants can't wait to attend and invite others to another Young CEO Experience, as 97% are interested in attending a similar experience again and will recommend it to a friend or colleague.
The Young CEO Experience has been featured in Forbes, Business Insider, USA Today, Hashtag Sports, Sports Business Journal, and more.
PRODUCTION
Overtime
Boardroom
Degree
Run The World
CREDITS
Director of Events & Experiential Marketing
Overtime
Co-Founder and CEO
Overtime
Co-Founder and President
Overtime
Co-Founder
Thirty Five Ventures and Boardroom
Co-Founder
Thirty Five Ventures and Boardroom
General Manager
Thirty Five Ventures
Host
Thirty Five Ventures
Talent
Overtime
Talent
Overtime
Talent
Overtime
Director, Sports/Rights & Partnerships
United Entertainment Group
Senior Director, Talent & Influencers
United Entertainment Group
BRANDS AT THE LIVE SERIES
CONTENT x SPORTS BETTING
Over two days, sports betting + media will converge to discuss the North American fan. Learn the insights and strategies needed to develop partnerships, create and monetize betting content, and drive critical revenue and engagement.
May 12-13, 2021 (Virtual)
TRANSFORMING THE NEXT DECADE
Hashtag Sports® is the leading platform for media and marketing professionals and the next generation of creative talent across the converging sports and entertainment industries.
From unparalleled experiences like our annual conference and the Hashtag Sports Awards presented with Budweiser to inspirational digital content and mission-driven initiatives, Hashtag Sports is the benchmark for fan engagement and the go-to resource for the development of a new sports and entertainment ecosystem powered by digital media, content, culture, purpose, and technology.