🎉

2022 Shortlist
Algorand x Drone Racing League Sponsorship
Entrant: Drone Racing League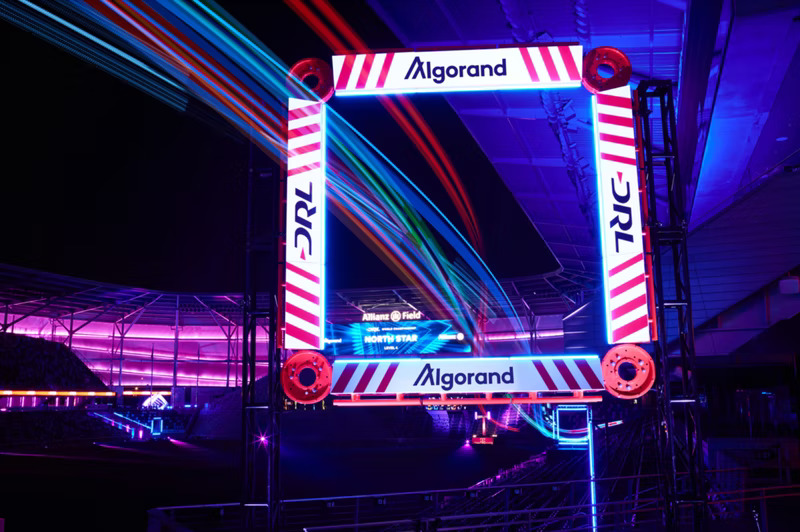 ABOUT THIS ENTRY
The Drone Racing League (DRL), the world's premier, professional drone racing property, secured a historic sponsorship from Algorand, the leading high-performance blockchain platform, to disrupt sports and gaming through blockchain. The five year, title partnership enables DRL to power their sport through Algorand's blockchain technology, bring scalable, fast, and decentralized gaming applications to their high-speed drone races, and accelerate DRL into the metaverse.
How does this represent "Excellence in Engagement"?
DRL has been blending the digital and the real and rewarding fans through multiple formats since its inception, including their DRL SIM player-to-pilot esports tournament and Drone Racing Arcade mobile game which offers cash prizes to top finishers. Their partnership with Algorand takes DRL's "real-life video game" to a whole new dimension, unlocking next generation fan experiences and creating new cutting-edge tech-forward brand integrations. Soon fans will attend DRL races through Algorand's blockchain-enabled ticketing and engage with the sport through blockchain-powered collectables, fan transactions and NFTs.
The league is setting the stage for all sports properties to embrace technological fluidity and bring competition IRL, in virtual simulation and in the metaverse in order to reach and engage fans across all dimensions.
Objective: Algorand and DRL are recognized as disruptive forces across the finance and sports industry, respectively, pushing the limits of what is possible in sports and advanced technology. With a similar DNA - both have visionary founders, both revolutionize their industries with technology others have tried and failed to replicate, and both move at the speed of racing drones – and shared values of speed, innovation, and inclusivity, the DRL and Algorand teams had chemistry from the get-go.
Marking the largest sponsorship deal in DRL's history (and one of the largest crypto sports partnerships in the industry), the league forged a $100mm deal with Algorand, to disrupt sports and gaming through Algorand's blockchain, create next generation fan experiences on blockchain, and bring scalable, fast, and decentralized gaming applications to DRL.
Strategy & Execution: Merging blockchain with drone racing is a bulls-eye for DRL's "tech-setter" fans, who are early adopters, open-minded to new forms of entertainment, and 40 times more likely to follow and engage with cryptocurrency accounts than the general population. As tech-setters see through traditional awareness-driving sports sponsorships, gravitating towards sports marketing built around technology, DRL and Algorand teamed up to showcase the technical applications of blockchain through sports.
Tapping into the over $2 trillion industry combining the global gaming, cryptocurrency and drone markets, DRL and Algorand are developing the first play-to-own drone racing game in the metaverse, where players will race drones for cryptocurrency and NFTs on Algorand's blockchain. Celebrating the speed and tech expertise of Algorand's blockchain, the league unveiled the Algorand 13th Pilot, their first official alternate pilot to fly when other pilots can't, and transformed him into a collection of NFTs on the Algorand blockchain. During the Algorand DRL World Championship, thousands of attendees had the opportunity to mint their own drone racing NFTs on the Algorand blockchain.
Results: The partnership is accelerating DRL's growth as the first omnichannel sports league, enabling DRL pilots and fans to race drones across the physical, the virtual, and the metaverse. Its earned significant media attention of 2 billion press impressions over the last six months, brought in a whole new fanbase of the crypto community who actively engage with DRL online, and positioned DRL as a leader in the crypto sports space.
The major league-sized sponsorship put DRL on the map as the ultimate sports property to showcase tangible, immediate technical applications of blockchain through their tech-based competition. While most blockchain technology companies are investing into sports leagues and teams focused on brand awareness, Algorand is enabling DRL to create immersive, next-generation fan experiences on their blockchain. The two tech powerhouses are innovating novel technologies to introduce millions of sports fans and tech enthusiasts around the world to the future of technology-based sports.
The sponsorship has led to new DRL deals, including their latest partnership with Playground Labs to develop a play-to-own drone racing game in the metaverse.