🎉

2022 Shortlist
AMERICAN PRODIGY: THE KID
Entrant: Blue Wire Podcasts
NOMINEE ✨
Best Integrated Marketing Campaign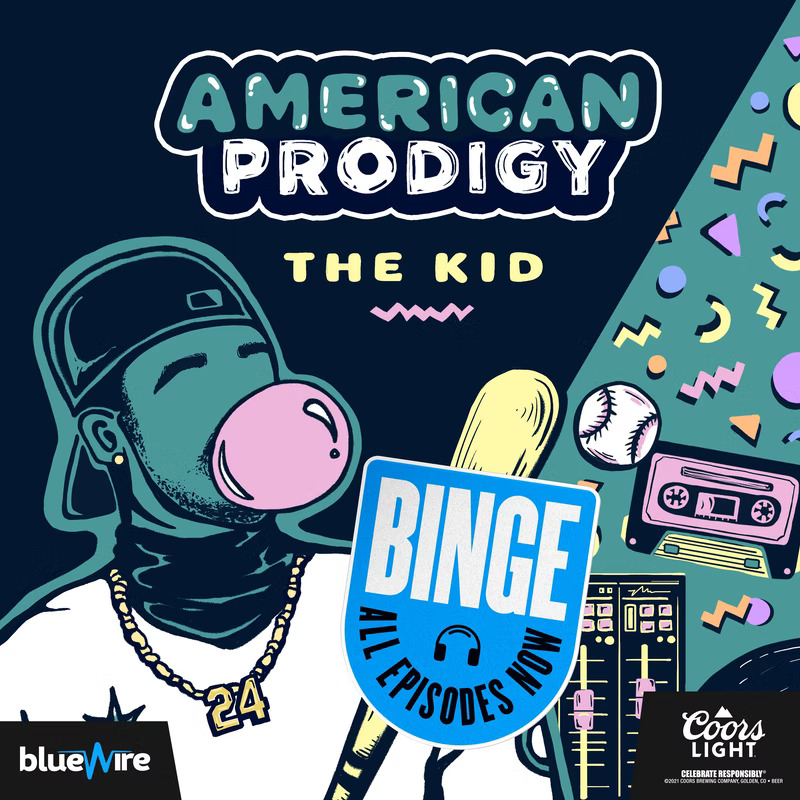 ABOUT THIS ENTRY
Icons live forever; the phenom, Ken Griffey Jr., bridged the gap between sports and culture. The Griffey-Fi campaign sought to bring The Kid's story to life, enabling our audience to celebrate the embodiment of what he meant to fans, while diving into the mind of the legend himself.
How does this represent "Excellence in Engagement"?
The world would be a lot different without sports. Today, with streaming and immediate news, the average human attention span continues to dwindle. People seek information fast and by the minute. With sports, fans can lose themselves in excitement and the unrelenting passion for their teams. Time becomes still, it's the moments like Ken Griffey Jr. hitting a walk off homerun, or our team winning the Super Bowl, that we remember and hold in our hearts and minds forever. As we move toward the future, sports will continue to bridge the gap between culture, community, and excitement. This intricate trilogy will drive the sports fan towards engaging with the individual athletes (celebrities in their own right), and their intricate lives outside of game day. The future for sports is bright, and there's no better time to be a fan than now.
Objective: From video games, retro TV series, and sneakers, there has been a noticeable increase in 90s nostalgia. With this in mind, Blue Wire paid tribute to a legendary 90s Sports figure in one of our tentpole podcasts, while tapping into the growing trend to target aging Millennials and introducing Ken Griffey Jr. and the American Prodigy feed to the younger Gen Z audience.
We strived to raise the bar; emphasizing storytelling and community, while displaying our passion for those that embody the true meaning of being an American Prodigy. As most social media campaigns go, we sought to separate ourselves from the status quo. As a startup, we had limited reach on social (9K followers) and a limited paid budget, which forced us to get creative and strategic while creating this campaign. Our main objective was to leverage Griffey's stardom to help reach our target audience, new fans, and raise awareness for our new podcast. To properly hit our objectives, we created an organic social content plan based around targeted viral moments and influencers. This plan consisted of creating shareable, social-friendly content around the main topic of the podcast, which would result in generating social engagements and brand awareness.
Strategy & Execution: Sports have been a staple in society for years. With baseball, America's pastime, we had an initial target audience at our fingertips, and we knew exactly how to reach them.

Out-of-home marketing is still popular to our main target demo of younger Millennials and Gen Z. As a result, we organized an out-of-home campaign in the Seattle, WA area, where Griffey is still considered a hometown hero, in addition to a radio ad campaign on ESPN. The campaign included wheat posters, pole postings, and in-person hype squads in the Seattle area and T-Mobile Park by the Griffey statue.

The social campaign was built for modern sports fans. Nostalgia + pop-culture icon = social media gold. We strategically took the elements of what made Griffey an icon and used that to our advantage. On launch day, we created a campaign called, "Griffey-fi", where we altered users profile pictures on Twitter. The campaign generated over 620K impressions (not bad for a Twitter account with 9K followers 😊). We used the momentum from "Griffey-Fi" and created more viral moments. Including content that was shared by media outlets and pro athletes like ESPN, Kyle Kuzma, Marcus Stroman and Isaiah Thomas.
Results: The out-of-home campaign for Griffey led to a noticeable increase in downloads in the Seattle area and made this market the #1 DMA for American Prodigy's listenership during the season. The Griffey-Fi campaign brought, with limited social reach and budget, our campaign generated over 4.4M impressions.