🎉

2022 Shortlist
ATLANTA FALCONS USE FLEXIBLE TECHNOLOGY TO ADVANCE FANS' GAMEDAY EXPERIENCE
Entrant: Atlanta Falcons & Judo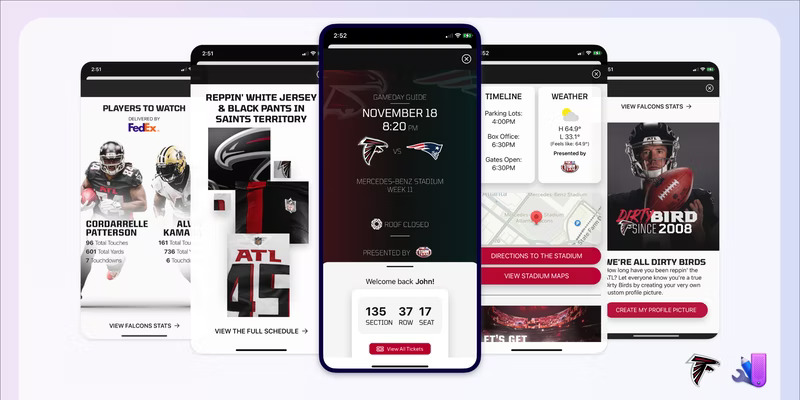 ABOUT THIS ENTRY
The Atlanta Falcons utilized leading-edge technology to create innovative dynamic experiences for their gameday guide, gameday preview, and gameday recap in their mobile app. Through the use of APIs and Ticketmaster identification parameters, the team was able to automate gameday content in these campaigns while creating a personalized, engaging experience for their fans.
The Atlanta Falcons were early adopters to Judo's new mobile experiences capabilities, specifically the ability to incorporate APIs and user data into these rich mobile experiences. These new capabilities enabled the Falcons to integrate NFL league APIs, specialized content from their headless CMS - Contentful, and incorporate Judo's Ticketmaster integration in order to display 1-to-1 ticketing information within their digital gameday activations.
In addition, they implemented logic so that only users logged into Ticketmaster and with a ticket to the game would see specific gameday content, including personalized messaging, ticketing details, and more.
How does this represent "Excellence in Engagement"?
The Atlanta Falcons pre and post game mobile experiences clearly present excellence in engagement. From a team resourcing perspective, their ability to use Judo's innovative and flexible content solution to connect to APIs enables them to automate and scale their game day content. This automation helps the team continue to provide relevant and timely information to their fans while enabling the team to focus on delivering a richer fan experience.
The technology used by the Falcons enables their exceptional digital team to deliver best-in-class UX/UI within their mobile app that certainly incorporates design best practices typically seen by major app publishers.
It is undeniable that the Falcons' focus on personalized content should inspire others around the industry to do the same. When you have the ability to call out a fan by name, you are helping the fan feel valued and important - a key goal for any sports team.
Objective: The Atlanta Falcons recognized the importance of making gameday information easy to find and only one tap away on their mobile device. They achieved this goal by creating incredibly well designed mobile experiences for their gameday guide, gameday preview, and gameday recap.
With the goal of presenting relevant information to each fan, the Falcons leveraged the Judo platform to deliver a highly personalized and tailored gameday experience, incorporating important game content including opponent, start time, and important stats to know, as well as important localized information, including ticketing, parking, F&B options, and the weather.
In their game day guide, the goal for the Falcons was to give different sets of fans a different experience. If a fan was logged into the Falcons app via Ticketmaster, they were presented a guide that contained their ticketing information and a personalized message. For fans that were not logged in, they were still presented with relevant game entertainment content.
This focus on dynamic content ensured the team was able to deliver up-to-date information quickly and efficiently, while creating a seamless and personalized experience for fans.
Strategy & Execution: In building pre and post-game mobile experiences, the Falcons recognized today's modern fans want access to information at the tap of a thumb. Their use of Judo's platform and relevant APIs enabled the team to automatically provide fans with up-to-the-minute game day information: from the weather for the game, to the stats of their favorite players. The team recognized that fans don't want to spend time searching, and so each experience contained a variety of information, from opponent info, videos, important articles, and much more.
The team also recognized that fans are busy on gameday with tailgating and navigating through gate entrances and F&B lines. As such, they presented these gameday experiences in a number of ways to make it easy to consume. Specifically, they sent out push notifications the morning of the game and triggered push notifications when a fan scanned their ticket into the venue that launched the gameday guide.
The team focused on making their fans feel valued through providing personalized content. For each home game guide, they created a dynamic 1-to-1 experience by utilizing Ticketmaster's Presence SDK, presenting a personalized mobile experience containing the fans' name and ticketing information, including row, seat, and gate.
Results: As evident by their 3.6M app sessions and 37% rate of revisit to their gameday experiences during the 2021-2022 season, it's clear the Atlanta Falcons' focus on quality and innovative mobile content was a success.
That said, they didn't only create engaging content, but also meaningful utility within that content. For instance, the weather section of their gameday guide - which was automatically updated via an API - showed fans how they might better dress for the game. Additionally, for those logged into their Ticketmaster, they were presented with easy ways to retrieve their tickets, substantially reducing wait times at the gate of Mercedes Benz Stadium.
The effectiveness of these components shows in the fact that 49% of their mobile app experiences engagement was with their game day preview, guide and recap. It's also clear that fans genuinely embraced their new app features, as evidenced by the fact that they drove 6% higher mobile engagement than the previous season and 15% growth in app users compared to the previous season too.