🎉

2022 Shortlist
LIVELIKE - AN AUDIENCE ENGAGEMENT PLATFORM ACTIVATING AUDIENCES
Entrant: LiveLike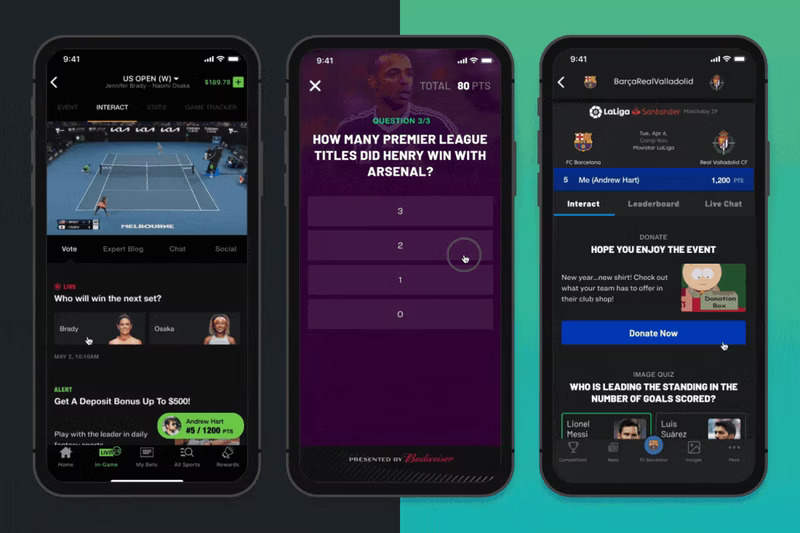 ABOUT THIS ENTRY
LiveLike, whose technology empowers digital experiences for live sports, entertainment and more, has experienced exponential growth as it continues to aid the world's biggest sports organizations and media companies to engage with their audiences on digital platforms creatively. This trend was well underway leading into the pandemic, was accelerated by it as sports rights holders quickly moved to connect with fans at home and broadcasters, and sports clubs continued to seek new and innovative ways to connect with fans. These trends continue today, and LiveLike's array of interactive, social experiences—from watch parties to gamification – are meeting this increased demand for online community engagement for live fans across the globe.
Canal+, Deltatre, FloSports, Fox, Georgia Tech, the Golden State Warriors, La Liga, NASCAR, the NBA, NFL, Sky Sports, Turner Sports, WarnerMedia, the WNBA, and more have seen strong results from partnering with LiveLike.
LiveLike's audience engagement platform (SDK and APIs) integrates into apps and websites that partners have spent years (and millions of dollars) building, clubs, leagues and media companies are able to enhance the fan experience where their audience already lives. LiveLike's engagement and gamification technology also provide a direct opportunity to convert visitors into registered users, retain subscribers, and monetize the experience through branded content, microtransactions and (where legal), wagering. This solution can also be up and running in weeks (not years) for a fraction of the cost of creating something from scratch and has been built for scale.
How does this represent "Excellence in Engagement"?
LiveLike is helping content companies and sports rights holders transform their audiences into engaged communities. The LiveLike platform is proven to attract younger audiences, increase session length, and improve retention, increasing new monetization opportunities. LiveLike believes a platform approach, where content creators at teams, leagues, or broadcasters can build their own custom engagement features on top of out-of-the-box offerings, is the only way to maximize reach and fan engagement at scale. Building standalone, parallel apps is well and good but will never compare to the customized, unique, branded fan experience of working directly with existing OTT platforms that fit to each unique fan community and intricacies of each sport.
LiveLike is the perfect addition to the live sports ecosystem, in which key players are looking to add Twitch-like experiences to their platforms -- i.e., apps and websites that they have spent years building, and where their audience already lives. This solution can be up-and-running in weeks (not years) for a fraction of the cost of creating similar experiences themselves. The engagement results and feedback from their partners, like NASCAR and the Golden State Warriors underline the importance of an integrated fan engagement solution like LiveLike.
Objective: Two example campaigns to present are LiveLike's work with the Golden State Warriors, and NASCAR.
The Golden State Warriors were looking to acquire and retrain users of their Chase Center App, while NASCAR was looking to create a more interactive experience for their new app, which would need additional features for race fans on race day.
The Golden State Warriors and Chase Center created an end-to-end digital experience with Accenture for every type of fan—from those going to the arena to watch live to fans following the action at home. Ticketing, concessions, stats, schedules - everything related to the team and the arena are available through the app.
These are two examples of how LiveLike partners are able to be creative, customizing an interactive experience that's best for their fans. This includes publishing fun and engaging content in real-time during events, tapping into the ongoing action (and in the case of a recent NASCAR rain delay, ensuring that engagement continues even when the action is on pause).
Strategy & Execution: For the Golden State Warriors, enter LiveLike, which via the app's "Game Mode" enabled the Warriors to amplify their game time experience by providing a second-screen experience that included watch parties with live chat, as well as a new level of gamification through polls, trivia, and other ways for fans to be rewarded for their loyalty to the team. Fans earn points and get ranked on a leaderboard by engaging with the polls and trivia. At the end of each month, the fan with the most points was eligible to win an autographed jersey. The initial objective of integrating LiveLike and launching Game Mode was to drive engagement in the app during fanless games. Additionally, Game Mode was used to help drive sign-ups to the app experience.
NASCAR utilized LiveLike's audience engagement platform to offer racing fans new interactivity features with their mobile app, including: polls, predictions, cheer meters, emoji sliders, and customized alerts. There was also a rain delay during a recent event, and the NASCAR content editors were able to take control and create content that kept NASCAR fans on the platform and engaged rather than turning away until the action started back up.
Results: The results for the Golden State Warrior activation have been significant as unique visitors to the Game Mode app have skyrocketed from 4,620 to 12,319 this season. Average time spent on the app with Game Mode has also increased 64%. The real proof of the value of LikeLike's technology is the time spent on the app - when comparing Non Game Mode users to Game Mode users on the app, Game Mode users' average time spent is 178% higher as they engage with the features and games.
In the first year of integrating LiveLike into their app, NASCAR's engagement with those features grew 22% over the season. Total impressions grew 140% from the beginning of the season, to nearly one million in October 2021 alone.
Production
Project 1: LiveLike, Accenture, Golden State Warriors / Project 2: LiveLike and NASCAR
Credits
Miheer Walavalkar
Co-Founder and CEO
LiveLike