🎉

2022 Shortlist
BetMGM and Buffalo Wild Wings: Betting is Better at B-Dubs
Entrant: BetMGM
NOMINEE 2X ✨
Best Sports Betting Partnership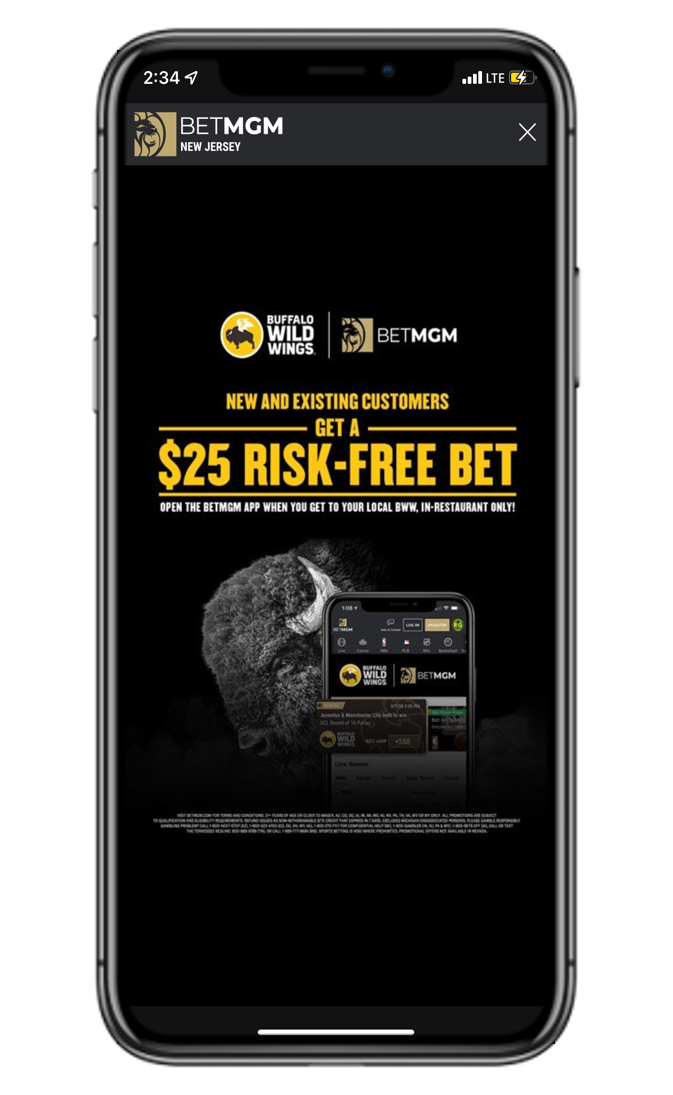 ABOUT THIS ENTRY
The partnership between BetMGM, a leading sports betting and iGaming operator, and Buffalo Wild Wings, the largest sports bar brand in the United States, is engaging consumers in new ways every night in-restaurant.
How does this represent "Excellence in Engagement"?
This partnership is the first of its kind in engaging sports fans by uniquely merging the digital with the experiential to create the first mobile sportsbook. By tapping into consumption habits of modern sports fans, BetMGM and Buffalo Wild Wings are embracing the second screen like no one else in the industry. This is done by captivating sports fans with a best-in-class sports viewing – and betting – experience that can only be experienced at Buffalo Wild Wings. Through this experience, the partnership aims at compelling customers to enjoy sports and experience the added thrill of having a stake in the game alongside their fellow fans.
This partnership is spearheading an entirely new type of offering for sportsbook partnerships with its geolocation technology. The ability to leverage this feature to customize and augment the physical experience of sports fans is truly innovative. As the sports betting industry increases in importance and scale, this partnership represents two brands harnessing that national growth and excitement at a local level. The teamwork between BetMGM and Buffalo Wild Wings represents the revolutionizing of the sports viewing experience and the engagement of a new wave of sports (betting) fans.
Objective: In September 2019, BetMGM and Buffalo Wild Wings entered an exclusive partnership to reimagine how sports fans and bettors watch their favorite teams. Together, the organizations have merged two premier sports communities to drive sports fans to watch and bet on sports at Buffalo Wild Wings with an incredibly innovative and customized experience. At BWW, and with BetMGM, fans get a hyperlocal taste of a sportsbook experience that brings an in-person, social element to mobile sports betting, connecting a community of sports bettors to watch any and every game they need to cheer on their bets.
Strategy & Execution: BetMGM and Buffalo Wild Wings wanted to give the modern sports fan a reason to leave the comfort of their own home to watch games at Buffalo Wild Wings and bet. Through the partnership, sports bettors in-restaurant can consume every game across a multi-screen experience, view live BetMGM odds feeds, enjoy free-to-play games on the BWW app, and take advantage of an exclusive BetMGM weekly offer.
Using first-of-its-kind geolocation technology, a tentpole of the partnership, fans who step inside a BWW can redeem a $25 risk-free bet once per week, only on their BetMGM app. Additionally, fans wagering on sports inside BWW can see live odds directly from BetMGM. Through OT Odds Powered by BetMGM, BWW delivers betting content, live odds, and fantasy advice to their customers.
Additionally, the free-to-play game Picks and Props on the BWW app mimics the sports betting experience by providing an opportunity for players to make picks using BetMGM odds and compete weekly for prizes. A nationwide platform, a custom user journey is available for those in legal betting states: after completing their picks, a link sends players to the BetMGM app, where they can place a bet on the pre-popuated parlay they just made.
Results: Together, the organizations have created an ecosystem to deliver multiple touchpoints to sports fans and bettors, from app-to-restaurant. Two and a half years after launch, the partnership continues to grow in scale, as BetMGM launches in new markets and additional BWW locations are added to the relationship. Throughout the COVID-19 pandemic, BetMGM and Buffalo Wild Wings strategized on how to best enhance the customer experience when people would start to revisit restaurants worldwide. Now that many are returning to their favorite spots, the engagement between BetMGM and BWW customers has skyrocketed.
Geolocation technology is currently live in 264 restaurants and is growing with every new state that regulates mobile sports betting. Between March and April 2022, there's been an 800% MOM growth in geolocated risk-free bet redemption. Each week, Picks and Props receives more than 10,000 completions. In the past month (March 2022), more than 3M Buffalo Wild Wings restaurant goers have been exposed to the BetMGM brand.
Despite early success, both partners continue to innovate and are testing and rolling out new ways to further leverage the strength of the cooperation between the two brands.