🎉

2022 Shortlist
B/R APP - THE NO. 1 APP IN SPORTS
Entrant: Bleacher Report
NOMINEE ✨
Best App or Mobile Experience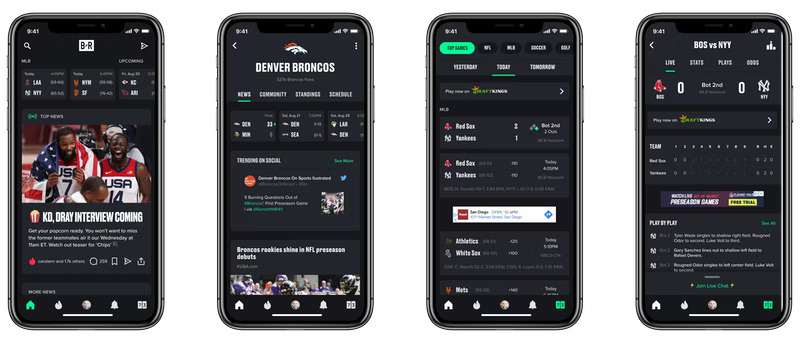 ABOUT THIS ENTRY
The B/R app is the ultimate destination for the next generation of sports fans. Straddling between publisher and platform, the B/R app boasts social capabilities unseen by any other competitor while also distributing premium livestream content and fast-breaking sports news and scores that fans have come to expect.
How does this represent "Excellence in Engagement"?
Bleacher Report has long had the vision to transition the B/R app from a publisher to a true dynamic platform and 2021 was a pivotal year in bringing that vision to life. It's one thing to be a distribution mechanism for news, scores and premium content, but augmenting those delivery mechanisms while providing differentiated user experiences that are more in line with the top social media platforms of the day is a combination unparalleled in the industry today and the B/R app is leading the way.
Objective: It's clear fans covet, demand even, a deeper connection to the teams, athletes and leagues they passionately follow. They also seek a community. Content continues to be king, but connecting with fans is critical. And Bleacher Report continues to meet those needs in unparalleled fashion via the B/R app.
Strategy & Execution: To bring these fans even more closely together in 2021, B/R built a suite of features and content that differentiate the B/R app from the competitive set. It all starts with the foundation of social functionality in the app led by the introduction of the "Community" feature to connect fans so they can engage with one another in shared experiences. The "Community" feature allows fans to post/chat about their shared fandom within a stream devoted to their favorite team, sport or league. It's the B/R equivalent of a digital sports bar.
Bleacher Report has also created an original live programming schedule in the app that makes it appointment viewing for users. Unlike the competitive set, the content isn't built for streaming live games, it is developed for the young, digital-first sports fan and led by top creators like Kenny Beecham and Nasher who tap into the social functionality of the app, to interact with fans.
Finally, the B/R app introduced a premium Pay-Per-View viewing product that provides access to exclusive AEW events and a robust TVE functionality allowing for game broadcasts with a cable subscription.
Results: New features and improvements to the B/R app resulted in an average of 217 million visits per month with users opening the app 2-3 times every day and spending an average of two hours per month consuming its content.
November set a new record for app users visiting "Communities" with 1.26 million users going to select spaces devoted to the NBA or NFL.
Livestreaming productions of tentpole events like the 2021 NFL Draft generated more than 460K comments over the three-day event (+118% Y-o-Y) - giving fans a place to share their highs and lows together in one space B/R Open Run, an original event produced by Bleacher Report during the 2021 NBA All-Star Weekend took viewership to the next level reaching 61k concurrent views and more than 574K plays throughout the weekend.
PPV events have shown the potential of premium event viewing in the B/R app. The AEW All Out event drove a combined 13.4 million minutes of watch time, equating to just under three hours per device and a record level of engagement.
Production
Bleacher Report, Turner Sports
Credits
Nick Yokoyama
Senior Director of Content Programming
Bleacher Report
Charles Eklund
Vice President & Head of Product
Bleacher Report
Hania Poole
Senior Vice President of Digital
Turner Sports
Hammed Kohistani
Director of Design
Bleacher Report
R Smith
Vice President of Design
Bleacher Report