🎉

2022 Shortlist
Bud Light Showtime Cam
Entrant: Denver Broncos
NOMINEE ✨
Best Branded Content or Series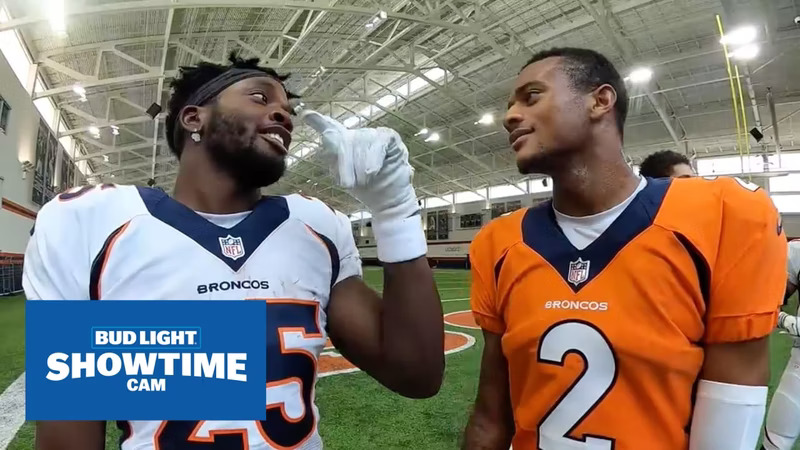 ABOUT THIS ENTRY
The Broncos' Bud Light Showtime Cam is a highly successful, unique, light-hearted introduction to our players' personalities & team camaraderie through the use of a question of the day format & a front-facing camera.
How does this represent "Excellence in Engagement"?
While there were a few examples of a "Showtime Cam" model in 2020, the success we had with the introduction of specific (usually controversial!) prompts led to nearly every single NFL team implementing some sort of Showtime Cam into their training camp & season content. We had several of our counterparts from other teams, leagues, etc. reach out to ask how we created & executed Showtime Cam as successfully as we did so that they could replicate the concept in their market/industry.
Objective: When content teams across the world were faced with access restrictions due to COVID-19 protocols, several teams decided to utilize Go Pro set-ups to capture player content. While this originally started out as a simple way for players to wave hi to our fans, we quickly realized the potential to give our fans a glimpse at what conversations are really like inside the locker room.
Strategy & Execution: Our Showtime Cam is unique in that we were completely reliant on the players to make the content engaging. Once we discovered their interest, we came up with a Question of the Day to have on the Go Pro every day after practice and then we as content creators took a step back and let the content happen naturally. Players were teaming up on other players, bringing locker room debates out onto the practice field and everyone from practice squad players fighting for a roster spot to our head coach was participating. By showcasing our players' personalities and their interactions with each other in a natural way, we were giving our fans an inside look at what being a part of this team truly was like. It made them feel as if they a part of the team, even if they were thousands of miles away.
From a technical perspective, it was the perfect piece of content to customize for each platform. We could easily crop it to fit the dimensions of a particular platform and there were enough quality moments that we could either post the video in full or take some of the better snippets to repurpose.
Results: This was by far one of our most successful content series we've ever produced. It consistently was our best-performing content of the week — even after posting nearly every day of training camp. One of our Showtime Cam TikToks is still our most-viewed piece of content on any social media platform with 3.6M views. Additionally, we generated over 20M impressions for Bud Light and included an animated Bud Light Can swipe to reveal the question of the day, which earned even more buy-in from the partner perspective because we integrated the partner in a more engaging way than a typical logo bug integration.
Production
Denver Broncos
Anheuser Busch
Credits
Joe Abdellah
Social Video Producer
Denver Broncos
Roya Burton
Social Media Content Assistant
Denver Broncos
Cole Cooper
Social Media Intern
Denver Broncos
Caroline Deisley
Social Media Engagement Manager
Denver Broncos
Erich Schubert
Senior Director of Content & Communications
Denver Broncos