🎉

2022 Shortlist
CANDY DIGITAL - SWEET FUTURES
Entrant: Candy Digital
NOMINEE
Best NIL Program (Brand, Agency or Tech)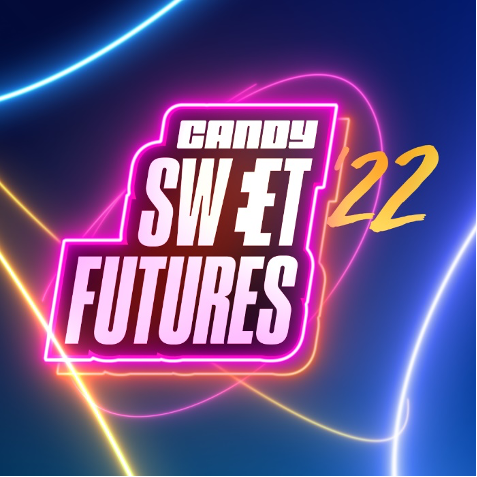 ABOUT THIS ENTRY
Candy Digital, the next generation digital collectibles company, created the first-ever NFT series featuring college athletes.
Known as "Candy Sweet Futures," this product line launched in the summer of 2021 with several of the biggest names in college football and then expanded in the beginning of 2022 into college basketball with a lineup that featured some of the star players in the nation ahead of postseason action.
This series was a cutting-edge NFT product line that focused on bringing the NIL rights of college athletes to the market, with one-of-a-kind digital offerings featuring some of the nation's top student athletes.
How does this represent "Excellence in Engagement"?
The Candy "Sweet Futures" collection focuses on bringing the NIL rights of college stars to the NFT market, with one-of-a-kind digital offerings featuring some of the nation's top student-athletes.
The "Candy Sweet Futures" launch established an entire new area for fan engagement as it marked the first-time ever that fans are able to own a digital collectible of a collegiate basketball player as they watch them compete on the court in March.
The game-changing project allowed for college athletes to market themselves in ways never imagined before, and with an NFT marketplace that has achieved notable success, it brings tremendous long term value to the collector while enabling the player to capitalize off their name, image, and likeness. Candy Digital has empowered athletes to earn their share in the business of college sports, while reimagining ways for fans to engage with their favorite sports and players.
Objective: Candy Digital is reimagining all of the ways in which officially licensed NFTs can deepen the experiences for both sports fans and collectors to bring them closer to the sports, teams, and players they are passionate about.
When sports NFTs first began appearing they centered around professional leagues, teams, and athletes. With recent legislation enabling student-athletes to capitalize on their name, image and likeness, Candy Digital saw an opportunity to open-up this new world of digital collectibles to college fans and collectors as well.
At the same time, Candy Digital also recognized and appreciated the many ways in which NFTs could benefit student-athletes competing in sports, and dedicated itself to creating innovative, premium products with them. Their accomplishments and passion for the sports they play are incredible, and Candy Digital's team of artists and designers committed themselves to bringing that to life for both the student-athletes, as well as their many fans.
Strategy & Execution: Celebrating fandom and evolving how fans experience the sports, teams, and players they are passionate about are key lenses that Candy uses when developing its products. The combination of NFTs with NIL rights presented a unique opportunity for Candy.
Candy Digital's "Candy Sweet Futures" NFT collection was designed to creatively spotlight some of the nation's top college student-athletes, its football line lineup having dropped in the back-half of 2021 and its first-ever basketball line dropping just ahead of postseason action in 2022.
From a design standpoint, Candy's team of motion artists and designers brought the eight college basketball players to life by uniquely combining 2D photography of them in-action with immersive digital environments. Each digital collectible features a futuristic, illustrated style inspired by the lines on basketball courts and the to-be-written future for each player.
Results: Candy Digital's "Sweet Futures" basketball line featured a weekly cadence drop for all eight players involved spanning from March 7 - March 21. The work achieved effective engagement as multiple players saw the products from their respective collections sell out once they went live.
In the fall of 2021, Candy Digital's "Sweet Futures" football line featured 23 collegiate athletes. Both the "rare" and "epic" graded NFTs for all athletes sold out and the highest auction saw Clemson QB DJ Uiagalelei "rare" Sweet Futures sell for just under $20,000.