🎉

2022 Shortlist
Chase Center Recreates Game Experience on Social Media During Fanless Season
Entrant: Golden State Warriors
NOMINEE ✨
Best Social Media Campaign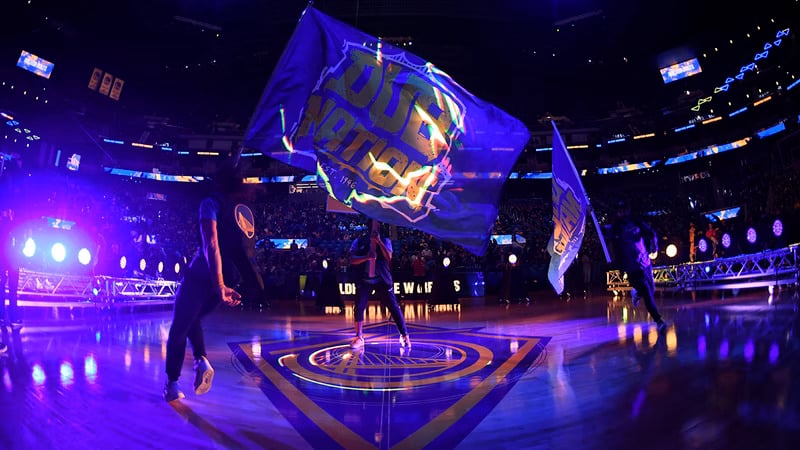 ABOUT THIS ENTRY
When it was announced that the 2020-21 NBA season would start without fans, we were met with the question: "How do we give fans a view into the newest, state-of-the-art arena when our doors are still closed to the public?" Chase Center was only open to the public for six months before closing doors in March 2020 due to the pandemic, and although it felt like the world was on pause, our social feeds were not. Knowing that fans could not physically be in the building, we looked to recreate the in-arena game experience through Chase Center social content.
How does this represent "Excellence in Engagement"?
When an arena is only open for six months before a global pandemic, there is very little inventory to work with to continue to have engaging social media channels. So much of the strategy around those accounts are focused on events, and without them we were left with a huge question mark.
By implementing "Bringing the Game to You" we were able to not only increase our following and the engagement rate of that audience at the same time, but continue to introduce the state-of-the-art building to the world even behind closed doors.
Objective: Knowing a primary goal of our Chase Center's social handles is to give a 360 view of everything that happens in the arena, we knew we had to continue to do this even as doors were closed. Chase Center had only been open to the public for six months before the pandemic, which posed another hurdle – How do we create fun experiences for a brand new and indefinitely closed building?
This is where we came up with "Bringing the Game to You." A social campaign that recreated everything you get from doors open, to the final buzzer during a game day at Chase Center, but 100% through organic social media.
The Warriors have a global fan base, so being able to bring the vibrancy of the fans to the season, even if they couldn't be in the arena itself, was a priority.. This campaign continued to introduce key pillars of Chase Center's brand to our fans even as doors were closed through content like at-home recipes for every game, custom playlists, dance routines & more.
Strategy & Execution: The modern sports fan is living and breathing the sport online, 24/7. Being a fan goes far beyond getting tickets to the game, or even just watching on TV. The modern fan is now able to follow their favorite teams through social media. In developing "Bringing the Game to You", we completely leaned into this era of the modern sports fan, creating an online hub for Dub Nation through the Chase Center channels.
We worked cross-departmentally to get buy-in toward optimizing content for social specifically for this campaign. Our food and beverage partners at Bon Appetit provided us with recipes for every home game, so fans could cook at home before the game for the taste of Chase Center. We created custom playlists, working with influencers like K-Pop star Chenle or players like Draymond, who to curated music specific to each game's matchup. Our dance team choreographed routines to copyright-free music, matched by our studio team shooting videos around the arena for every game as well. We worked with game experience to pull previous halftime performers into our social feeds for entertainment in each game as well.
Results: Given the fact that we shifted the feed's strategy to "Bringing the Game to You" through the duration of the 20-21 season, we are able to contribute much of our social channels growth to this campaign.
Some success metrics include:
56% channel growth across Twitter, Facebook and Instagram by the end of the campaign
25% channel growth across Twitter, Facebook and Instagram after the first month of the campaign
Elevated Chase Center Facebook to the #1 in overall engagements and engagement rate amongst NBA Arenas (per CrowdTangle)
Elevated Chase Center Instagram to the #1 in overall engagements and engagement rate amongst NBA Arenas (per CrowdTangle)
Chenle's curated Dub Nation-inspired playlist resulted in over 2.8 million impressions and over 78,000 engagements
In doing this campaign, it also created revenue opportunities for partners who usually have a number of in-arena assets programmed for home games.
Production
Golden State Warriors
Credits
Hannah Avdalovic
Manager, Social Media
Golden State Warriors
Ryan Daniel
Associate Manager, Marketing
Golden State Warriors
Serena Marini
Graphic Designer & In-House Photographer
Golden State Warriors
Jason Lindeman
Design Manager
Golden State Warriors
Jason Lim
Sr. Director, Design
Golden State Warriors
Karen Ramming
Director, Social Media
Golden State Warriors
(currently University of Washington)