🎉

2022 Shortlist
Coach Prime
Entrant: Barstool Sports, SMAC Productions
NOMINEE ✨
Best Original Content or Series (10 min+)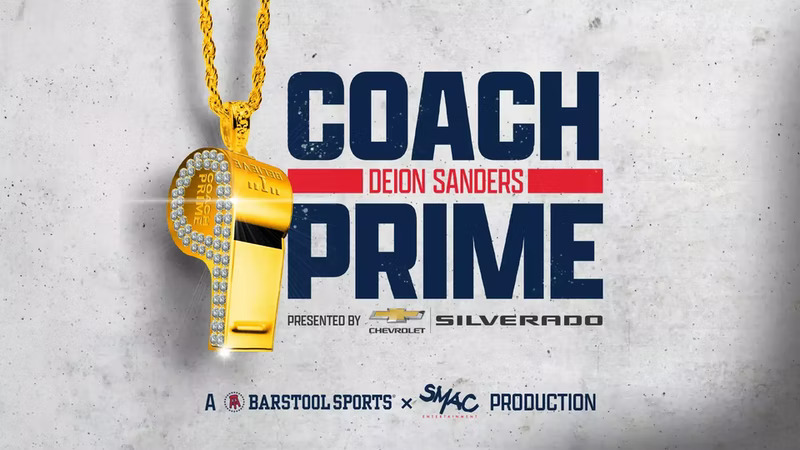 ABOUT THIS ENTRY
Barstool Sports and SMAC Entertainment presented the continuation of their co-production, Coach Prime, featuring Pro Football Hall of Famer Deion "Coach Prime" Sanders. The documentary series resumed on February 22 on Barstool Sports. Over six installments, Coach Prime followed Sanders in his first full season as coach of the Jackson State University Tigers football team. Episodes streamed across Barstool Sports digital, mobile and social platforms and were made available on demand.
The Fall Season continued its focus on Sanders' mission to level the playing field for Jackson State University, while showcasing the rich diversity, tradition and culture only experienced at an HBCU. New episodes chronicle the Tigers' fall season, resulting in a SWAC Championship and trip to the Celebration Bowl. Viewers went behind the scenes for the signing of top recruit Travis Hunter and experienced never-before-seen footage from when Coach was in the hospital for complications from a foot surgery.
How does this represent "Excellence in Engagement"?
We believe the series sets a new standard for follow-style sports documentaries that not only are engaging but that create and drive news coverage. This is the first time SMAC Entertainment & Barstool Sports have created an original series and additionally, Chevy came on as a presenting sponsor proving the excellence in production, professionalism and execution. This will inspire and move the industry forward to not only take a chance on media companies creating original content as opposed to O&O and streamers, but to look within their own story lines and talent to create inspiring and engaging content - i.e. Coach Prime and HBCUs.
Objective: Our goal from a production and editorial standpoint was to show all of the behind the scenes happenings of an HBCU college football program being led by one of the greatest athletes of our time, Coach Prime, Deion Sanders. Furthermore, we wanted to raise awareness of the effort to level the playing field and engage a broad community of fans.
Strategy & Execution: To do this, we installed cameras in the facility to capture all of the conversations and meetings between coaches and their players that you might not regularly see for a college team. We mic'd up coaches and players at every game and practice, and had cameras rolling every single day to make sure we didn't miss a beat with this historical shift that Coach Prime is creating in college football. We kept the series as real and authentic as can be, not shying away from showing the low points in the season in addition to the high points. This includes locker room speeches, scuffles and activity off the field as Coach Prime continued to make his lasting impact on HBCUs. Premiering this on Barstool Sports, the preeminent destination for the modern sports fan with its 66M+ engaged fans in combination with YouTube, made this a model for success.
We leveraged a range of platforms to engage viewers - YouTube as the main channel - in addition to Barstool Sports. And a robust, traditional public relations campaign was executed by in house and agency professionals.
Results: The series culminated with two significant moments, the first being when Coach Prime underwent and revealed the amputation of two toes, and second, Travis Hunter's game-changing commitment to Jackson State University. These moments were incredibly engaging and made waves in both social media and in traditional press. To further articulate the success, in the news media, these episodes resulted in over 500 stories and 5 billion impressions over a 3 week release period.
Production
Barstool Sports
SMAC Entertainment
Credits
Barstool Sports
SMAC Entertainment