🎉

2022 Shortlist
Devils Make Impact Through Buy Black Campaign
Entrant: New Jersey Devils
NOMINEE ✨
Diversity, Equity & Inclusion in Sports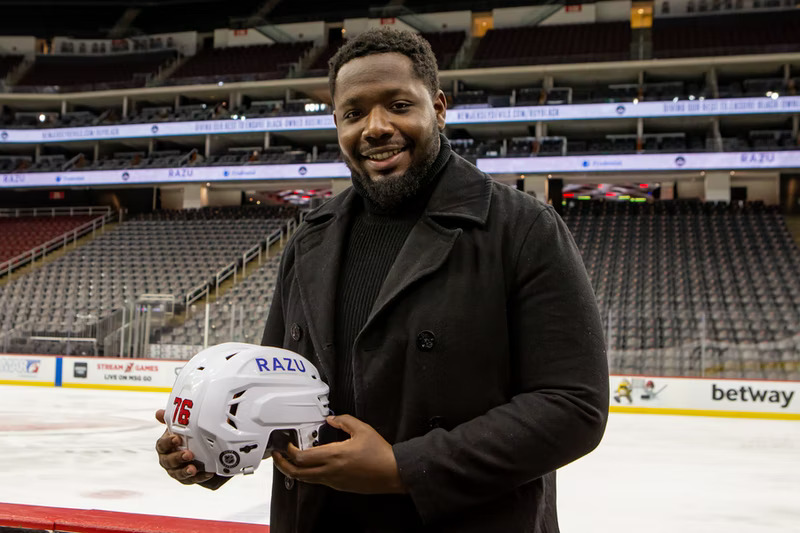 ABOUT THIS ENTRY
On October 13, 2021, the New Jersey Devils and Prudential Financial announced the expansion of their groundbreaking Buy Black program to support and amplify business opportunities for Black entrepreneurs. In an NHL and sports industry first, Prudential announced the donation of its premier brand placement on the Devils helmet to a Black-owned, New Jersey-based business for select games, providing unprecedented marketing exposure.
How does this represent "Excellence in Engagement"?
The Devils partnership with Prudential Financial on the Buy Black program was a sports industry first in its commitment to supporting Black-owned businesses. The centerpiece of this program was Prudential's donation of their premier brand placement on the Devils helmet to a Black-owned business, with the goal of providing a tangible impact on their bottom line. Through our measurement, we have already seen a positive impact on Razu's business.
The Buy Black Program presented by Prudential creates a model for sports organizations to use their marketing assets, reach and expertise to support local businesses and social causes.
Objective: Black-owned businesses and entrepreneurs have been some of the greatest contributors to the innovative, economic and cultural vibrancy of America. However, dating back to the beginning of our country, discriminatory policies and social practices have forced these businesses to compete on an uneven playing field, which has contributed to the disparities we see today. The Devils launched their Buy Black program in January 2021.
This immersive program was developed to promote and market a select few Black-owned businesses located in our community. With access to expansive reach through the Devils channels, exposure to expert marketing consultation, and use of marketing assets typically reserved for larger corporate partners, the selected businesses receive customized marketing plans that are executed by the partnership activation team to grow and sustain the success of their business.
With the support of Prudential Financial, we expanded this program in October 2021 by adding financial wellness counseling, local networking opportunities, and most notably, the selected business received brand placement on the Devils helmet, providing unprecedented marketing exposure.
Through an extensive application review and interview process, we selected Razu, a networking and collaboration service for musicians as our Buy Black partner for the 2021-22 season.
Strategy & Execution: According to Nielsen, today's sports fans want their teams to be leaders in social causes. Nielsen Fan Insights show that sports fans are 13% more interested in brands that help fight racial inequality compared to the general population, and 11% more likely to support brands that engage the local community to fight racial inequality.
This trend across sports fans aligns with the value of the New Jersey Devils and parent company Harris Blitzer Sports and Entertainment, who developed a plan of action in response to the social unrest following the murder of George Floyd. A key pillar of this plan was the development of the Buy Black program.
Results: The announcement of Prudential's partnership with the Buy Black program and industry-first donation of their brand placement on the Devils helmets, generated 233,000,000+ impressions. Razu's selection generated an additional 186,000,000 impressions.
Relo Metrics measured the exposure provided to Razu through the Devils helmet branding.
Through 17 games, the helmet branding alone has generated:
$260,000+ in media value
15 million+ impressions on social media
56% of Devils fans are at least somewhat aware of Razu's brand, compared to just 14% of non-Devils fans
Below are some sample responses from fans when we asked them where they recall seeing Razu:
"Devils initiative to support minority-owned businesses by having their logo appear on the NJD helmet. Googled RAZU after seeing it on the helmet to learn more."
"As part of the spotlight on Black-owned companies that the Devils are highlighting."
"On the helmets of the New Jersey Devils, they are a music company searching for new talent."
Since announcing Razu as the Devils Buy Black partner and introducing them on the Devils helmets, Razu has seen:
100+ % increase in web traffic
20+ % increase in their user base
Inbound inquiries to Razu from investors
Production
New Jersey Devils
Prudential Financial
Credits
Ned Luke
VP, Partnerships Solutions
New Jersey Devils
Chad Biggs
SVP of Corporate Partnerships Solutions
New Jersey Devils
David Gould
Chief Diversity and Impact Officer
New Jersey Devils
Lexi Williams
Diversity and Inclusion Manager
New Jersey Devils