🎉

2022 Shortlist
Drone Racing League Best Use of Technology
Entrant: Drone Racing League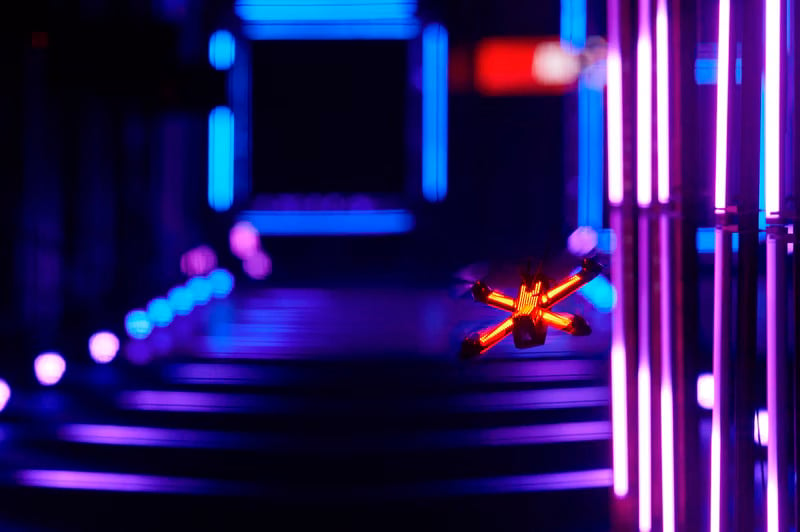 ABOUT THIS ENTRY
Technology innovation is at the heart of the Drone Racing League (DRL), the world's premier, professional drone racing property. More than half of the league are brilliant drone engineers and technicians who develop new technology every year to advance pilot-competition and further immerse DRL's millions of fans into the high-speed action, which airs on NBC, Twitter and other top international networks. Over the past year, DRL has innovated around new novel technology including blockchain and 5G to bring DRL to a whole new dimension.
DRL blazed sports into the metaverse through their partnership with Algorand, the leading high-performance blockchain platform, to create a digital drone racing series in Web3, NFTs for ticketing and blockchain-powered fan experiences. DRL also created their first 5G drone with T-Mobile, giving fans exclusive and immersive drones-eye views of major cultural events, including MLB's Field of Dreams game and DRL races, including the Championship at the Consumer Electronics Show (CES), the most influential tech conference in the world.
How does this represent "Excellence in Engagement"?
Through new partnerships and innovations, DRL is transforming into the first omnichannel sport, where pilots and fans race drones across the physical, the virtual and the metaverse. The league is setting the stage for all sports properties to embrace technological fluidity, in order to reach and engage fans across all dimensions.
Objective: DRL fans are young, global technology-obsessed "tech-setters." They love gaming, crypto and immersive experiences that truly blend the digital and the real, and 60% perceive brands that partner with DRL as more innovative on trend.
DRL partnered with leading technology companies including Algorand, T-Mobile, mobile gaming company Skillz and Steve Wozniak's Woz Ed K-12 organization to advance their competition, redefine sports entertainment, bring fans closer to the action than ever and drive social impact through new emerging technology including blockchain, 5G, gaming and STEM.
Strategy & Execution: To win the hearts of tech-forward sports fans, DRL:
Blazed into Web3: DRL forged a $100mm deal with Algorand, showcasing technical applications of blockchain through sports while developing the first play-to-own drone racing game in the metaverse, where players will race drones for NFTs on Algorand's blockchain.
Created immersive fan experiences through 5G: DRL launched their first 5G drone to storytell the speed, reliability and coverage of T-Mobile's 5G wireless network. The drone flew at the T-Mobile-sponsored MLB Field of Dreams game and DRL races – including DRL's Championship on the opening night of CES – capturing exclusive content for fans on T-Mobile 5G.
Launched new gaming products: including their first mobile game the Drone Racing Arcade on iOS and Android and added their DRL SIM video game, on PlayStation and Epic Games to get more players to fly drones.
Innovated new groundbreaking technology through DRL Labs, an innovation hub to conduct R&D into cutting edge technology, like autonomy and A.I., to support communities around the world.
Inspired the next generation of innovators through STEM: DRL's "Science of Drone Racing" curriculum with Apple Co-founder, Steve Wozniak's Woz Ed K-12 education organization teaches students how to code, build and fly drones.
Results: Integrating blockchain, 5G and gaming helped DRL attract new tech-loving sports fans, contributing to their year over year growth: DRL achieved a brand lift by close to 50%, drove 500% more fans on TikTok to a following of nearly 4mm fans (more than F1, NASCAR, MLS and NHL), and added 50% more players on their digital drone racing games, including the DRL SIM and Drone Racing Arcade. DRL has also seen an 85% lift in their average viewers on NBC and a 51% ratings lift on NBC compared to last season thus far.
Their partnership with Algorand reached over 2 billion press impressions, and their 5G drone launch reached nearly 500mm digital impressions, putting a spotlight on blockchain, 5G and intersection of technology, sports and entertainment. DRL's mini documentary chronicling the development of their first 5G drone garnered over 1mm views, and the 2021-22 Algorand DRL World Championship Season, which featured content illustrating the power of Algorand's blockchain as well as 5G drone course previews, reached its highest streaming viewership on Twitter in DRL history with 80mm views.