🎉

2022 Shortlist
DRL SKYROCKETS ON TIKTOK
Entrant: Drone Racing League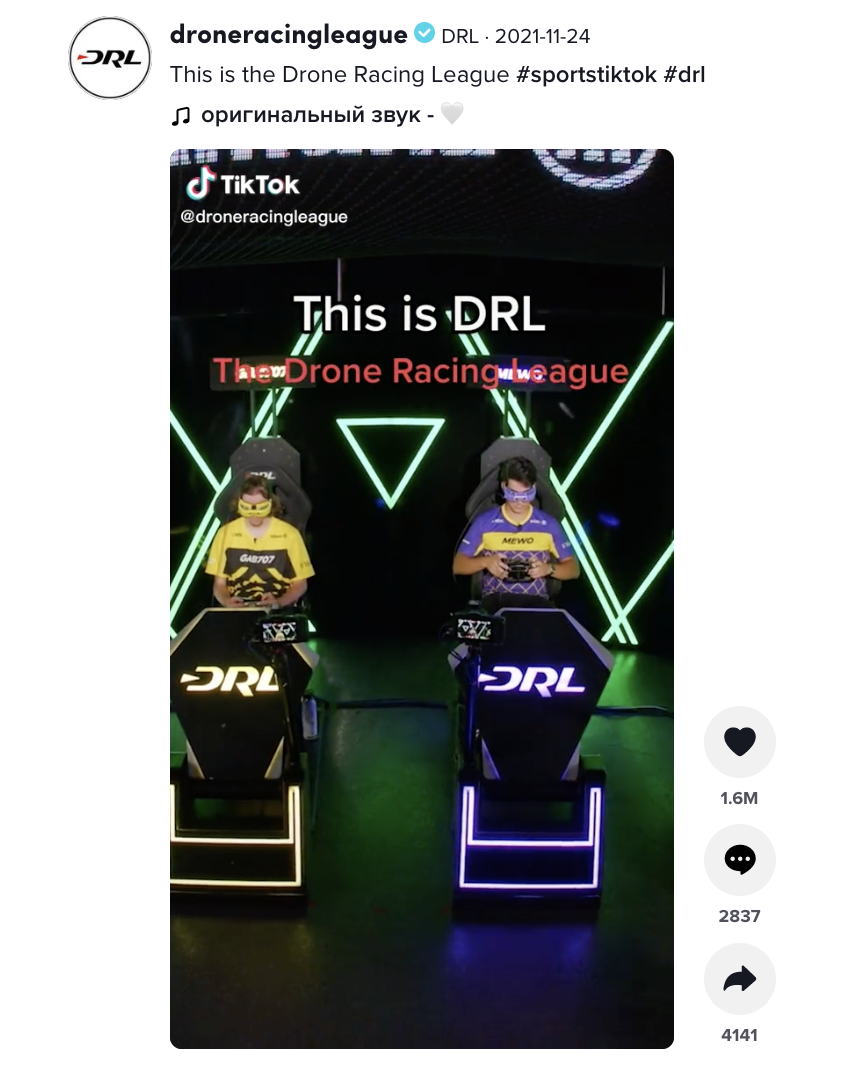 ABOUT THIS ENTRY
The Drone Racing League (DRL), the world's premier, professional drone racing property, skyrocketed their fan growth this past year on TikTok, creating viral drone content that captured the attention of next-generation sports fans. The league showcased immersive First Person View (FPV) drone video mash ups with celebrity artists like Justin Bieber and Lil Nas X and sports athletes while tapping into trending TikTok audio tracks, ultimately resulting in a 500% increase of their TikTok audience to 4 million followers (more than F1, NASCAR, MLS and NHL).
How does this represent "Excellence in Engagement"?
While DRL is one of the only sports properties to offer a large, primarily Gen Z fanbase, their TikTok is setting the stage for all major leagues to capture this unique audience on the platform. DRL is inspiring fans and the larger FPV community to create and share drone content on their channels. With 6.3 billion views under the #drone hashtag, 1.9 billion under the #FPV hashtag, and 167 million under DRL alone, the league is continuously pushing out content that is capturing the attention of Gen Z, accelerating DRL's fast and furious come up as a mainstream sport.
Objective: DRL fans are young, primarily Gen Z, global technology-obsessed "tech-setters". Creating a drone-spin on major cultural trends, DRL shares thrilling drone racing highlights, pilot features, behind-the-scenes videos, and educational content, feeding their Gen Z fans' appetite for short-form content and one-to-one connection on TikTok. The league also spotlights UGC drone content from community members around the world with dedicated features of their FPV freestyle content on their channels. DRL uses data to dictate its creative strategy, monitoring engagement rate, average video watch time, and video completion rate with on-platform analytics features to optimize content that their fans love.
Characterized by digital nativeness, Gen Z is a curious group who want to break barriers, blur the lines between digital and real, and be part of the action. They are attached to social because of the welcoming community feel they get from it. DRL's engagement sparks trending conversations among drone pilots, sports leagues and fans to create a digital community while bringing them closer to sports action.
Strategy & Execution: DRL's TikTok account is redefining sports entertainment to bring Gen Z fans into the industry -- a fanbase that major leagues are struggling to capture. Only 25% of Gen Z sports fans say watching live games is an important part of being a fan. Recognizing that 80% of DRL's fans are under the age of 35 (with the lion's share of Gen Z under 24 on platforms like TikTok) and 70% of DRL fans don't follow the Big 5 sports, DRL knew that their fans are truly complementary to traditional sports, making them focused on creating sports-based crossover content that go viral. This, paired with a hunger for short form content, has increased the importance of strong highlights offerings.
DRL launched their #FPVFeature campaign, tapping into their Champion pilots and drone pilot fans, who are as much competitors as they are artists, to create stunning sports-related videos with their FPV drones. The league shared these videos on TikTok and other channels, reaching nearly 50 million social impressions. Content includes behind-the-scenes footage of MLB's Field of Dreams game shot over DRL and T-Mobile's first 5G drone and mashup videos showcasing various sports, and live music events.
Results: Compared to last year, the league has increased their total social following by nearly 100%, and their TikTok channel specifically shot up by nearly 500%, more than F1, NASCAR, MLS and NHL, accounting for half of their total social audience. Their growth on TikTok illustrates how high-action DRL racing highlights and immersive FPV drone content mashed up with trending TikTok audio tracks and challenges captivate their Gen Z fans.
DRL taps into their pilots' content to reshare their epic footage and behind-the-scenes shots, including 2019 DRL World Champion Captain Vanover capturing Justin Bieber and Kid Laroi for their "Stay" music video and 2x DRL World Champion Headsup capturing a Lil Nas X performance. Based on the success of their FPV sports crossover content, Sports Business Journal nominated DRL for "Best in Sports Social Media" for the 2022 Sports Business Awards.