🎉

2022 Shortlist
FAN CONTROLLED FOOTBALL + BALLERZ NFT COLLECTIVE
Entrant: Fan Controlled Football (FCF)
NOMINEE
Best Engagement Through NFTs or Digital Collectibles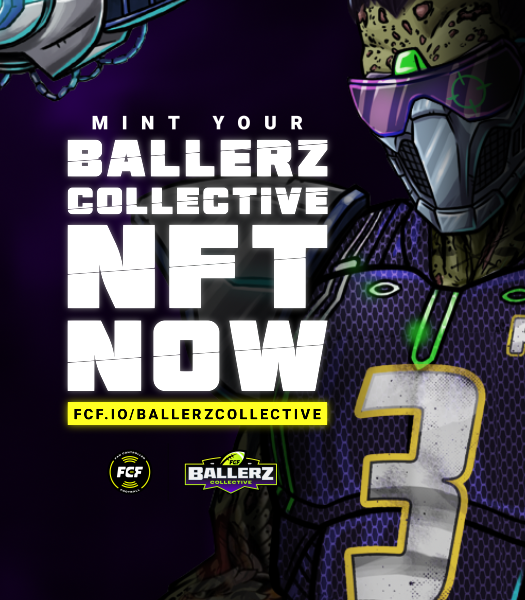 ABOUT THIS ENTRY
Fan Controlled Football (FCF) Unveils "Ballerz Collective" NFTs
Four sets containing a total of 7,500 Ballerz Collective digital collectibles are included in FCF's first NFT mint.
After adding four new "Ballerz Collective" Teams for the second season of Fan Controlled Football, the league has announced that it will release its first Ballerz Collective NFT mint. The release will include four separate collections containing 7,500 digital collectibles.
FCF's Ballerz Collective is a collection of non-fungible token avatars with never-before-seen utility. Holders will enjoy team governance rights, play-to-earn game mechanics, and unique real-world access and VIP experiences at FCF's brand new, state-of-the-art production studio at Pullman Yards in Atlanta.
How does this represent "Excellence in Engagement"?
NFT communities exist at the intersection of art, entertainment, gaming, community, and the blockchain. Our mission is to triangulate the relationship between artists, collectors, and sports fans / gamers to create a community that puts actual power in the hands of the fans. We are focused on being the most digitally advanced sports league in the world and we believe blockchain technologies, cryptocurrencies, NFTs, etc are the future, and the future is now! We are leading the charge with the most meaningful NFT project any pro sports league has rolled out to date.
Objective: In January of 2022, the FCF announced a $40 million Series A funding round led by web 3.0 pioneers Animoca Brands and Delphi Digital expanding the league from four to eight teams for Season v2.0 (Spring of 2022) & Season v3.0 and distributed globally across linear networks NBCLX, Peacock, DAZN & FUBO TV. The four new teams will be exclusively managed by FCF's innovative Ballerz Collective, a first-of-its-kind NFT community that will provide fans holding FCF Ballerz NFTs with team governance rights, play-to-earn game mechanics, and unique IRL utility and VIP experiences. The announcement further validates our initial success of the FCF Season v1.0 combining the passion and excitement of traditional football with the best of web 3.0, digital collectibles, and play-to-earn gaming, creating a unique IRL meets URL entertainment experience that was not possible until now.
FCF is the first and only IRL professional sports league where fans call the shots - everything from deciding the team name and logo to drafting the players and calling all the plays in real-time. It's a real-life video game with fans in control of the action!
Strategy & Execution: FCF BALLERZ NFT AVATARS THAT GOVERN IRL FOOTBALL TEAMS
The Ballerz Collective is an exclusive, all-access club that will manage four real football teams in the Fan Controlled Football league. It's the first and only NFT project that puts holders in control of IRL professional sports teams.
Ballerz are your key to the world of Fan Controlled Sports, where the physical and digital world collide to create the most epic pro football league ever created.If you own a Baller, you are part of an exclusive community that literally gets to manage a real-life football team in Fan Controlled Football. Everything from drafting the players (Johnny Manziel and Josh Gordon played last season) to calling all of the plays in real time! And on top of that, Ballerz are packed with IRL and gaming utility like you wouldn't believe!
You, when you own one. Ballerz are unique, programmatically generated avatars that drop you into the Ballerz Collective. Fan Controlled Football is expanding with four additional teams for Season v2.0 which will be exclusively managed via Ballerz NFTs. There will be 7,500 Ballerz PER team in Season v2.0. Each one is created from more than 150+ possible traits and gear items.
Results: FCF's first NFT will set the standard for what is possible for NFT utility:
19,000, Ballerz NFT have been minted since February 5, 2022 and Ballerz Football Club 7,500 are SOLD OUT
7,500 unique, programmatically generated NFTs per team created from more than 150+ possible traits and gear items
NFT holders control the expansion teams - from team branding to drafting players and calling plays in real-time
Gear Items provide IRL utility including VIP Game tickets, access to practice, behind the scenes content, merch, and more
A Gear Item marketplace will be available for buy/sell/trade creating an active secondary market