🎉

2022 Shortlist
FanDuel's Iconic Partnership with Pat McAfee
Entrant: FanDuel Group
NOMINEE ✨
Best Sports Betting Partnership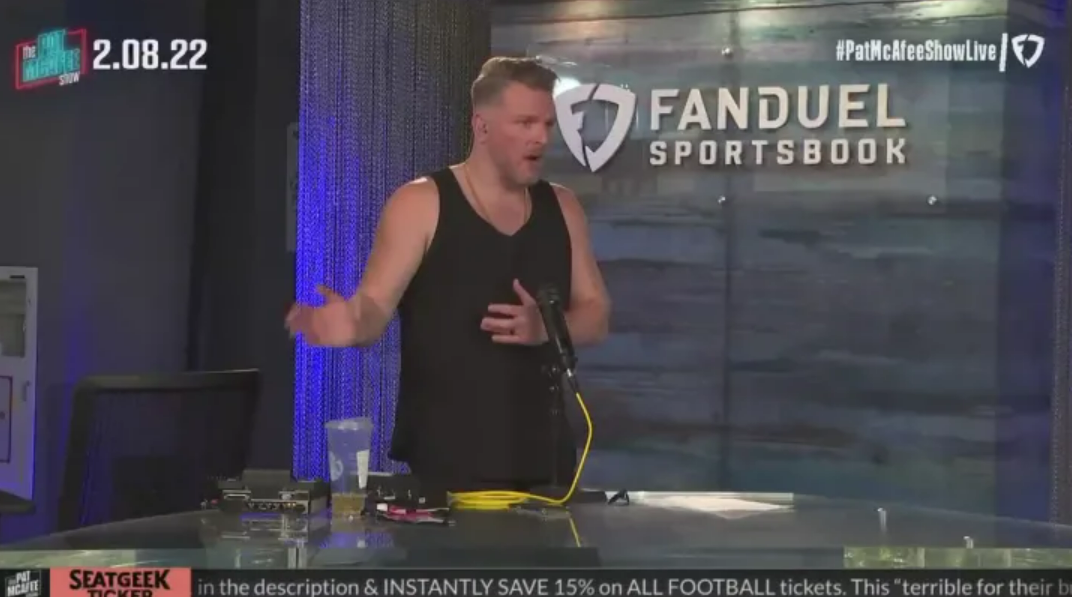 ABOUT THIS ENTRY
Pat McAfee is the sports media industry's fastest-growing star, and FanDuel is the category exclusive sports betting, daily fantasy sports, casino, and horse racing provider for all things Pat McAfee Inc. FanDuel is a fully ingrained part of Pat McAfee Inc., including Pat McAfee's daily shows airing live on YouTube, social media content, and podcasts. FanDuel distributes the Pat McAfee Show airing nightly on SportsGrid, which can be found on OTT providers such as Roku, Pluto and more. FanDuel and Pat McAfee have been working together for several years, and the Pat McAfee Show has become the gold standard for effectively integrating and delivering live odds and sports betting insights and commentary.
How does this represent "Excellence in Engagement"?
Realizing that innovation and creativity are a must, FanDuel continues to push the envelope in the sports betting industry, separating itself from the pack by embracing its position as more than just a sports entity, but an entertainment company. Partnering with a personality like Pat McAfee embraces a younger, social, and content-hungry demographic of sports fans, eager to consume content beyond standard sports coverage. FanDuel continues to set a new standard for the industry where operators are seen as more than just sports betting hub, but fully operational entertainment companies as well.

The partnership is the first-of-its-kind in the sports betting industry and has produced unquestionable results:
FanDuel was the first to introduce Same-Game Parlays (SGPs), and has seen incredible engagement with Pat-McAfee-branded SGPs. They drive significantly greater engagement than unbranded SGPs.
Pat is one of FanDuel's highest-performing ROI marketing channels.
The partnership formed with Pat McAfee and his entire PMI Team has exceeded all of FanDuel's expectations – he is an incredible partner and a national leader.
Pat's ability to connect with an engaged audience and his position as the fastest-rising sports media personality in the game is why this partnership is foundational to the company's broader national media ambitions.
Objective: FanDuel and Pat McAfee combine the best of the sports betting and media worlds, with their partnership being the first-of-its-kind official partnership between a legal Sportsbook and sports media personality. With McAfee quickly becoming the fastest-rising sports media personality in the game, FanDuel recognized the unique opportunity to broaden its user base and engage in unique avenues.
Strategy & Execution: The modern sports fan craves more out of sports media than simply just sports coverage, and FanDuel is an expert in creating experiences with the sports-crazed customer in mind. Today's modern fans are actively seeking out sports entertainment in the forms of podcasts, video and social media content, merchandise, etc. When deciding on a partner, a personality like Pat McAfee was an easy choice as he bridges the gap between entertainment and sports. Fans eagerly seek out his content, tuning in for the sports coverage but staying for his larger-than-life personality and humor. FanDuel realizes that, as a leading consumer brand, it needs to be going above and beyond for consumers and sports fans alike, providing content that offers an experience like no other. FanDuel works with McAfee himself to create and offer special odds boosts and unique promotions for FanDuel Sportsbook customers, giving sports fans a fun way to engage with McAfee throughout the year.
Results: The Pat McAfee Show continues to be one of FanDuel's most successful partnerships, attracting between 6-9 million unique visitors a month on YouTube, along with listeners on SiriusXM. The Pat McAfee show generates approximately 300K total viewers per episode, including 25-30K average concurrent daily on YouTube and SiriusXM and drives 300M+ monthly Twitter impressions during NFL season. 77% of followers are inspired to bet weekly following the show, showing a direct correlation between Pat's influence and FanDuel's success.