🎉

2022 Shortlist
#ForTheW WNBA & Twitter Sports Dynamic Hoodie
Entrant: Twitter
Winner 🏆
Best Women's Sports Partnership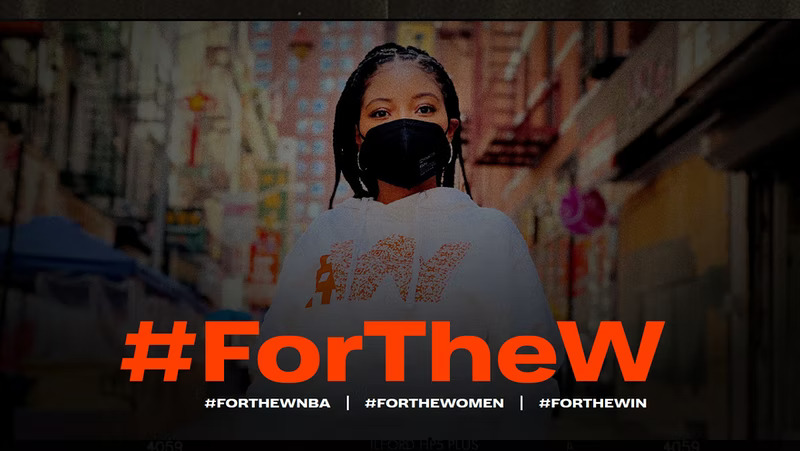 ABOUT THIS ENTRY
Twitter's #ForTheW campaign aimed to find out what (if any) role Twitter plays in elevating the voices of WNBA players as they fight for change and also discover a way to empower and amplify those voices even more. #ForTheW is our catchphrase that represents three important pillars:
For the #WNBA
ForTheWomen
ForTheWin
Through a first-of-its-kind social activation, Twitter and the #WNBA found a way to drive increased conversation for the W and its players, from more users than ever before. That's because:
Twitter is real time, conversational, and imperative to the social construct of the modern sports world.
Twitter allows teams, leagues, and athletes to connect with their fans organically in a way that no other platform can replicate, with a true voice and meaningful interactions.
Twitter empowers every individual to speak their mind, fight for causes , and foster community around shared interests, ideals, and hopes for the world.
How does this represent "Excellence in Engagement"?
Twitter has always been a space for fans, athletes and other figures of any background, team, league or sport to elevate their voices - it is their microphone to converse with the world about topics they are deeply passionate about.
Over the last few years as the social justice movement has heated up, athletes have used Twitter to fight for change - and no league has been more vocal and had more of an impact than the WNBA. This #ForTheW campaign elevated and empowered the voices of WNBA players and the WNBA fans and community as they fight for change.
Additionally, in the full spirit of this campaign, diversity, inclusion and representation mattered. The ​​#ForTheW codes and creative was developed by two first-generation immigrants, all film was processed by a Black-owned camera shop in Brooklyn and prototype apparel was fabricated by a Latinx-owned printer in Harlem.
Objective: We wanted to take a data-driven approach to preparing the #ForTheW campaign, we learned that like WNBA players, the W audience on Twitter doesn't just "stick to sports." 65% of the WNBA audience was also talking about #BlackLivesMatter, voting rights issues, and other topics related to the social justice movement. In fact, the WNBA audience is 9.6x more likely to Tweet about social justice than any other sports community and 12.7x more likely to Tweet specifically about voting rights.
What this means is that on Twitter, followers of the WNBA are not just fans, but they are allies. They stand up through their conversation – and that conversation is a catalyst for change.
Athletes of all kinds use what they wear to draw attention to what they want to talk about. We took that dynamic to heart, and created the first-of-its-kind dynamic merchandise with a built-in Twitter code with a direct line to ignite further conversation on the platform.
Strategy & Execution: Design – Twitter designed a sweatshirt with a unique, highly attractive design with the #W logo prominently placed in the center and containing a built-in QR code.

Partnership – With our partners at the WNBA involved every step of the way, sweatshirts were delivered to all 144 WNBA players.

VITs – In addition to the players, approximately 75 VITs (very important Tweeters) – who are the top voices of the W community – received a coveted hoodie, including Rachel Nichols, Jemele Hill, Ari Chambers, HOFer Dawn Staley, Matt Barnes, Sarah Spain, Hannah Storm, Ros Gold-Unwude, Holly Rowe (who shared a courtside video), Renee Montgomery (who showcased it on her podcast).

Launch – The @WNBA handle launched the sweatshirt to the world via a Tweet during the first week of the season, encouraging users to scan the QR code and join in the conversation around the game and continue to lift up any of the causes they stand for.

QR Code – The QR code was dynamic and when scanned, it unlocked a variety of experiences and the most unique part is that the destination changed regularly.
Results:
Within the first 48 hours of campaign launch, there were 3.9x more mentions of #WNBATwitter than the entire previous year combined!
97% of people who mentioned #WNBATwitter in the first 48 hours had NEVER Tweeted about #WNBATwitter before.
There were 3.2x more Tweets on Opening Day than on Opening Day in 2019 (the previous opener).
And most importantly, there were 2.7x more unique users Tweeting about the WNBA on Opening Day than any previous Opening Day.
The campaign continued to push Ari Chambers' rallying cry on Twitter that the "WNBA is so important," and NBA stars like Steph Curry repeatedly elevated her message.
This campaign drew significant attention from the media – across online, print, broadcast, radio and podcasts – helping to drive conversation around #WNBATwitter and players and fans' most passionate social causes, and celebrate the kickoff of the 25th season of the WNBA with a consistent flow of attention, creativity, and excitement.
Adweek wrote a piece with the headline, "WNBA Teams Up With Twitter on a Hoodie That's More Than a Hoodie," and other notable coverage appeared on SportsCenter, The Jump, Boardroom, Complex, Pro Marketing and many more.