🎉

2022 Shortlist
GameMic
Entrant: GameMic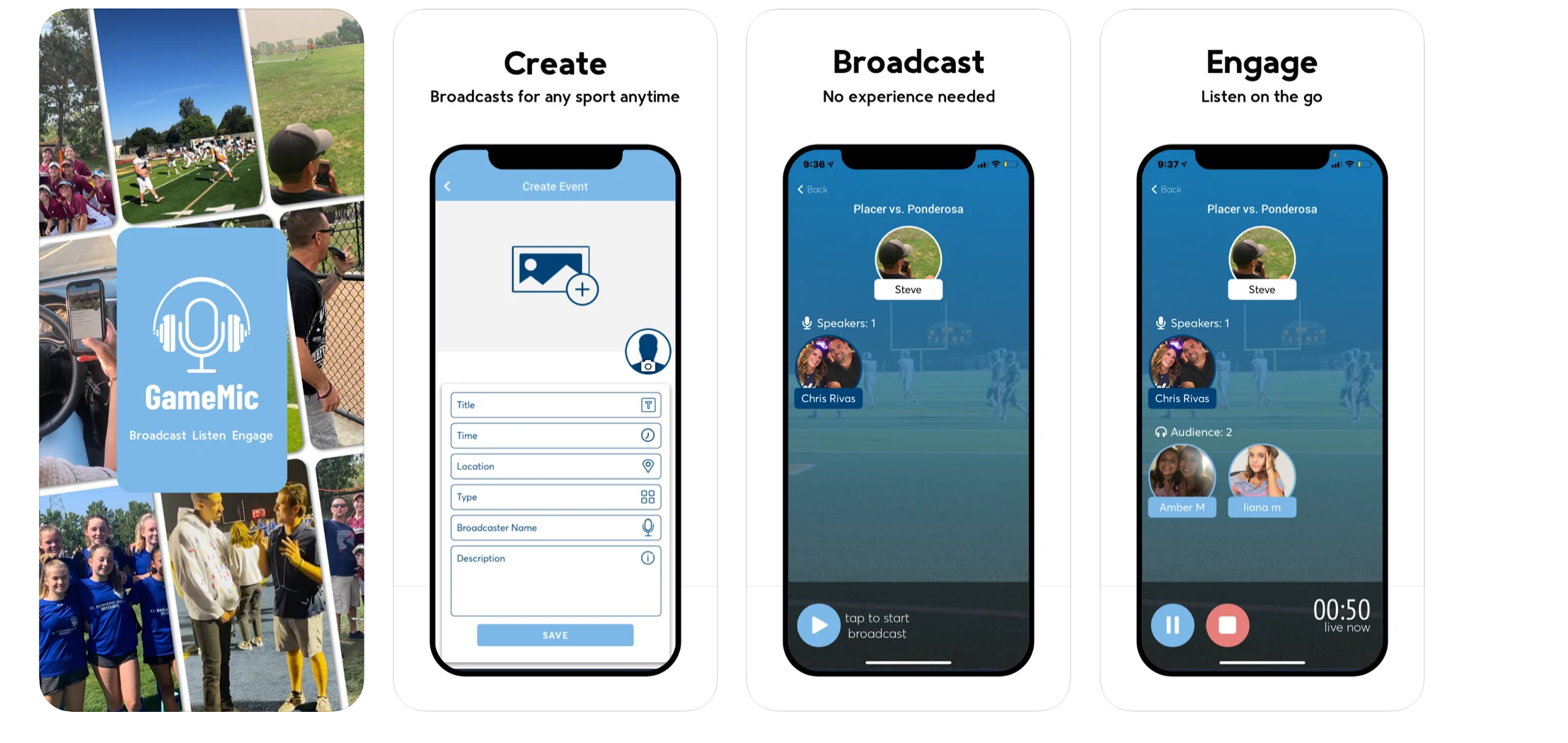 ABOUT THIS ENTRY
Youth sports innately creates community. Bonds are built. Friendships are made. Lifelong skills are developed. The COVID-19 global pandemic continues to have a drastic impact on the youth sports sector and its ability to create experiences that serve as the natural community connective tissue.
Technology, at its core, creates accessibility. It embodies how we interact as a society and how a platform such as social audio can be a key tool for interacting with any given community. It brings people together, eliminating barriers and distances among them, like few other mediums.
The GameMic media channel experience uniquely sits at the intersection of youth sports and live streaming audio technology. Its interactive conversation and broadcast capabilities explore a new frontier and untapped market for expanding communities through the power of grassroot local sports, unlocking a passionate, committed audience of users.
How does this represent "Excellence in Engagement"?
The lifelong benefits of youth sports are undeniable. Our society is at its best when we are united through community. GameMic delivers on the promise of youth sports to create foundations for enduring communities. It does so through a commitment to Excellence in Engagement as a first-of-its-kind channel for a world where families encounter ever-changing and unexpected demands of their time. Only through GameMic does the power of sport intertwine with the powers of voice and presence.
GameMic has no boundaries, barriers or inequalities. Anyone. Anywhere. Any event. Any sport. GameMic created an app-based platform for all to come and stay connected to their kids and their communities. The experience of GameMic social audio turns a forced absence into a feeling as if they are there in the stands and catching every moment as it happens - in a familiar voice from their own community.
Creating a new dynamic, mobile-only product that intuitively meets an emerging need for every family in every community for the more than 60 million youth sports participants and 24,000 high schools with athletic programs symbolizes Excellence in Engagement for the promise of what social audio platforms can do to connect audiences.
Objective: Families across the country, especially those in underserved communities, consistently struggle with the ever-growing demand of their most valuable currency, their time, with being present for, and connected to, their kids' local youth sports events. Combine those accessibility challenges with the varying pandemic-related protocols on youth sports and presence for all became nearly impossible. Despite the technological revolution, there was a gap in the market for high-end tech that kept local communities connected through youth sports.
GameMic set out to solve this problem by recreating the youth sports town hall-like participatory atmosphere in a mobile-only product that uniquely integrated a live streaming experience into a social audio platform. The objective was to build an app that delivered an intuitive user experience and uncomplicated multitasking possibilities.
That core objective would ensure families could be present at their kids' sports experiences and connected to the other families in that community no matter the forced challenges to their time - and all from their one device they carry with them everywhere, their personal mobile phones.
Strategy & Execution: GameMic strategically was centered on service and simplicity. It was developed with crowdsourcing technology so anyone anywhere can create a youth sports live audio stream for their community. Social media platforms historically relied on a convergence of images, videos and text to connect users with content. Youth sports technology focused on registration, video, statistics, coaching, and recruiting.
Bringing social audio to youth sports was like walking in fresh new snow. There was no live game platform that used the power of sound and voice in a lean-forward manner. This reinforced the opportunity to bring an immersive product to the market, yet also the challenge to execute in a frictionless experience. Youth sports draws across nearly every possible demographic, ranging from grandparents to coaches to players. GameMic was developed to ensure every user in that entire addressable market will never have to be a trained engineer or technician to deliver, or participate in, a live social audio feed.
The user interface was developed to eliminate distractions, meaning there's no scrolling or endless searching for the game you're looking for. With live sports, it's imperative that accessibility is direct and timely. An authentic communal experience in real time cannot be replicated.
Results: GameMic debuted through its MVP launch in Fall 2021 and in only a span of a few months in the marketplace saw more than 100 live youth sports events broadcast through the platform. That included a variety of sports, including youth and scholastic football, volleyball, soccer, softball, baseball. This demonstrates the capacity GameMic has to provide an important service to the vast community of youth sports stakeholders.
Available as a free mobile app for both iPhone and Android, GameMic has begun 2022 with similar consumer momentum. Downloads of the app across both platforms have increased 40 percent since the calendar turned and it has a perfect 5.0 star rating.
Consumers are engaged in the live social audio experience GameMic provides. To date, the average listener consumes 45 minutes of live GameMic content per use. Their high level of consistent engagement symbolizes the powerful channel GameMic is becoming for the youth sports sector.
The works: