🎉

2022 Shortlist
Golden State Warriors and Chase Center Celebrate "Klay Day"
Entrant: Golden State Warriors
Winner 🏆
Best Social Media Campaign
Best Life or Legacy Tribute
YouTube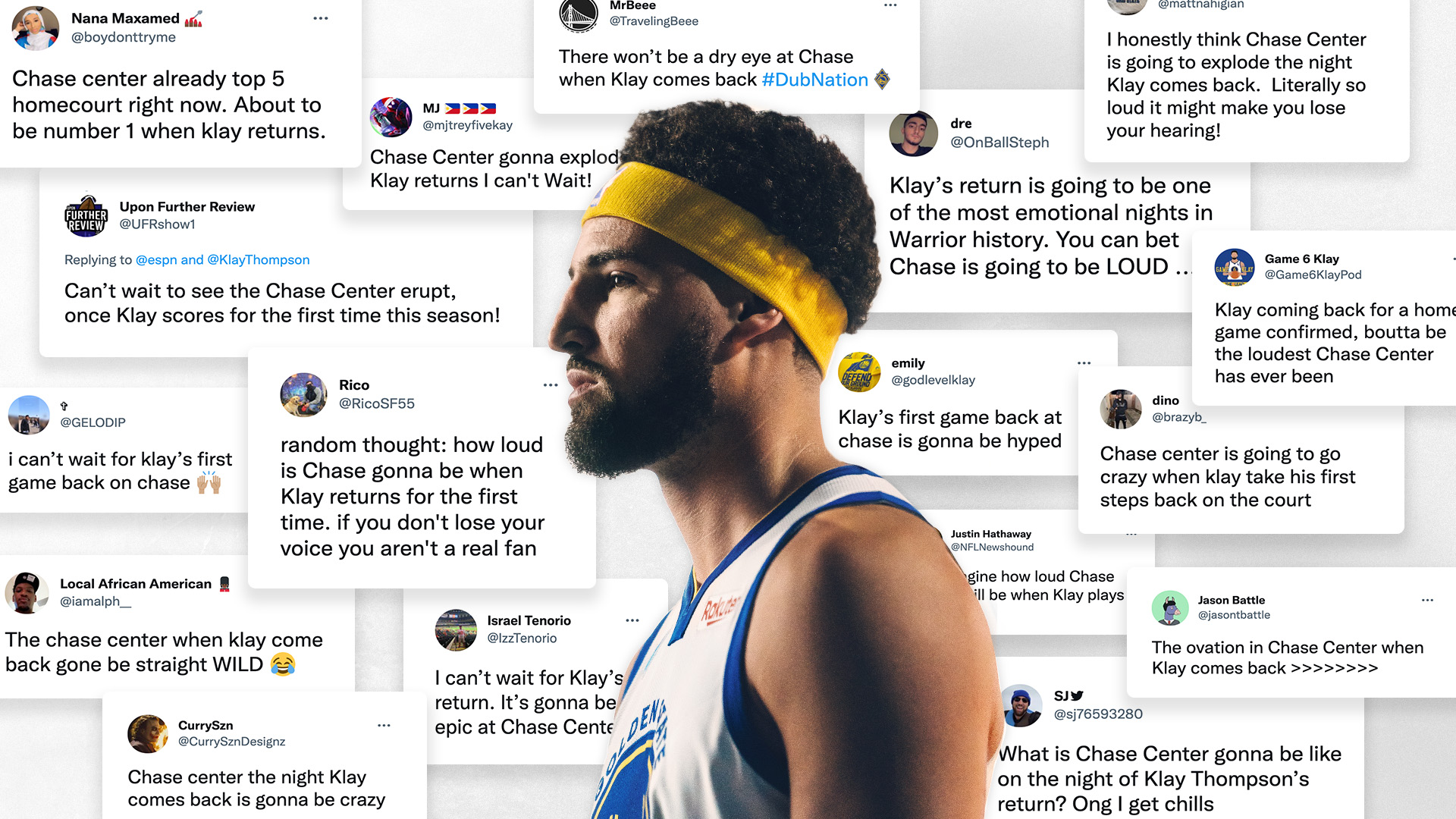 ABOUT THIS ENTRY
On January 9th, 2022, after 905 days of not playing in an NBA game, Klay Thompson made his triumphant return to the court in a Golden State Warriors uniform. In one of the more impactful moments in franchise history, both @Warriors and @ChaseCenter sought to use Twitter as a medium to tell the story of Klay's return, while bringing "Dub Nation" behind the scenes at Chase Center for a night that no Warriors fan will ever forget.
How does this represent "Excellence in Engagement"?
Twitter is the digital world's sports bar, and our various accounts serve as a hub for our fans to interact with our team and players, as well as each other. This is only heightened with a moment as prominent as Klay Day. By utilizing both our team handle and our arena handle to tell different parts of Klay's story, we were able to provide a true 360-degree coverage experience for our worldwide fan base.
Objective: Knowing Klay Thompon's return to the court was imminent, our team had a few primary goals for what we knew would be a colossal event:
Let Klay announce his comeback, in his own words.
Find a way for Dub Nation, and our team, to publicly express their appreciation for Klay.
Bring our worldwide audience (digitally) into Chase Center to celebrate the moment.
In thinking about how we could accomplish each of these goals, we realized that we needed to leverage our Twitter audiences on both @Warriors and @ChaseCenter. While we could tell the story of Klay's return, and the impact that said the return would have on his teammates, effectively on our Warriors' Twitter channel, we sought to utilize our @ChaseCenter arena handle to showcase the fan story, and to elaborate on what this moment meant to them.
Strategy & Execution: @Warriors and @ChaseCenter combined to provide 360-degree coverage of Klay's return.
Our @Warriors account focused on the basketball story behind Klay's return, and the emotion that both he and his teammates were feeling.
Announcement
Klay announces comeback with selfie video on Warriors' Twitter

Static graphic and studio tribute piece, voiced over by Klay, told the story of his excitement to return.
Game Day
Warriors Twitter showcased each Warrior arriving wearing a Klay Thompson jersey

Full coverage of warmups, starting lineup introductions, in-game moments, and postgame celebrations.
Our @ChaseCenter handle sought to showcase the fan experience behind Klay's return and tap into the excitement that Dub Nation was feeling about No. 11's first game in Chase Center.
Announcement
-Let the fans tell the story, sourcing tweets expressing how excited they were to see Klay play again, but for the first time at Chase Center.
Game Day:
- Live coverage from the fan perspective, posting updates from the fan fest in the plaza, videos from the bowl as his name was announced and shooting his first basket
- Use of Twitter Voice to give an extra emphasis on the powerful moment that he was announced during the starting five
Results: "Klay Day" was an event that captured the attention of the entire basketball community, leading to one of the better all-around engagement days on our Warriors and Chase Center Twitter handles.
Over 53 million impressions on Warriors Twitter between January 8th (announce of Klay's return) and January 9th (Klay's return), the most impressions the Warriors have had in a two-day span during the 2021-2022 season.
Over 6.5 million impressions on Chase Center Twitter during that same span.
The video of Klay announcing his comeback garnered over 590,000 engagements, the most of any tweet on @Warriors this season.
Chase Center announce graphic received over 2.7 million impressions and over 99,000 engagements, the most of any tweet on @ChaseCenter this season.
January 9th was the second most video views we've had in a single day on Twitter during the 2021-2022 season, trailing only Stephen Curry's three-point record-breaking day.
"Klay" was the second most tweeted about phrase in the world on January 9th.