🎉

2022 Shortlist
Golden Stat Warriors Record-Breaking Year on YouTube
Entrant: Golden State Warriors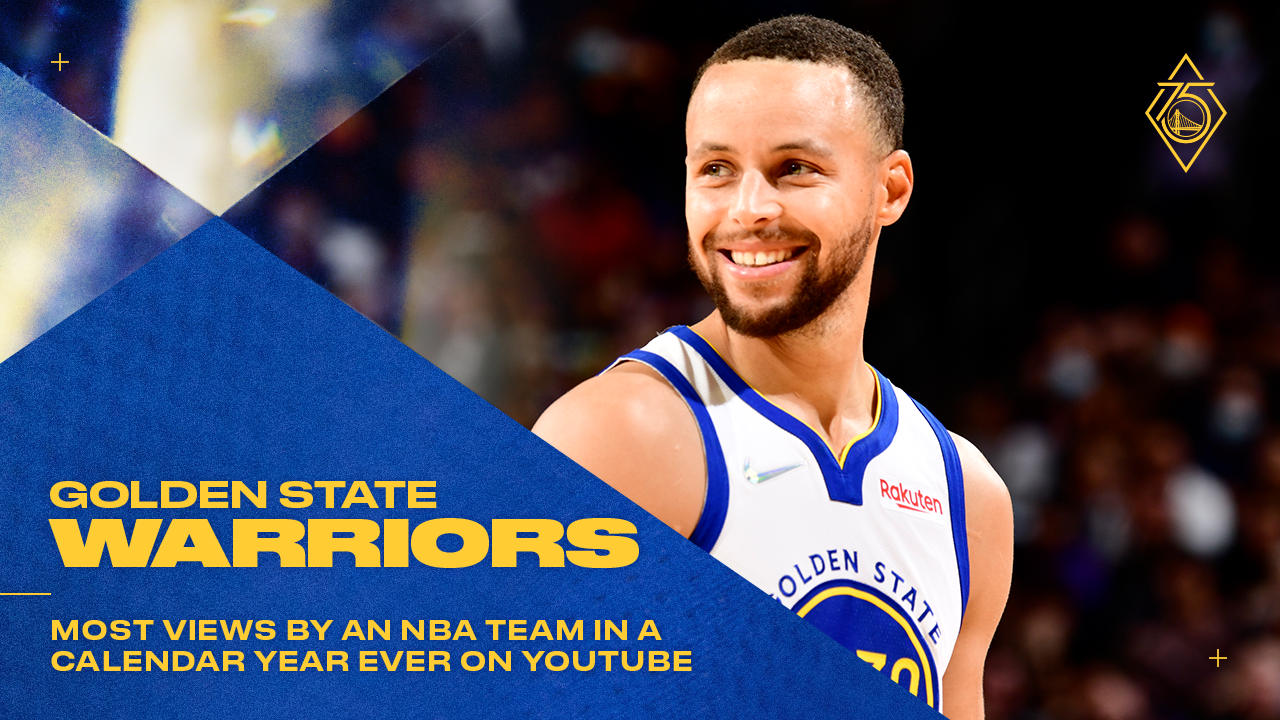 ABOUT THIS ENTRY
2021 marked a historic year for the Golden State Warriors on YouTube. Already boasting the most subscribers of any basketball franchise in the world, the Warriors' YouTube account garnered 93.6 million views last year, marking the most-ever views in a calendar year by an NBA team. By implementing a content strategy that was tailored specifically to our YouTube audience, we were able to connect with our fan base at an unprecedented scale.
How does this represent "Excellence in Engagement"?
Whether it's long-form storytelling, compelling highlight mixes, or player-led YouTube Shorts, the Warriors YouTube channel strives to publish a wide array of content that appeals to our diverse audience. We're one of the most globally recognized franchises in the world, and we look to leverage our YouTube channel to provide unparalleled access to Dub Nation's favorite players and team.
With a 72.1% increase over the previous record for views in a calendar by an NBA team, and over 2.5m hours of content viewed by our global fanbase, we are seeing our fans resonate with our YouTube content at a never before seen rate.
Objective: The primary objective of the Golden State Warriors YouTube account is to bring the franchise's global fan base closer to the players and team that they love. With an incredibly passionate community on the platform, over 82% of which live outside of the United States, we sought to revitalize our YouTube strategy to better serve one of our most diverse and unique social audiences. Through extensive research, content optimization, and a focus on storytelling, we were able to create a roadmap that resulted in the best-performing year ever by an NBA team on the platform.
Strategy & Execution: After studying follower trends and content performance across our YouTube channel, we made a few key strategy shifts in 2021, including:
An emphasis on long-form storytelling
Long-form game highlights after every win to capitalize on fan interest
Long-form highlight packages showcasing different aspects of player's skillsets
Consistent posting in our YouTube Community channel to consistently engage our subscribers
Leveraging YouTube shorts to tap into the content we previously would not have posted on the platform
YouTube was consistently at the forefront of our social strategy at large, and we made sure that when considering big campaigns, we were optimizing everything we created to fit YouTube's algorithm.
Results: In 2021, the Warriors garnered 93.6 million views on YouTube, a 130.3% increase over our account's previous high for a year. 2021 also represented the most views ever by an NBA team on the platform in a single calendar year, a 72.1% increase over the previous record high (54.2m views by the Lakers in 2020).
The Warriors' success on YouTube was in part due to our early adoption of YouTube Shorts. Shorts accounted for 33m views on our channel, with one of our few Shorts ever posted accounting for our highest viewed video of the year across any of our social platforms in 2021 (Stephen Curry greeting a fan, 19.3m views in 2021 and 30m views overall).
YouTube also was a massive revenue driver for us, as we led the NBA in YouTube partner revenue generated, bringing in 72.9% more than the next best team.
Production
Credits
Zach Gayer
Manager, Social Media
Golden State Warriors
Michelle Poole
Sr. Coordinator, Social Media
Golden State Warriors
Simrah Awan
Assistant, Social Media
Golden State Warriors