🎉

2022 Shortlist
Google Champions Women's Sports with the WNBA and ESPN
Entrant: Google
NOMINEE 3x ✨
Best Women's Sports Partnership

Best Women's Sports Content

Diversity, Equity & Inclusion in Sports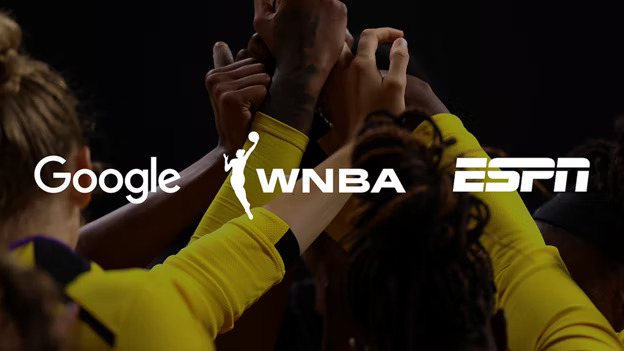 ABOUT THIS ENTRY
Google has developed a women's sports partnership strategy rooted in leveraging its scale and resources to help leagues, athletes, and most importantly fans. Google partnered with WNBA and ESPN with goals to grow women's sports fandom, impact the flywheel of pay inequity, and make meaningful progress on a systemic issue for the next generation.
How does this represent "Excellence in Engagement"?
WNBA sponsors typically partner with the league through a larger deal with the NBA. However, Google was the first brand to intentionally enter into a partnership with the WNBA first, independently of an NBA deal, taking on an active role as a WNBA Changemaker.
Additionally Google partnered with the goal of increasing exposure and viewership for the WNBA. In an era where fans of women's sports have to search harder and get more creative with how they follow the sports they love, Google actually made it easier to be a fan by partnering with the WNBA and ESPN to deliver more nationally-televised games throughout the season that aired across Disney networks (ABC and ESPN). In doing so, Google played a direct role in increasing the view ability and popularity of the WNBA, and shared in the amplification of WNBA culture and players' stories.
Objective: The world needs equitable gender representation in sports. The stats are not favorable to the opportunities, pay, coverage and sponsorship that women's sports receive. Google recognizes that they are uniquely positioned to help tip the scale to a more equitable balance in three ways, and has committed to the following:
Our Products: Making it easier to follow and support women's sports across Google product experiences – e.g. discoverability in Search results.
Our Media Investments: Ensuring Google's media investment with third-parties and distribution via our owned media platforms contributes to an increase in women's sports content on-air.
Our Partnerships: Committing to the future of women via long-term strategic partnerships to enrich fans' connection to the WNBA, to the culture and to one another, and so that women athletes can get the recognition they deserve.
Strategy & Execution: Google's partnership with the WNBA and ESPN was concepted to increase visibility and coverage of women's sports, helping make them easier to find and follow, and through our products help connect fans more deeply to the game on and off the court.
To increase visibility and coverage, Google was the Presenting Partner of the WNBA on ESPN, helping deliver "25 for 25": 25 regular season games on ABC and ESPN for the 25th season of the league. Google also partnered with ESPN to add a dedicated segment for women's sports highlights on SportsCenter, and worked with the WNBA, ESPN and others to launch stories on ESPN Films' 30 for 30, including Maya Moore's fight for criminal justice reform, and "144", a film dedicated to the WNBA's "Wubble".
We have made it easier to find and follow the game on Search, helping fans check scores, standings, stats, and we have added highlights from the recent games on Google Search.
Finally, we harnessed the best of Google's products and innovation to enrich WNBA fans' connection to the game, to the culture and to one another, using real-time Search Trends via "Most Searched" activations in-arena, and across broadcast, digital and social platforms.
Results: WNBA viewership (P2+) grew as a result of Google's broadcast partnership by bringing more games to national TV on ABC and ESPN
WNBA viewership (impressions): +16% from 2020 and +5% from 2019 (ABC) // +33% from 2020 and +18% from 2019 (ESPN)
In 2021, there were 33,824,700 total hours viewed of WNBA regular season and playoffs games across ABC, ESPN, ESPN2, CBS, and NBA TV: This total is +34% from 2020 and +53% in 2019
"WNBA" Google Search Trends Grew in the U.S. from 2020 to 2021
Search interest in the WNBA grew

23%

in the US (14% globally) and across every WNBA team - top 3 increases were Chicago Sky (+350%),

Phoenix Mercury (+249%)

and Atlanta Dream (+114%)
WNBA searches grew on YouTube

(+46% U.S., +15% worldwide), Google Shopping

(+101%),

Google News

(+9%)

and Google Images

(+41%)
We Connected with Fans.
In a questionnaire conducted among 591 US respondents in the NBA's online fan panel who self-identified as a WNBA fan, the half who were exposed to WNBA Google creative ranked Google 1st when asked "which of the following brands make a more positive impact on society?", and were twice as likely to recognize Google as a supporter of women's sports.
Production
Google
Essence
GMR Marketing
PHD Media
Optimum Sports
Credits
Adam Lewis
NBA Partnership Marketing Manager
Google
Jackie Truong
Partnerships Manager, Consumer Apps
Google
Zack Kaplan
Brand Marketing Manager, Consumer Apps Marketing
Google
Carrie Parent
Brand media lead
Google
Shawntina Phillips
Cross-Channel Strategy and Planning Manager
Google
Mackenzie Thomas
Product & Marketing Inclusion
Google
Kate Johnson
Director, Partnerships, Content & Sports Media
Google
Liz England
Partnership Business Affairs Lead
Google
Lauren Dale Paves
Consumer Apps Brand Marketing
Google
Attica Jacques
Director, Global Marketing, Consumer Apps
Google

Marvin Chow
VP, Marketing
Google
Lorraine Twohill
CMO
Google

Josh Spanier
VP, Marketing
Google
Alana Beale
Communications Manager
Google

Molly Beck
Strategy & Planning Lead
Google
Annanya Raghavan
Sports Trends Fanalyst
Google
Todd Fischer
EVP, Client Consulting + Services
GMR Marketing

Peter Aiello
VP, Client Consulting + Services
GMR Marketing
Katie Dodge
Associate Media Planning Director
Essence

Alexandra Pankina
Media Planner
Essence
Jared Merrell
Managing Director
Optimum Sports

Geoff Spies
Senior Director
Optimum Sports
Kayla Krasnoo
Associate Director
Optimum Sports

Casey Rosenfeld
Senior Account Executive
Optimum Sports
Jessie Giordano
EVP, Client Consulting + Services
GMR Marketing

Seth Glosman
Head of Video Investment
PHD Media
Jen Park
Managing Director, U.S. Head of Content, PHD Media
PHD Media

Ayesha Doshi
Associate Director, Content
PHD Media