🎉

2022 Shortlist
Green Screen Guy: Frankie LaPenna x NFL x Ravens
Entrant: NFL
Winner 🏆
Best Original Content or Series (10 min+)
Nominee 2x ✨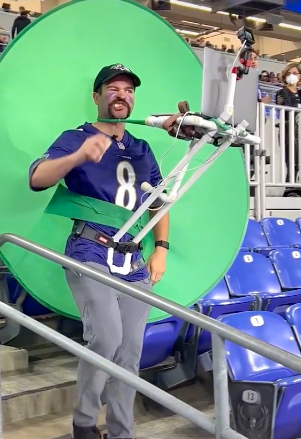 ABOUT THIS ENTRY
Meet social comedy influencer Frankie LaPenna, The Green Screen Guy. He first hit the scene with his viral schtick of going on wild adventures while being in the middle of a virtual meeting. We, the NFL, wanted to partner with him and bring to life a virtual meeting escape every sports fan dreams of when stuck in yet another boring meeting: being at the game instead of work.
How does this represent "Excellence in Engagement"?
For those that work in social, we all know how hard it truly is to manufacture "viral" content. Especially when it comes to original, scripted pieces. The creative and collaborative partnership between the NFL, the Ravens and Frankie is what ultimately set this up for success. Three different groups working towards one common goal: make awesome fun football related content for the average fan. We went above that, and created content that resonates far and wide. Content that can be enjoyed with a shared laugh between generations, between fan bases and amongst all sports fans, not limited to just football fans. The north star of all original sports social content.
Objective: In hindsight, our objective looked simple: create viral content? Sure. But the phrase "viral content," now that's just a loose term too often kicked around by marketing teams trying to make campaigns sound cool. A term any social team tries to avoid at all costs. Also, who knew this stunt would end up being this big? So, our real goal: Identify up-and-coming micro influencers and partner with them to produce engaging content, content that is optimized especially for youth-focused, emerging platforms like TikTok and Reels. Content that not only appeals to the micro-influencer's audience and football fans, but to everyone … while promoting the fun of football.
And with that, what is one thing almost everyone can relate to? A doldrum day filled with virtual meetings. From school and university classes to the classic marketing all-hands, the pandemic forever changed how we all conduct get togethers. What is another thing everyone can relate to? Wishing to be anywhere else BESIDES those virtual meetings.
We wanted to partner with Frankie and bring to life a virtual meeting escape every sports fan dreams of when stuck in yet another boring meeting: being at the game instead of work.
Strategy & Execution: The strategy, as simple as it seems, was not so simple. Trying to pull off a green screen / laptop stunt like this…at an NFL game? We needed serious buy in, and serious partnership. That's where the Ravens come in. Hot on the scene with one of the game's youngest and most dynamic quarterbacks, Lamar Jackson, a streak of primetime games and a penchant for fun on social media…we knew we had the perfect recipe. Together, we set out to bring Frankie to a game all eyes would be on. Monday Night Football.
The idea was simple: put Frankie into 3 scripted hilarious situations, with the golden piece being the in-stadium reveal. Shot half on cell phone, half on DSLR, with the zoom portion recorded earlier in the day thanks to voluntary colleagues as the meeting attendees, we were able to string together the 3 content pieces in near real time. The roll out went like this: strategically introduce Frankie to our audiences during the game to drive awareness and engagement during MNF. The Ravens happened to put on a heck of an exciting game, which set us up for Day 2. The next morning, the golden piece went live.
Results: Going live across @Ravens social, we shared and engaged across @NFL accounts and natively on Frankie's accounts. Within minutes, the internet went crazy. Naturally, sports media had a hay day with it: Bleacher Report, SportsCenter, NFLonFOX...you name it.
Then by Meme accounts, such as Nugget and Memezar, accounts followed by millions for the laughs they curate. Accounts that don't normally share sports content, much less sports league-produced content. The numbers skyrocketed. Even @Instagram (the most followed account on Instagram) shared Frankie's post to "Things This Week That Made us Smile."
We then went live with our final piece: the Frankie tailgate. The success of the first two set the final domino.
The Ravens Facebook post has 100M+ views. Which is the best performing NFL team video on Facebook this season, and the 2nd best performing NFL team video of ALL TIME.
Across all platforms and accounts, the in-stadium reveal was uploaded over 78 times driving 285M views and over 12M engagements
Frankie's YouTube short of the 3rd scene garnered another 10M views
1 Post All-Time on NFL Reels (29.3M views)
1 post All-Time on Ravens TikTok (17M views)
The moment became so iconic, an Instagram artist even memorialized the moment.