🎉

2022 Shortlist
HERHOMECOURT X ZELLE
Entrant: HighlightHER
NOMINEE ✨
Best Women's Sports Partnership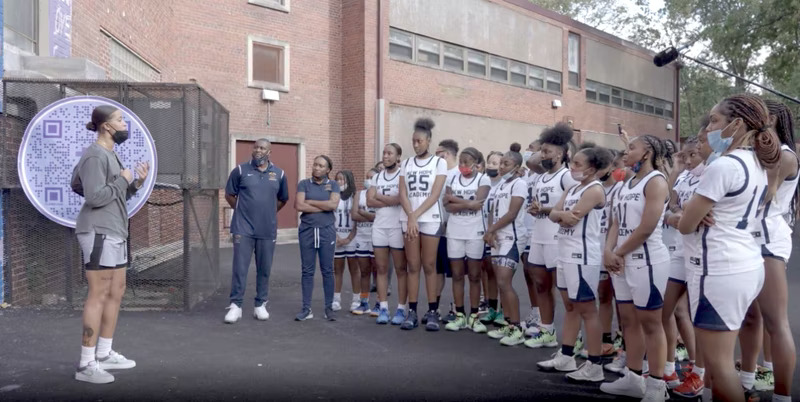 ABOUT THIS ENTRY
Every athlete has a home court: not just the one where their team plays, but the court that they grew up playing on.
In "Her Homecourt," we identified three WNBA athletes - Dawn Staley, Natasha Cloud, and Sylvia Fowles - who have changed the game. The series follows athletes as they return to their hometown, and in honor of their contributions to the game, their legacy is memorialized by tapping female artists to paint a mural as a gift to the communities they grew up in.
Zelle and HighlightHER further celebrate women's sports by gifting a local girls basketball team with monetary contributions to help achieve their own dreams. The athletes and the young girls share moments of raw, honest conversation around what it means to grow up in the community, the value of working hard towards their goals in sports and education, and the power of representation.
How does this represent "Excellence in Engagement"?
In this program, Zelle and HighlightHER gave a platform to female athletes to tell their stories and give back to the communities that shaped them. The athletes connected with young girls by showing them the importance of representation. The series resonated with B/R & HighlightHER audiences prompting 100,000 cross-platform engagements and 36 million unique viewers.
Perhaps more valuable to Zelle and HighlightHER than the quantifiable results, was the feedback from the community. The HighlightHER team received touching personal notes from both Coach O (Miami Suns) and Coach Caldwell (New Hope Academy) thanking them for the gift and inspiring their young players. Also, New Hope Academy used the money to go to Puerto Rico, where they won the championship! In this program, the athletes engaged deeply with the young players and provided them with opportunities to keep pursuing their athletic dreams.
Objective: Zelle came to the Bleacher Report team wanting to support and shine a light on women's sports to uplift female voices that often do not get the same platform as their male counterparts.
At Bleacher Report, we have a mix of portfolio brands that focus on the news and fandom of different sports, but one vertical stood out as the perfect fit - HighlightHER.
HighlightHER has a mission to empower sisterhood and amplify globally diverse girls and women in sports and culture. As a growing platform with a clear mission, HighlightHER seeks to partner with brands that are also active in the support of women's sports and was excited to collaborate with Zelle as one of the first key partnerships.
Zelle's goal was similar to HighlightHER's: facilitate a platform for female athletes to tell their stories, honor the communities that shaped them, and inspire the next generation of athletes.
Strategy & Execution: In episode 1, Natasha Cloud surprises the girls basketball team at New Hope Academy while a mural of Cloud is revealed. We learn the team is struggling to reach a fundraising goal allowing them to play at the Nike Tournament of Champions in Puerto Rico. With the help of Zelle, Cloud surprises the team with $5,000 to help them on their journey.
Episode 2 reunites coach Dawn Staley with her former player Khadija Sessions who runs a girls basketball program. As the mural is revealed in Staley's hometown, Zelle and Staley surprise Sessions and the team with $5,000 for new jerseys and gym time.
In episode 3, Sylvia Fowles returns to her hometown of Little Haiti in Miami to be presented with a mural in her honor. The girls from Team Fowles, one of the teams in the AAU program, and Coach O, attend the unveiling and are surprised by Fowles' presence. Fowles and Zelle presented Coach O with $5,000 to help the program continue to provide young girls the opportunity to succeed.
Episodes were distributed in-game on NBA on TNT's broadcast, HighlightHER and Bleacher Report's YouTube, TikTok, and Instagram channels as well as House of Highlights' TikTok channel.
Results: This program created moments for these young female athletes that can never be replicated, while giving a platform for the legendary professional athletes.
With each episode and the corresponding media coverage, we reached Zelle's target audience -- those who are seeking to create moments that matter in their own lives and communities.
Campaign Highlights
4.1M total video views
12.3M social impressions
17.1M total impressions
100k total engagements
36.1M total unique users
169.7M PR impressions
In addition to the impact that these videos had on our audience, this campaign as a whole generated substantial earned media on both a national and local level.
Production
HighlightHER, Zelle, Bleacher Report, House of Highlights, Turner Sports
Credits
Arielle Chambers
Founder
HighlightHER
Lauren Porter
Senior Creative Strategist
Bleacher Report
Dane Aagaard
Brand Partnerships & Content Strategy
Bleacher Report
Patrick House
Producer/Director
Bleacher Report